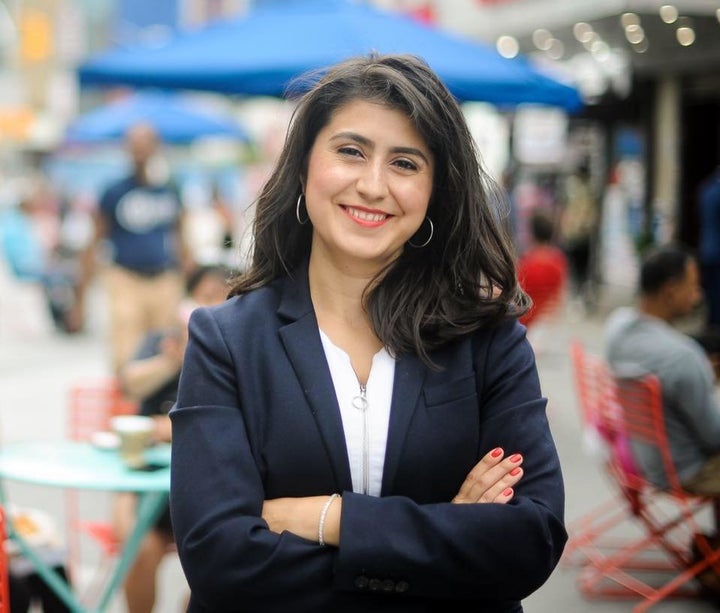 QUEENS, N.Y. ― When Jessica Ramos, a candidate for New York's 13th Senate District in northwestern Queens, knocked on the door of a modest row house in Jackson Heights in mid-August, she was hoping to talk about policy ― about the public school funding that the state owed the city, the sorry state of the subway and the rising cost of housing.
In New York's state Democratic primaries on Thursday, Ramos is challenging state Sen. Jose Peralta, one of eight former members of the Independent Democratic Conference, a group of breakaway Democrats who ensured Republican control of the legislative chamber in exchange for more power and higher pay. The unusual alliance blocked progressive legislation, which had sailed through the Democratic-controlled Assembly, to protect women's reproductive rights, modernize voting rules, shift the state to renewable energy and enact single-payer health care.
But Rajendra Nayak, the retired Metropolitan Transportation Authority worker who answered the door, was interested only in complaining about local nuisances. Could Ramos do anything about the lousy out-of-staters who parked on his block without paying local taxes? What about the increasing amount of marijuana smoke wafting through his windows from the street, or the dog walkers who refuse to pick up after their pets?
Ramos smiled and nodded, informing Nayak that, though those were matters handled by the city government, as a state senator her office would work with local authorities on constituent services.
She then tried to explain New York's primary schedule to Nayak, a registered Democrat. Nayak had not voted in the June congressional primaries and was baffled to learn that there was a second primary on Sept. 13.
But then Ramos said the magic word. "I'm practically running against a Republican ..."
Republican? She had caught his attention. Now he understood: "Oh, the breakaway Democrats."
Nayak, a loyal Democrat, told her he would vote for her. "Sometimes we need a new face," he added.
The visit encapsulated both the challenges and opportunities facing Ramos and the seven other progressive candidates running against the state senators who once made up the IDC.
Albany is this swamp where elected officials have gone and gotten away with being there for 20, 30, 40 years without doing much.

Democratic candidate Jessica Ramos
Voters are often more familiar with the local political issues they see up close every day ― like dog poop and marijuana smoke ― or the latest goings-on in the White House or Congress, which are breathlessly covered on television news. State politics, which has a direct effect on how well the subway runs and how regulated city rents are, often goes over people's heads.
"Albany is this swamp where elected officials have gone and gotten away with being there for 20, 30, 40 years without doing much," said Ramos, a 33-year-old labor movement veteran and former communications specialist for New York Mayor Bill de Blasio (D). "Nobody pays attention, and so there's no sense of urgency there."
To help fix the problem, Ramos supports term limits to add to state lawmakers' sense of urgency.
And with or without those limits, Ramos, the daughter of working-class Colombian immigrants, plans to hit the ground running in Albany. She wants to do the unglamorous work of supervising ― and ideally transforming ― the state's opaque "authorities" ― public-private structures like the MTA, port authority, and the state and city university systems.
"Nearly every New York institution that has an issue has this designation that doesn't allow for full transparency," Ramos said. "Make them state agencies. Make them accountable."
But as the conversation with Nayak showed, her most potent weapon is still appealing to ordinary New York Democrats' sense of partisanship.
"A REAL DEMOCRAT for NY State Senate," the site says in white text next to an enormous photo of her.
Together with state Sen. Simcha Felder, who also caucused with Republicans, the IDC members kept the state Senate in Republican hands despite Democrats' periodic majorities in the chamber. Gov. Andrew Cuomo (D) reportedly encouraged the creation of the IDC in 2013 and tolerated it through benign neglect for five years.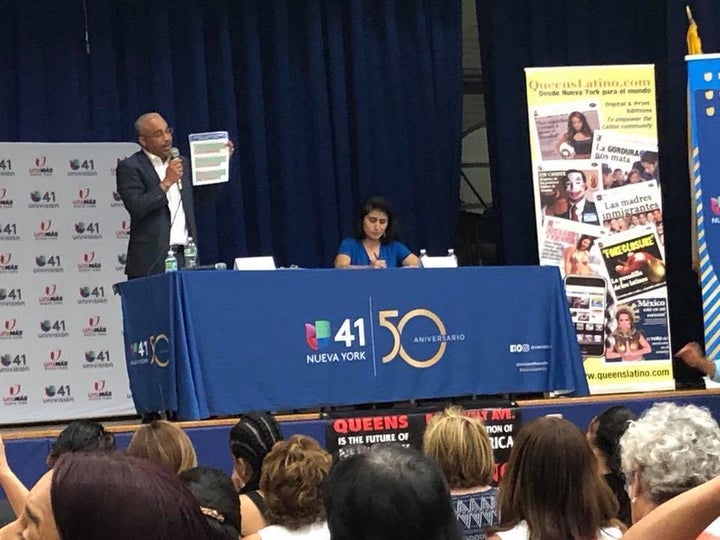 Growing activist awareness of the IDC following the election of President Donald Trump and Cynthia Nixon's entry into the primary in March, ultimately prompted Cuomo to broker an agreement in April disbanding the breakaway faction (albeit after he finished negotiating a budget with the IDC and Senate Republicans).
But the seven candidates who had already announced their runs against the IDC members, many of them at the behest of Democratic state Sen. Michael Gianaris, stayed in the race with the support of the progressive Working Families Party and the grassroots group No IDC NY. An eighth candidate, former New York City Comptroller John Liu, jumped into the primary in July.
Together with Fordham law professor Zephyr Teachout, the preferred progressive candidate for attorney general, and New York City Councilman Jumaane Williams, who is running for lieutenant governor, the IDC challengers represent progressives' best hope of nudging the Empire State to the left and putting a check on Cuomo. Nixon, who trails Cuomo by 41 percentage points in the latest public poll, is viewed as an extreme long shot.
Even if all eight challengers of former IDC members prevail ― and few expect that rate of success ― Felder would also need to return to the fold, or an incumbent Republican would need to lose for the state Senate to change hands. (Felder is being challenged by attorney Blake Morris, but the race is not viewed as competitive.)
The goal instead is to send a message that Democratic state lawmakers can no longer betray the Democrats who elected them without consequence.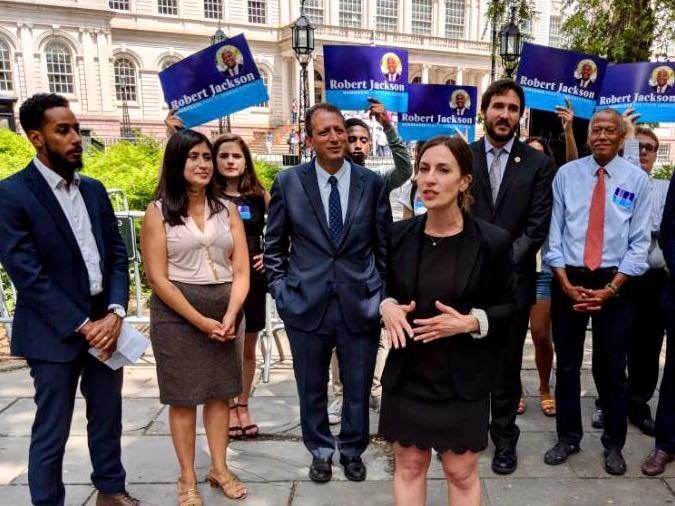 Taking On Renegades ― With Some Establishment Help
All eight IDC challengers support state-level single-payer health care and stronger tenant protections, which are priorities for the Working Families Party and the community organizations it represents.
But neither their bold policy stances nor their willingness to take on incumbents have made them anathema to the state's Democratic establishment. Unlike Cuomo, whom labor unions and the vast majority of elected officials are afraid to cross, the ex-IDC members are fair game.
Ramos is one of four IDC challengers ― Alessandra Biaggi in the Bronx and Westchester (Senate District 34), Zellnor Myrie in central Brooklyn (20) and Robert Jackson in Upper Manhattan (31) ― who are running very competitive bids and have picked up serious mainstream backing. All four candidates were endorsed by the New York Times editorial board, which endorsed Cuomo, and Sen. Kirsten Gillibrand (D-N.Y.), who is also sticking with the governor.
Both Ramos and Biaggi would represent parts of New York's 14th Congressional District, where Alexandria Ocasio-Cortez is the Democratic House nominee ― and soon-to-be member ― after ousting Rep. Joe Crowley in late June.
Ocasio-Cortez has endorsed Biaggi, who is taking on former IDC leader Jeff Klein, and has canvassed with her, pictures of which they share on their sizable social media platforms.
For her part, Ramos has the support of her old boss, Mayor de Blasio, who has stayed out of the fight between Cuomo and Nixon, notwithstanding his disdain for the governor.
There are still major advantages to incumbency. Klein and Peralta enjoy the backing of big business interests, some labor unions and party machines. Klein, in particular, amassed an enormous war chest, raising $2 million for his re-election bid.
A vibrant field operation and social media presence are ways that Biaggi, Ramos and their fellow challengers have tried to work around the incumbent senators' fundraising advantages. 
Both have produced video advertisements with the kind of biographical detail popularized by Ocasio-Cortez's viral political ad.
"I'm so proud of my roots in this district, but I'm also just so inspired by the people I grew up with, the people I've known my entire life," she says in the 45-second spot about Woodside. "Those are the people I want to go to Albany and fight for."
Biaggi, whose grandfather Mario was a longtime Bronx congressman, narrated a 2-minute ad that portrays her preparing for her day as she explains how her experiences shaped her progressive worldview. She informs us that her father's Parkinson's disease medication costs $1,400, that her uncle was killed by gun violence and, later on, she shares that she is a survivor of sexual abuse.
"These experiences made me feel small, like I didn't have a voice," Biaggi recalls. "But now I know it's more dangerous to stay quiet than it is to stand up and fight."
There are signs that the shady front groups and political machine organizations backing former IDC members are still adept at last-minute hatchet jobs. An amateurish pre-election mailer from the pro-Peralta "Truth in Democracy Coalition" attacks Ramos for, among other supposed offenses, receiving the Working Families Party endorsement, which it claimed made her "beholden to another political party." Peralta had the Working Families Party endorsement until 2017, when he joined the IDC.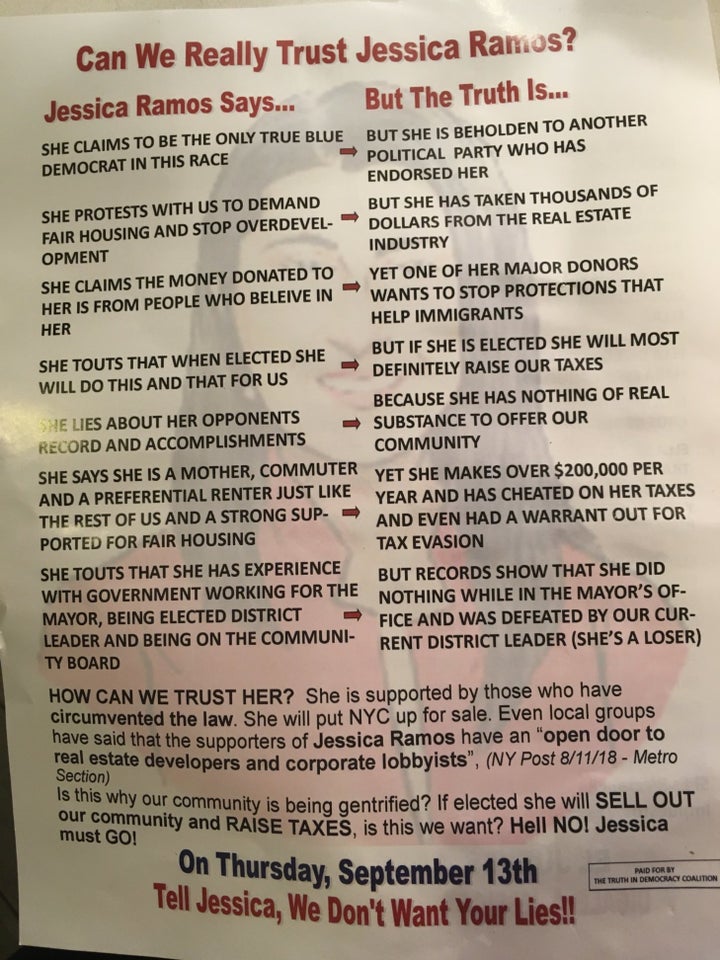 "I've Been On The Inside And I've Seen What's Broken"
Ironically, Ramos is the very picture of a progressive who has tried to work within the system, having spent years as an activist in Queens Democratic Party politics. In addition to her work for de Blasio and organized labor, she served as a member of Queens Community Board 5 in Jackson Heights.
Asked whether she was, in fact, a political outsider, Ramos conceded that she was not.
"I'm a reformer because I've been on the inside and I've seen what's broken," she said.
Specifically, while working to implement universal pre-kindergarten for de Blasio she saw how difficult it was to get Cuomo to fund the program, even though he is a Democrat. Ramos is one of just three IDC challengers to have endorsed Nixon in her bid against the governor.
What's more, Ramos voted for Ocasio-Cortez in June and for Sen. Bernie Sanders (I-Vt.) in the 2016 presidential primary.
At the same time, she has yet to fully embrace the "democratic socialist" moniker adopted by Ocasio-Cortez and Sanders.
"I agree with many of the policies that socialists support ... because ultimately I feel like there are basic human rights that need to be protected ― making sure everybody is fed and housed, making sure everybody has access to free, high-quality education, affordable health care," Ramos said.
Ramos is fond of recounting how an older Colombian woman in her district gave her a nasty look when she knocked on her door. "Don't tell me you're a socialist, too," Ramos remembers the woman telling her.
Skirting the question, Ramos engaged her in a discussion about health care, the woman's top concern, and in a few minutes' time, won her over to the cause of Medicare for all.
On "socialist" concepts, Ramos wondered, "So, what's more important: the concept or the word?"
Calling all HuffPost superfans!
Sign up for membership to become a founding member and help shape HuffPost's next chapter
BEFORE YOU GO
PHOTO GALLERY
U.S. State Capitol Buildings