New mom Jessica Simpson is facing criticism for sharing a picture of her 4-month-old daughter, Maxwell, wearing a bikini.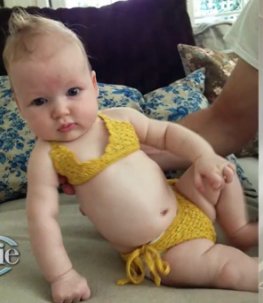 "She's posing!" gushed Simpson. "It's her very first time to put on a bikini."
"It is very disturbing to see a young baby presented to the world wearing a bikini," Claude Knights, director of the child welfare charity Kidscape, told the Daily Mail, according to Us Weekly. "Celebrity choices carry great influence, as can be seen by the manner in which their accessories and manners are copied widely."
Knights added, "It is hoped that parents will understand that 'baby bikinis' are totally inappropriate and that they contribute to the sexualization and commercialization of childhood. We should not be compromising the sanctity of our children's early years."
Daily Mail writer Tanith Carey wrote a full article criticizing Simpson's decision to show the photo her baby in a bikini. "Sharing pictures of your baby in a bikini with three million TV viewers, as Jessica did when she appeared on an American chat show? That is nothing short of inexcusable," Carey writes.
Continuing, "A cute-faced baby in a halterneck bikini, her nappy encased in the tiny knickers, leans back in what can only be described as a disturbingly adult pose, her chubby hand placed on her creased little baby thighs. Even more creepily, there's an adult male hand coming in from out of the shot, posing the helpless tot in the style of a centrefold model."
Baby bikinis do not always sit well with both mothers and non-mothers alike.
In July, a baby bodysuit featuring a screen print of an adult woman's curvy silhouette wearing a bikini had Southaven, Miss., parents outraged. Wild Child, which is a brand manufactured by Bon Bebe, made the bodysuit in question for 18-month-old girls.
"I just think that is a little ridiculous that you would put that on your child," said one father who spoke with Action News 5. Adding that he wouldn't let his daughter wear the "bikini" because "it gives people the wrong idea too quickly."
Popular in the Community