 Jessica Simpson took forever to announce she's pregnant, but will she be seeing the big bucks from celebrity magazines once the kid is born? Probably not. It seems like the baby picture bubble has burst, and it's unlikely that celebrities will ever again be paid in the high six or seven figures for photographs of their spawn.
In "Celebrity Inc.: How Famous People Make Money," I write how the bull market for baby pictures raged strong through the mid-2000s, and how Hollywood's newest stars -- celebrity babies -- found themselves at the center of multi-million dollar bidding wars.
But like the bull market from the 2000s, this too came to an end -- bad news for celebs who chose to procreate after the market collapsed, like Simpson and new mom Mariah Carey. There's simply not much money left in selling off baby pictures, so if Simpson wants to cash in, she might be out of luck.
"Jessica isn't as relevant as she used to be," said "Cult of Celebrity" author Cooper Lawrence. "She's making shoes now. Her baby daddy [fiancé Eric Johnson] isn't famous enough for anyone who doesn't know her personally to care, and the trend of celebrity baby photos is done for the consumer as well. Let us know if when the kid is 10 it has its first kiss with Mason Kardashian [sic]. Then we'll talk."
HollywoodLife.com Editor-in-Chief Bonnie Fuller agrees that it's likely Simpson won't even make six figures for baby photos.
"Simpson will be able to make a sale, but I doubt it will be a six-figure sale," she said. "If I was her, I'd appreciate the fact that I've got a billion-dollar fashion business and I would tweet the pictures to all my fans and not use my baby as a sales tool. She'll amass far more good will that way. Or, she can shoot a beautiful photo with an agency and give it to AP. Being accessible is the new name of the game."
But that wasn't always the game, as I write about in "Celebrity, Inc."
Editors of celebrity weekly magazines later told me it was a little like a drug deal -- the day they were led into a dark office and shown the first pictures of Shiloh Jolie-Pitt, premiere biological spawn of movie stars Brad Pitt and Angelina Jolie, and asked to place bids. The question posed to the editors was deceptively simple and impossible to answer with any confidence: How much were these photos worth?
The answer: A lot. People magazine reportedly shelled out $3.1 million for the first look at little Shiloh, setting the bar pretty high, but it proved that magazines were willing to pay for baby photos and that celebrities were more than happy to to accept.
In 2008, Nicole Richie secured a reported $1 million for photos of her daughter, and photos of Christina Aguilera's son cost a reported $2 million -- both paid for by People.
For magazines, one celebrity baby is good, but two babies are even better.
Jennifer Lopez and Marc Anthony pocketed a reported $6 million from People for the first photos of twins Max and Emme in 2008.
And then came the Jolie-Pitt twins:
If the Shiloh photos were like a street drug, Pitt and Jolie's twins were medicinal-grade heroin mixed with crack for magazine editors. Everyone in the business scrambled to figure out how badly they would have to blow the editorial budgets for the remaining issues of that year just to get hold of those pictures. At the end of the day, only OK! and People seemed to have enough cash to make formidable offers. Each publication had separate motivations. OK! was struggling to stay competitive in the American market, and People believed it was struggling to stay on top.

After more than a week of negotiations with Getty, which followed the same procurement process as for the Shiloh pictures, People won domestic rights for the pictures with a reported payment of $7 million. It was estimated that in total, including the sale of international rights, Pitt and Jolie received $14 million for the photographs introducing young Vivienne Marcheline and Knox Leon to the world.
Then it was over just as quickly as it started.
In 2011, Mariah Carey and Nick Cannon accepted just six figures from Life & Style for not one, but three photo spreads -- one of Carey while pregnant, and two first photos of the Grammy-winning singer with her twins.
Hardly pocket change, of course, but the days of $7 million baby photos are gone. Thanks to the Internet, which makes yesterday's news seem ancient, no one enjoys an exclusive on anything long enough to pay seven figures for it.
Check out the photos of other pregnant celebrities below!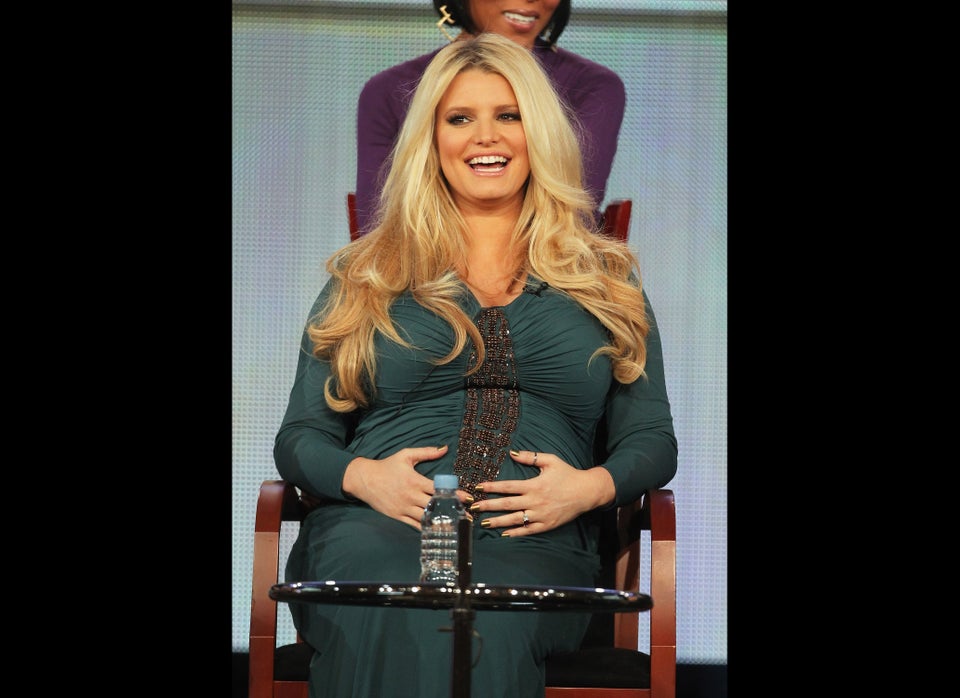 Jessica Simpson's Baby Bump

Popular in the Community