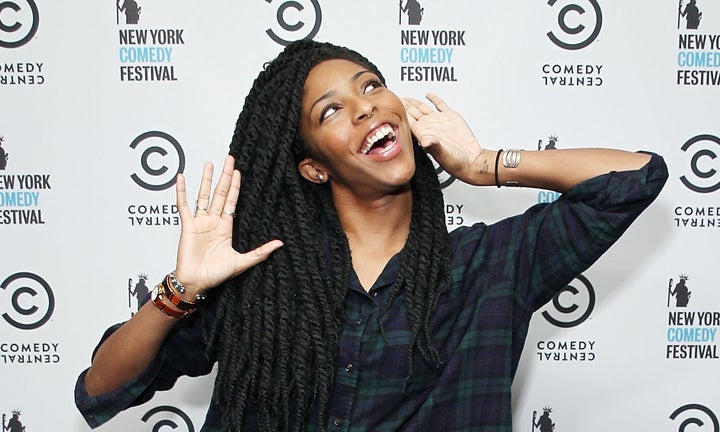 After four years of dropping mics and spitting truths, Jessica Williams is done with "The Daily Show," she exclusively revealed to Entertainment Weekly.
Hired as the youngest and first black female correspondent in the Comedy Central flagship's history, Williams is set to soon headline her own half-hour scripted series for the network, as well as pursue other solo projects. 
This Thursday's episode marks Williams' final appearance (for the time being) on the late-night series, which means we have one last Williams segment to cherish before she signs off for good. 
"The sadness I have for Jessica leaving is only eclipsed by the joy I have for her starting her new show," "Daily Show" host Trevor Noah told EW in an email. "If her podcast is anything to go by, it's going to be an exciting show!"
For Williams, the exit comes with mixed emotions, as she says "The Daily Show" benefited her in both a professional and educational capacity, serving as a quasi-grad school for the 26-year-old comedian. 
I feel so many emotions. I started "The Daily Show" when I was 22. I was going to class at Long Beach. When I found out [that I got the job], I was in the cafeteria at Panda Express. I thought I was going to be hired as a contributor, but 'The Daily Show' was like, 'Nah, it's an election year, we want you to come over here and work full-time.' So I said, 'Okay, well hold on, I need to do my finals first.' [Laughs] I picked up everything and moved out of my parents' house and into New York City. I feel like I've learned a lot about myself on the show. I'm 26 now. I've learned so much, I always kind of feel like it's grad school — a sort of continuation of my education.
In her new series, Williams plans to continue engaging with many of the go-to topics like race, intersectional feminism, LGBTQ issues, etc. that made her a standout on "The Daily Show," albeit in new and hilarious ways. 
"I've had this idea for a while about a young woman who is a feminist and who imagines herself to be 'woke,'" she explained. "But I know that often for me, as a black woman of color, I feel like I'm supposed to represent these ideals and values that I was taught as a young lady ... but oftentimes I'm, like … I'm still in my 20s, and still kind of a mess. So it's a show about somebody in their 20s who has all these social ideas, but still does not have it together." 
Head over to Entertainment Weekly to hear more from Williams and take a minute to watch "The Daily Show" bid her farewell below: 
Calling all HuffPost superfans!
Sign up for membership to become a founding member and help shape HuffPost's next chapter
BEFORE YOU GO
PHOTO GALLERY
Daily Show Correspondents & Contributors