You're familiar with the concept of a farm team, right? That place where would-be professional ballplayers go to get the training & experience that they need before these talented young athletes are then ready to move on up to "The Big Show?"
Well, the Disney Channel has a similar sort of system in place. And there's no better example of someone who's steadily climbed the ladder, worked his way up through the ranks at the Mouse House -- going from a guest appearance on Good Luck Charlie back in April of 2011 to starring in his own sitcom (i.e., Gamer's Guide to Pretty Much Everything, which premieres tonight on Disney XD at 9:30 p.m. ET/PT) -- than Cameron Boyce.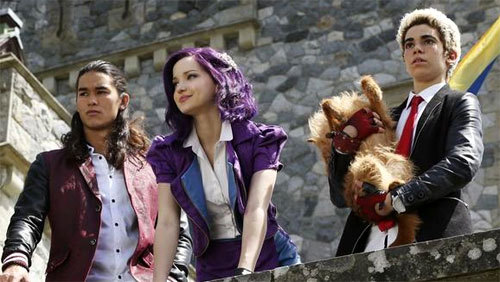 July's actually a very big month for Boyce. For less than 10 days after Gamer's Guide to Pretty Much Everything debuts, Cameron is co-starring in what the Company's Marketing team is calling " ... the Disney Channel Movie Event of the Year," Disney's Descendants.
"We actually shot Descendants last summer," Boyce recalled during a recent sit-down interview. "Then we shot a full season of Jessie. That wrapped production back in March. And then -- about a month after Jessie finished shooting -- I started working on Gamer's Guide."
Which sounds like a pretty busy work schedule for a 16-year-old. But Cameron was quick to credit Debby Ryan (i.e., the talented 22-year-old who played the title character in Jessie) with showing him the proper way to work within the sitcom world.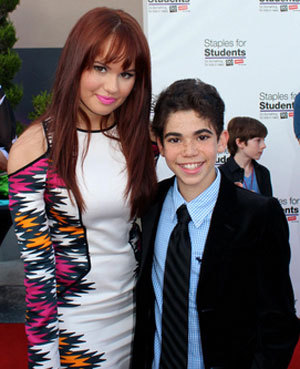 "Debby came up through the Disney Channel system just the way I did. She started off playing a supporting role on The Suite Life on Deck and then eventually graduated to playing the lead on Jessie," Boyce explained. "But what Debby did that really impressed me was that she set the tone for that show. Because she went out of her way to be nice to the crew ... Well, I -- along with the other younger members of the 'Jessie' cast -- just followed Debby's lead."
"And that -- to be honest -- may have been the most important lesson I ever learned when it came to working on a sitcom. After all, whether you're talking about a grip or someone who does hair & make-up on Gamer's Guide, at the end of the day, we all come here to do a job," Cameron continued. "And if you treat the people that you work with well, you make them aware that you know that -- even though I'm supposedly the star of this show -- that this is really a team effort, that we're all here to make each other better ... We all benefit in the end from that kind of work environment."
Which -- I know -- isn't the sort of thing one expects to hear coming out of a 16-year-old boy's mouth. But Boyce isn't your average young performer. Having studied dance for years before he became an actor, Cameron knows first-hand the value of cooperation and teamwork.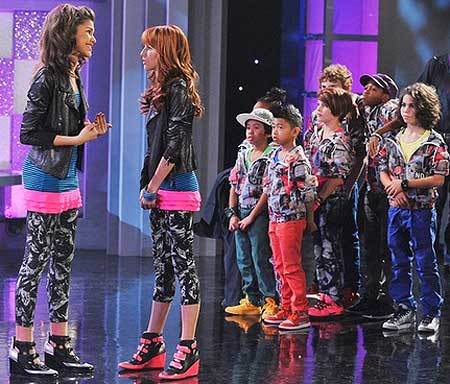 Speaking of dance, that's another way that Boyce originally came on Disney's radar. In April of 2011, following his blink-and-you'll-miss-it appearance on Good Luck Charlie, Cameron was one of the featured dancers on ABC's Dancing with the Stars. That appearance went so well that -- in August of that same year -- Boyce was cast as a dancer on the Disney Channel series, Shake It Up.
And Cameron's appearance on that sitcom went so well that Disney Channel officials then invited Boyce to audition for Jessie. And even though the role that Cameron was being asked to read for had originally been envisioned as a young Korean boy named Hiro ... Jessie's casting director were so impressed with Boyce's reading that they then actually reworked this part so that it would better fit his talents.
And the same thing sort of happened with Gamer's Guide to Pretty Much Everything. Devin Bunje and Nick Stanton (i.e., the Disney Channel / Disney XD vets who created this sitcom) initially auditioned a number of young men to play Conor, the 12-year-old video game phenom who is forced to attend high school for the first time after a thumb injury forces him to retire from the glamorous professional gaming circuit. But as soon as Devin & Nick learned that Cameron might be available to play Conor, they immediately begin rethinking their original take on Gamer's Guide's central character.
Once we learned that Cameron was possibly available to come do our show, we decided to bump up Conor's age from 12 to 16 years old. Because Cameron's that special kind of performer where -- even when he's playing a character who's kind of cocky or arrogant. Which is the way that Conor behaves when Gamer's Guide's story is just getting underway -- you still like Conor as a character because of Cameron's natural sweetness.
"Besides, once we had Cameron in place, we could then play to his strengths. And since you could immediately buy this guy as a confident, world class video gamer ... Well, that then made it much that much easier to cast Gamer's Guide around Cameron," Devin continued.
We could bring in talented young performers like Felix Avitia, Murray Rundus and Sophia Reynolds to play the quirky kids that Conor would encounter once he returned to high school. Of course, the real challenge here was that -- just like with Cameron -- the audience then had to believe that these three had the skills necessary to make it at the competitive video gaming level once they join up with Conor to form their high school's first-ever gaming league.
Mind you, what's kind of ironic about the creators of Gamer's Guide to Pretty Much Everything is that Bunje & Stanton came up through the Disney Channel / Disney XD farm system just like Boyce did. They started out at Disney Television Animation writing the pilot of Kick Buttowski: Suburban Daredevil. Devin & Nick then did some episodes of Phineas & Ferb, The Replacements and The Emperor's New School. After that, they worked over Disney's live-action side. Bunje & Stanton were the producers of Zeke & Luthor. And it was the success of that skateboarding sitcom (which ran on Disney XD for three seasons) that then gave Devin & Nick the opportunity to create "Gamer's Guide."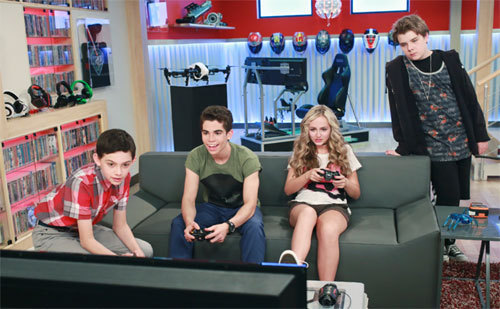 And at this point, though the pilot of Gamer's Guide to Pretty Much Everything is only just airing on Disney XD tonight, they've already shot 11 episodes. And with each new show that they shoot, Bunje & Stanton get better at tailoring this show to Boyce & Company's specific talents.
"Take -- for example -- the episode we're shooting right now. They've got me and Sophie dancing this week. Which is what the two of us were doing long before we were ever acting," Cameron stated.
What I love about that is that meant the writers of Gamer's Guide actually got to know Sophie & myself as people. They learned that we were capable of doing as performers and then wrote a scene for Gamer's Guide that specifically capitalized on our ability to dance. When we all work together as a team like that ... Well, that then means we can deliver a far better show in the end.
If you'd like to see what Boyce, Bunje & Stanton are capable of now that they've graduated from Disney's farm system, be sure and check out Gamer's Guide to Pretty Much Everything. Which premieres tonight on Disney XD at 9:30 p.m. ET/PT.
REAL LIFE. REAL NEWS. REAL VOICES.
Help us tell more of the stories that matter from voices that too often remain unheard.