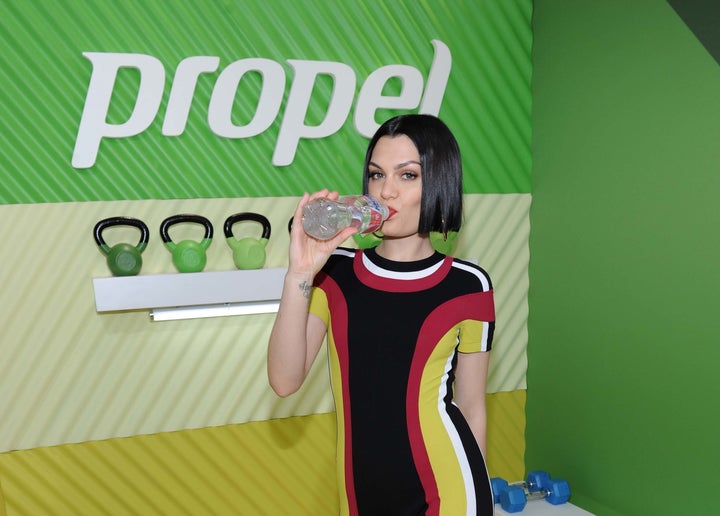 In Hollywood, there's always an emphasis on perfection and beauty. But, Jessie J is more into being ugly these days. As part of her new partnership with Propel Electrolyte Water, the Grammy nominated musician helped launch the sport drink's "Let's Get Ugly" campaign to show how beautiful, powerful and rewarding it is to "get ugly" when you push through an intense workout.
With that spirit in mind, the 29-year-old opened up to me recently about her fitness and diet regimen and the best health advice she's ever been given.
Q: Why you decided to partner with Propel for this campaign?
JJ: The world now is driven by this perfection of fitness. What I loved about this campaign was they promoted the message about getting ugly and getting sweaty. It's about the work. When I come out of the gym, I'm blotchy red and sweaty, but I feel good. It's about the longevity of your life, not how you look in the morning.
Q: What is your typical workout and diet routine?
JJ: Well at the moment, I am 16 days in of no sugar in anything.
Q: Wow! And how is that going for you?
JJ: I went through my wanting to punch anyone in the face for a few days and being really miserable, but now I am on the other side of it. It's amazing. I would advise anyone to try it. It's not easy, but it has been amazing.
Q: What was the inspiration for wanting to cut out sugar?
JJ: I am a point where I want to be the healthiest I can be. So, I know that there has been a lot of recent discovery that sugar is attached to dementia and brain disease and heart disease. I have heart disease and had a stroke at 17, so I am always trying to be up on my health knowledge.
Q: Aside from the initial part of wanting to punch someone in the face, what are the positive effects that you're seeing?
JJ: I am awake, I am sleeping better, my anxiety is better, I just feel brighter in myself. My skin has definitely improved. My cellulite has improved. There is no negative about quitting sugar.
Q: So, what are you doing for your workout then?
JJ: It depends on how I'm feeling. I can do anything from SoulCycle to yoga to dancing. I love weight training because it means I gain weight, which is important for me. I do dumb bells and I do a little bit of Thai boxing, so I just kind of mix it up. I get bored easily since I am an Aries.
Q: What's the best health advice you've ever been given?
JJ: My mom once said to me, "You are all you exist of so make it the best version you can be." For me, I want to be able to do my shows and have a day off and be able to run around the park with my nieces and nephews and then go and see my friends at night. We only have these bodies, so we should take care of them.
Related
Popular in the Community