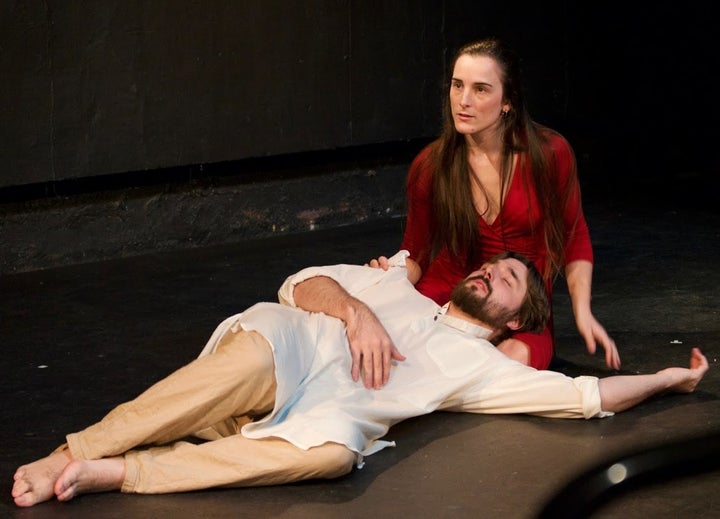 COULD WE START AGAIN, PLEASE?
A week before the World Voice Ensemble's production of Jesus Christ Superstar opened at Long Island City's Secret Theatre, Christos Alexandrou became the production's impromptu music director. "I didn't know anyone or their backgrounds… anything," he recalled of meeting the multinational cast. "I didn't know their level of knowledge; I mean, I could see they were talented, but I needed to establish a communication channel so we could cut to the chase."
Good fortune decreed that Alexandrou, a critically acclaimed performer and vocal music instructor who himself played the titular Jesus in a Greek production twenty years ago, would steer the production. He'd been asked to watch a runthrough and afterward approached director Namiko Wada with his thoughts and suggestions. Wada was receptive and asked for his help; a talk with producers Jerel and Makie Hirakawa Armstrong sealed the deal.
"Time is usually against you," Alexandrou said, but he had no qualms about juggling his prior engagements with the production's tight schedule––and Thanksgiving festivities. "That was the major bump at the time… they all came to me. Everyone was loving and kind and I tried my best to echo that back… it was a learning experience."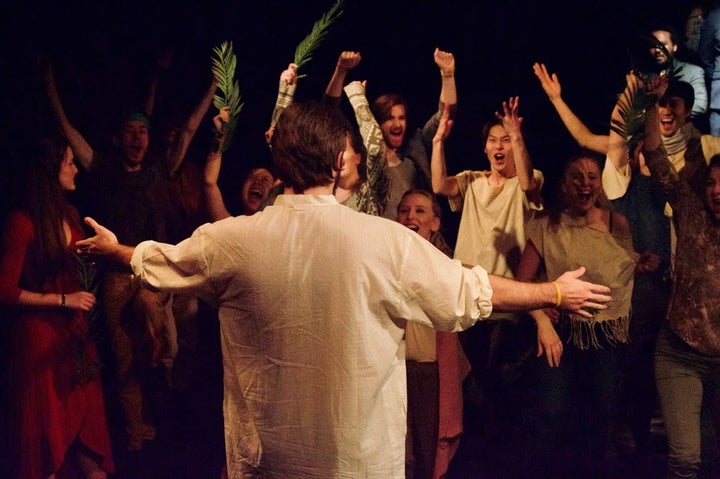 Earlier during production, actor Kevin Rogers (a charming Simon Zealotos) made his off-Broadway debut in playwright Latoya Ann Dawson's See Through My Lens, but the challenge of working two different shows simultaneously, he says, did not dampen the experience. "Our rehearsal process was distinctly different than most other shows I have been a part of because of the language barrier," he told me. "Our director, Namiko Wada, came from Japan after having a long-time career as a choreographer... The language barrier could have easily been a problem––especially since English wasn't a first language to many of the actors in the company as well. However, regardless of everyone's fluency with English, music was a universal language we could all use to understand each other and communicate with."
Jesus Christ Superstar enjoyed a limited engagement from late November into early December. The production is long over. For the audience that filled the black box each night, it exists now only in memory, the printed playbill, this critique. For the artists at its core, it's an experience few words can convey.
"The show is about humans acting like humans," Alexandrou told me at the penultimate performance. "This is what the show is about, how humans, how we change. You love something one minute and then you destroy it the next. You feel remorse. You turn it into a deity. It's all a matter of cause and effect, consequences, the human aspect that we will always err." He remembered seeing a production in London in the 1990s: "The moment it starts, the audience knows the story. They know who did it. They know how it ends… but it doesn't matter."
When he speaks to me, it's with a thrilling enthusiasm. One might even call it spiritual.
Jerusalem was sans sets and props. A host of flower children dressed as if on their way to Woodstock walked its outskirts. When they sang, it was an ode to the earth beneath their feet. When their prophet arrived, it was with gratitude that they greeted him, affording him the respect of a close friend. When they came begging for his healing while obscuring their leprosy beneath stark, white robes, he cried out, a human overwhelmed.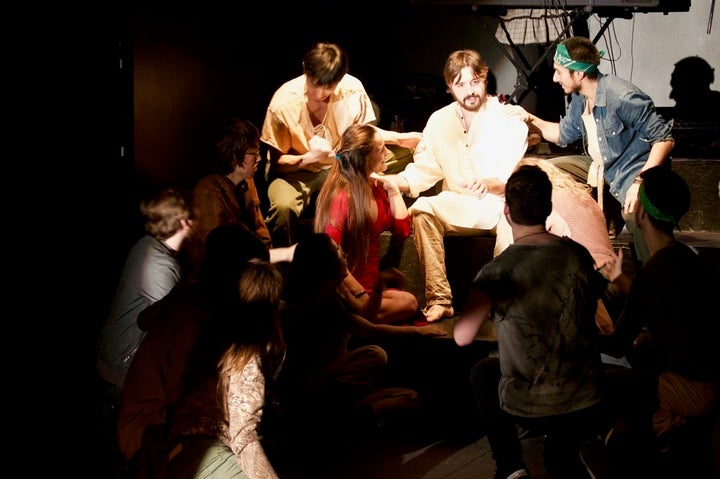 A production this stripped down had little interest––if any––in presenting Jesus as more than a man. Indeed, we never see him perform a single physical miracle, but he doesn't need to (nor do Tim Rice's iconic lyrics allow it). The real miracle is that the people who surrounded this radical, misunderstood philosopher and philanthropist found love. When they did, they consumed him; when Caiaphas (Kenneth Kyle Martinez), the Jewish high priest said to have organized the plot to kill Jesus, declared "This Jesus Must Die," one thinks it an indictment against something he cannot commodify. When Judas (Leo Grinberg) besmirched the "Heaven on Their Minds," it was a call for Jesus (Steffen Alexander Whorton) to acknowledge the perils of celebrity.
The movement, however, is underway. It's not that Jesus can't condemn the counterculture that dogs him; he is the only character whose significance it doesn't elude.
The price of fame cuts its veins with deep lines across Andrew Lloyd Webber's Jesus Christ Superstar, but few interpretations have successfully extricated it from the bog of a history lesson. The original concept album became notorious for its reassessment of the Gospels––that it birthed an equally controversial stage production seemed nearly inevitable. Norman Jewison's groovy 1973 film adaptation is beguiling, but is at times undermined by admittedly unorthodox casting choices and odd spectacle.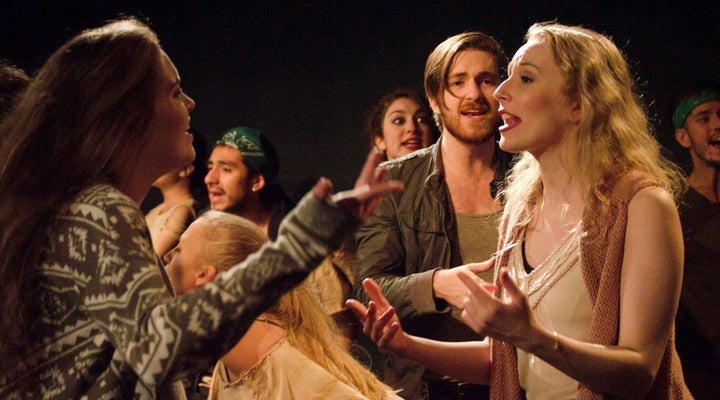 The decision to forego most props altogether actually worked to this production's advantage (hearkening back to the concept album's success) and forced the performers to utilize perhaps their most valuable assets––their ears––to their best ability.
That's no easy feat for any performer, particularly those in a multinational cast trying to strike a balance between varying approaches and styles while on a tight rehearsal schedule and a limited budget.
"I want to give a chance to professionals who can't really speak English and give them an opportunity here in New York," says Makie Hirakawa Armstrong, the World Voice Ensemble's co-president and a Tokyo College of Music graduate who speaks limited English herself. Her work, she stressed, allows her to give opportunities to performers who are in the same position she was in. "English is hard. I try to help them, not keep them out of the casting process."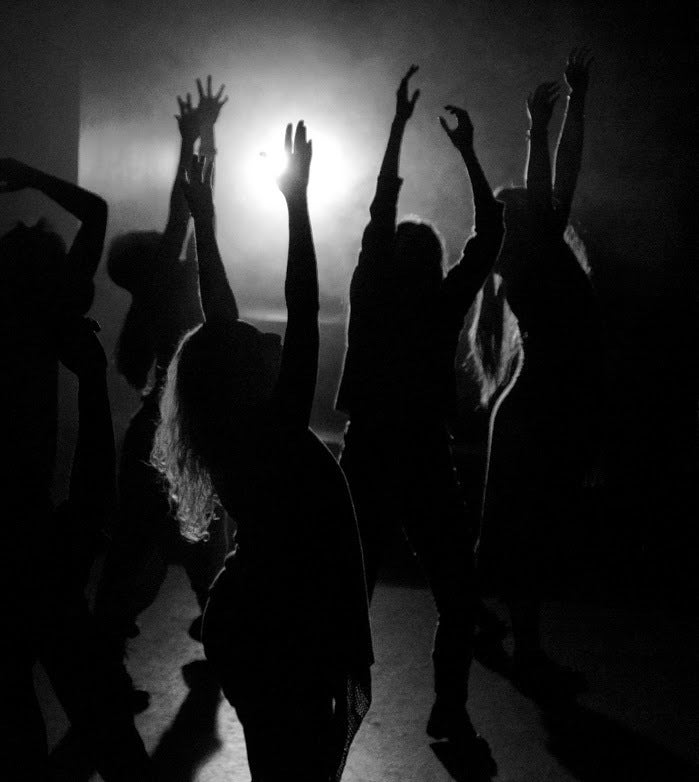 Her husband, Jerel, recalled joining his wife at an audition for The King and I. She had auditioned for the pivotal role of Lady Thiang, and landed a role in the chorus instead, he said, but she was also the only Asian actor in the entire production. "I worked with her on the lines specifically for that part for about a year… I asked them why they didn't pick her for the role of Lady Thiang, or an understudy, and they said, 'Pronounciation; we're afraid the audience wouldn't understand her' and I knew she was understandable, but they didn't have confidence. I thought… this isn't right, why are they casting non-Asian actors in Asian roles?" (Makie Armstrong later played Lady Thiang in two regional productions; she is a member of Actor's Equity.)
"We wanted to start this company so we could give parts to actors of different nationalities," he continued. "We want to include everybody, everybody who's good, who deserves to have the role. Now, we didn't cast Jesus as a Japanese person, for example, but we gave the role to the actor who did the best at the audition, and that's how we doled out every part. We are so proud."
At this, Makie Armstrong laughs and claps her hands. "It feels wonderful," she says gleefully.
HOSANNA: A DECLARATION OF JOY
If this marriage of international talent is a source of joy for the World Voice Ensemble's co-presidents, then it rightfully falls to the actors to declare it.
True to the company's mission, the cast was made up of many different colors and creeds. The Finnish Ingrid Gräsbeck, for example, dreamily smiled her way through each sign of promise from the prophet, just as the Brazilian Thiago Czarneski looked on with palpable awe and curiosity. Paloma De Vega, who hails from Madrid, Spain, embeds herself in the brain as perhaps the most fluid of the dancers. ("You dance flamenco, don't you?" I inquired afterward.) There was much Japanese talent on display: Takashi Hosoi, Taiju Nakane, and Mai Nishioka featured in the ensemble, for example, to say nothing of the trio of musicians––Satoko Mori, Asuka Akagawa and Shigeaki Nakamura––who, with great aplomb, left their mark on now iconic music under Christos Alexandrou's watchful eye as conductor.
For Leo Grinberg, a native of Magadan, Russia, the role of Judas Iscariot was a challenge that brought him full circle, having himself played the role of Jesus in two separate productions. While it is evident he is more of a singer than an actor, he is gifted with a distinctive, thrumming tenor which would be just as home belting out Bruce Dickinson metal ballads as it is on the musical theatre stage.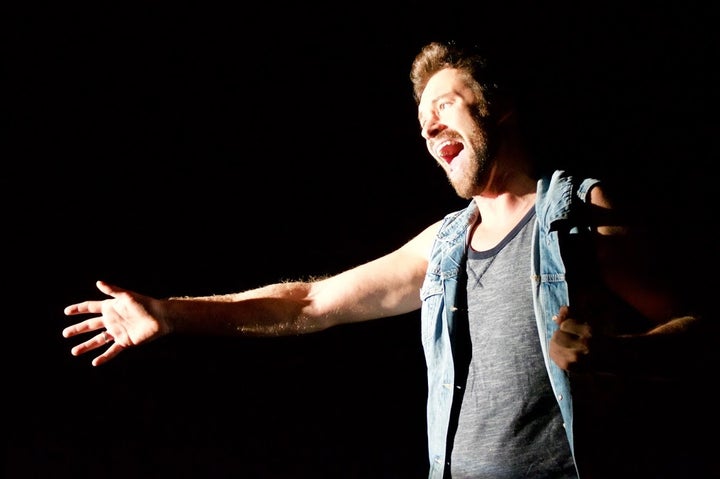 In the hands of Paloma Muñoz, an Argentinian who studied Musical Theatre at the American Musical and Dramatic Academy, the role of Mary Magdalene is a subdued one. Her rendition of "I Don't Know to How to Love Him"––a Broadway standard––was quieter than expected, but she still made for a striking figure.
As Pontius Pilate, Steve Walsh's baritone cut through the show's darker moments ("Pilate's Dream" is particularly noteworthy) and as Caiaphas, the imposing Kenneth Kyle Martinez walked through the proceedings as if a specter, bringing down the hand of judgement with a calculated coolness and precision. During "Peter's Denial," Emilio Guzman commanded our collective attention.
As the titular Jesus, Steffen Alexander Whorton (who last appeared on stage with Steve Walsh and Kevin Rogers in Occupation: Dragonslayer) demonstrated an almost scathing maturity best personified as he awaited the inevitable during "Gethsemane," piercing his audience's rapt attention with a soaring, acrobatic tenor. (But even inevitable tragedies need to rein themselves in with humor: Matthew Bautista's King Herod was a flamboyant delight.)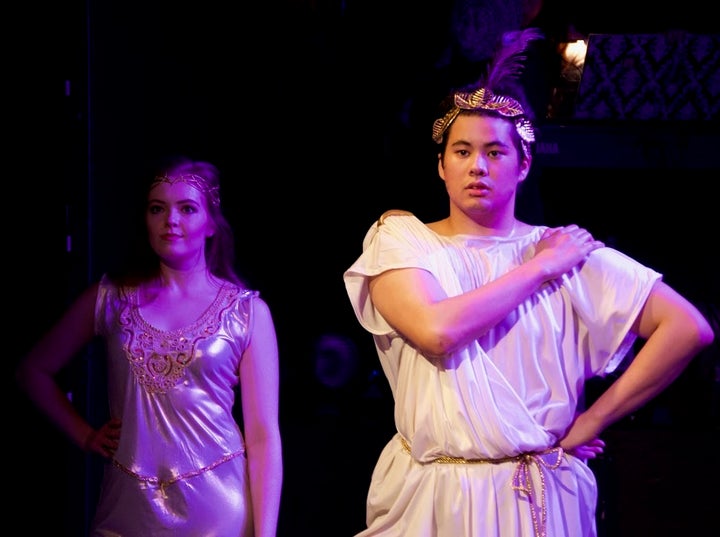 What's next for the World Voice Ensemble? Jerel Armstrong is not sure. "We love what we do," he told me one evening as the 7 train clanged overhead. "Most of the money that was put into the show came from my personal credit cards and right now, I am very deeply in debt… but I have no regrets," he laughs. "We wait for my tax return and everything gets paid… eventually. Little by little, we'd like to apply for grants and get bigger eventually."
In the performing arts world, everything's eventual, though we should never ignore the injustice of an industry in which creating and commissioning art can often come at great expense. But Jesus Christ Superstar burned bright for the week it enjoyed on stage for those who cared to listen and pay attention. Perhaps the most intriguing aspect of the performing arts industry is that it's not the dominant personalities who stand out. For a brief moment, a cast of relative unknowns made the theatre scene a better place for those of us who cared to listen.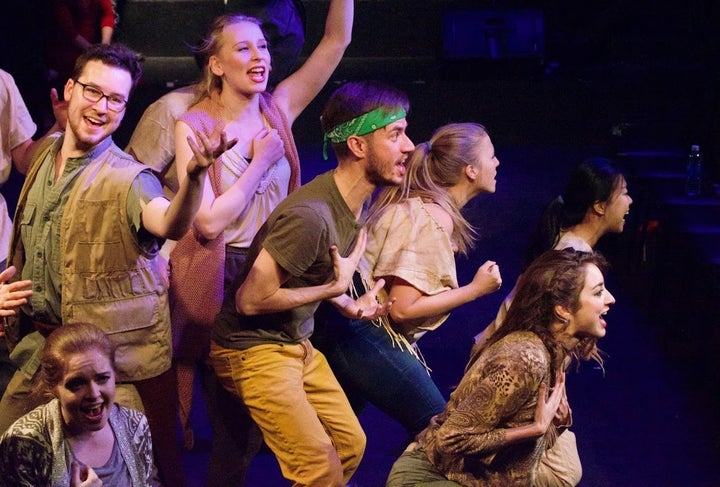 Support HuffPost
The Stakes Have Never Been Higher
Related
Popular in the Community