Here are a few more photos from my recent TV shoot in Greece -- one of several countries included in my upcoming Rick Steves' European Easter public television special.
The Easter greeting here in Greece, "Kalo Pascha," literally means "good passing" -- a passing from sadness (the Crucifixion) to happiness (the Resurrection). I was told, "It mixes together, like births come with pain."
Most of these photos were snapped in the middle of the night, as Good Friday was just starting. On Good Friday, the faithful fill the church as if attending a funeral. You'll notice lots and lots of flowers. As flowers are an important part of any Greek burial (they're tossed into the grave with the dirt), the priest scatters flowers upon the symbolic tomb of Christ. He then ritualistically showers the entire congregation with flowers. (Tracking the priest with our cameraman, I found myself in an April shower of petals, and folded my hands prayerfully. Later I saw that the more appropriate response was to just have fun and enjoy the moment.)
Be sure to click on each image below to learn more about Good Friday rituals in the Greek Orthodox faith.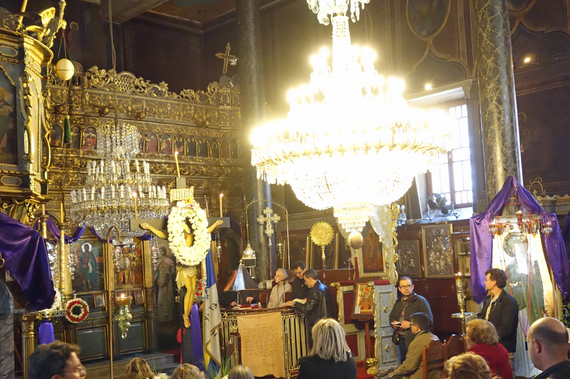 On Maundy Thursday, Jesus and his apostles have their last peaceful moments together at the Last Supper. Many Greek Orthodox hardly sleep that night, as the crucifix is decorated with flowers.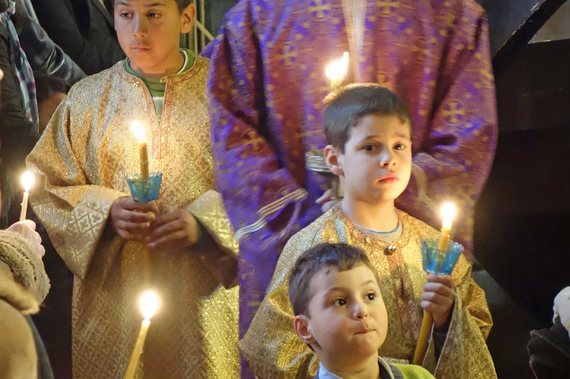 On Good Friday morning, a service is held as the priest removes Christ from the cross. When it passes behind the iconostasis, the figure is replaced with a shroud bearing the image of Jesus. This is paraded through the church on its way to a symbolic burial. These boys with candles lead the way.
After the shroud is placed in the ceremonial tomb (or epitaph), people line up to kiss it.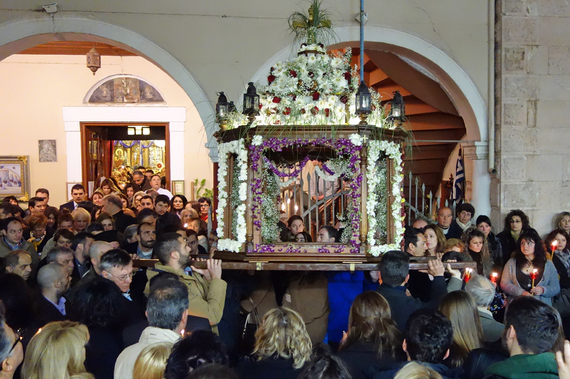 With huge emotion and commotion, the epitaph is carried out of the church and into the city...and the Good Friday procession begins.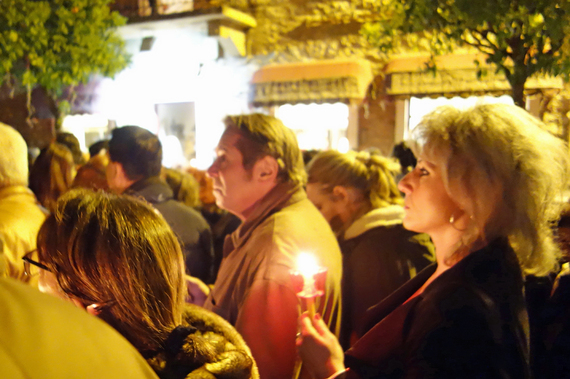 It seemed the entire city was out, young and old, walking with the epitaph. Choirs sang, and old-timers looked on from balconies -- their candles lit in worshipful solidarity. It was a timeless experience.