Would a modern-day Jesus be the kind of guy who might enjoy wearing thick-rimmed glasses without the lenses and listening to great bands long before you or anyone else thought they were cool?
The Roman Catholic Diocese of Brooklyn -- of course -- is suggesting that Christ might just have been that type with its new campaign declaring Jesus "the original hipster."
News and arts website Animal New York wondered if the Jesus in the poster was supposed to look like he'd just turned water into PBR, while Gawker suggested that the campaign might have been derived from an obscure Bible verse you've never heard of.
But according to Monsignor Kieran Harrington, spokesman for the Brooklyn diocese, the notion of Jesus as a hipster shouldn't come as such a surprise.
"Historically, representations of Christ have reflected the population that was worshipping there," Harrington told The Huffington Post.
Brooklyn, he noted, is home to lots of hipsters so the image is actually quite fitting for the area.
"It doesn't seem to me so far-fetched that the representation of Christ would be a hipster, " Harrington said. "More to the point, Jesus stood in contrast to the culture of his day. That's what a lot of hipsters do too."
Harrington explained that the campaign is designed to help newcomers in the area find a local parish. It was launched shortly after Easter and can be found at bus stops, phone booths, and even restaurants and bars.
"We wanted to make it very easy for people to find out where they could go to church on Sunday," said Harrington. "The diocese is like the city, always reinventing itself."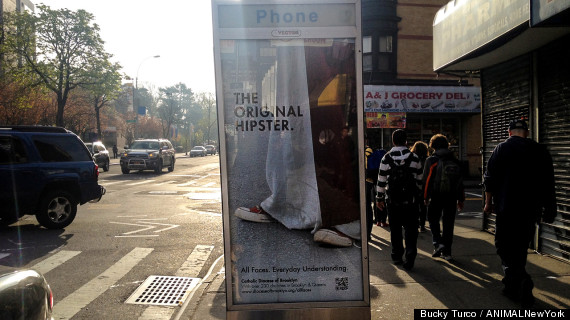 Related
Popular in the Community