I still remember the first moment Jesus came into my life. It had been a rough year.
I had just graduated from college and was confused about my place in the world. Fresh from a breakup, I had just moved my stuff and my broken heart to live amidst other desolate dreamers who wander the trash-ridden streets in the heart of Hollywood. In an attempt to pursue my calling as a writer I quit my good job at a small granola company and replaced it with a shittier one waiting on pretentious and demanding Hollywood residents who dined at a local café. I watched as my work blossomed into an impressive denial-letter collection that was rivaled only by my growing pile of parking tickets.
Desperate to dispel negative energy I laced-up my running shoes and headed for the Hollywood hills. As my feet pounded against the pavement I attempted to find solace in the solitude of my thoughts, wondering where I could find a bit of positivity in the land of rejection.
Then, as if my prayers had been answered, I saw him. Through the honking cars that whizzed past on Hollywood Blvd he waved blithely. Long brown hair. Neatly trimmed beard. Flowing white robe. Sandals. Was he the real deal?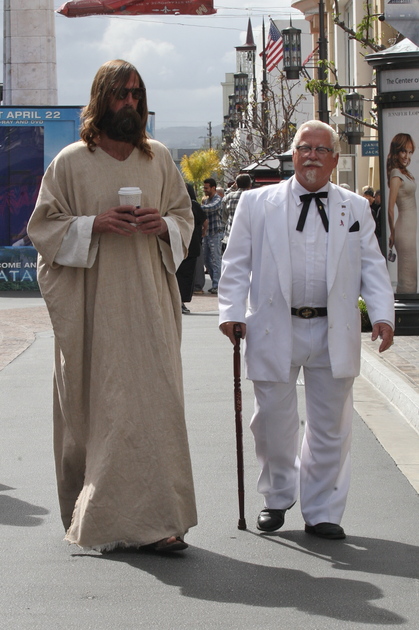 (Photo by Owen Beiny)
With trust in my heart I bounded across the white slotted lines purposed for pedestrian crossing (that really only serve as an acceptable place to pin walker against car in a real-life game of Frogger).
I successfully made it across the street, as if the sea of afternoon traffic had been parted just for me. I jogged up the hill to where he was.
What do you say when you encounter Jesus? Nothing at all. He raised his hand and offered a high five. Then he spoke. "Yea!" he shouted to me as our hands met.
That was all he said to me that day. I continued on my run with a sense of belonging and purpose. After all, there aren't many people who can say they were offered the ultimate affirmation by Jesus.
I saw him only two times after that. Once from afar, standing with supporters at the Pride parade in West Hollywood. Then again the following year dining at an upscale vegan establishment on Larchmont called Café Gratitude. He was with a party of 12. On both occasions he smiled graciously but said nothing.
It has been three years since that first encounter and I suddenly find myself in a similar state of mind. I have just graduated with a Masters Degree in Journalism, again unsure of where to go. There has been another breakup, another move, and a lot more running. The difference is I now live in Santa Monica. Jesus doesn't come around here very often.
This is why I decided, once and for all to find out more about the man behind the beard. I needed to know why he haunts the streets of Hollywood doling out high-fives to heavy-hearted soul-searchers. Who was Jesus of Hollywood? And where could I find him?
My journey began at 2:30 p.m. I left the cool, clouded city of Santa Monica headed east. The following is a log of my mission:
2:39: Shit. There is a lot of traffic. Why the hell are all these people going into Hollywood at this hour?
2:45: Still. Haven't. Moved. Will I ever make it?
3:15: FINALLY. I have crossed into West Hollywood. No sign of Jesus over here. Really wishing Jesus were more like Beetlejuice and could easily be summoned by calling his name three times. Quickly noted that this would make for frequent awkward situations for my upstairs neighbor.
3:20: Spotted comedian Jason Farone from "Street Cracks" dining with friends on the Cabo Cantina patio. After plugging his show at the Kodak Theater he shared what he knew about the focus of my quest:
Farone: "We all know WeHo Jesus. Lovely set of sandals on that guy. Not sure why he is dressed like Jesus, I know he does the original, true-to-life bible garb, which requires more deodorant than he planned. I know he is a building manager in West Hollywood, which is weird, because the original was a carpenter."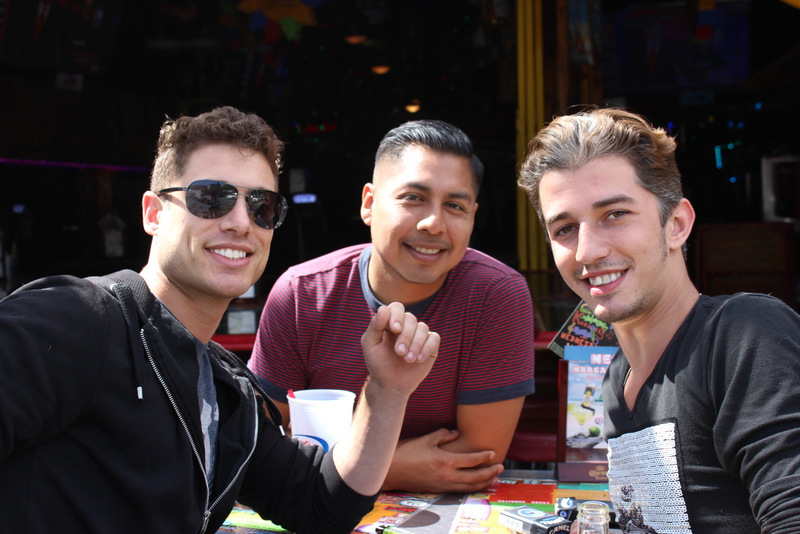 Me: Has he had am impact on your life?
Farone: "Huge. He is more of the hunk Jesus. He occasionally has a beard that he trims. He keeps it nice."
Me: If you could ask him one question what would you ask him?
Marone: "Can you get me a deal on sandals? The summer is coming up."
3:27: Continued on and came upon a smiling gentleman who said he went only by Gonzalez, standing outside the carwash where he works. He didn't speak much English but tried his best to share what he knew about Hollywood Jesus:
Gonzalez: I am Gonzalez. This is the car wash.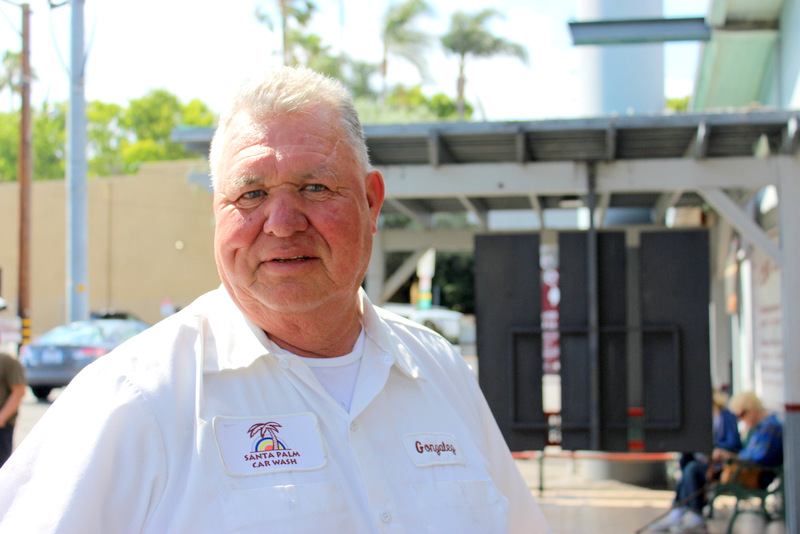 Me: Do you ever see Jesus walking around
Gonzalez: Yes, I see him sometimes. But, I don't talk to him.
Me: Do you know why he dresses up as Jesus?
Gonzalez: No...um?...no ::laughs::
Me: Is there anything you would ask him?
Gonzalez: No...heh, heh, heh.
Me: What would you say to him if he walked by now?
Gonzalez: Well? No. heh heh heh.

3:54: Still no sign of Jesus. I have made a few new friends but been snubbed by a pretentious and snooty West Hollywood hairdresser who is clearly too fabulous to bother with the likes of me. Even though his stupid salon has no one in it and the wigs he is primping are ugly. Yea I said it. UGLY.
4:10: A group of teenage theater kids standing outside The Lee Stratsberg Theater and Film Institute said I could find him on Hollywood Blvd along with Batman (clearly who I would be looking for, if not for Jesus). Finally some direction! And then they hit on me. Reason 1,500,000 why I hate Hollywood. And teenagers.
4:35: Traversing through tourists at the famed Hollywood and Highland juncture. Thought about asking Tom and Jerry if they had seen my guy but when I approached them their wordless motioning to come in for a picture scared me off. Perhaps the man dressed as Chewy who, in an effort to get an inhale of the smoggy air, stood headless while he counted a handful of dollar bills?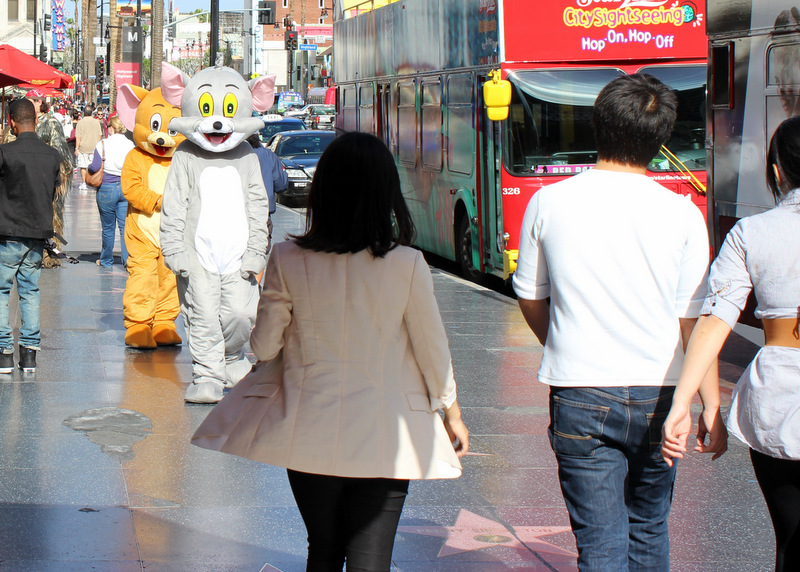 4:40: No luck--Chewy didn't know anything. Figures. BUT THEN--"Did you just say you were looking for Jesus?" The one and only Tyrone Burne. Apparently, he was on the show "That's so Raven," a detail so important than he mentions it three times. "I do standup. I impersonate Eddie Murphy, Bernie Mac, Bill Cosby, Michael Jackson, and Muhammed Ali," he tells me when I say I am looking for Jesus. Finally he gets to the point:
Burne: I found him really cool. Yea. He really cool. You don't get no bigger than Jesus. He the king of kings the lord of lords, the sun of god in the flesh. So when I see him acting like Jesus I am all, Lord? But when I see him I'll be like, yea I'll talk to him. I forgot some of the things I talked to him about, but I found it interesting."
Me: Do you really talk to him? Do you ask him for advice?
Burne: I like to do something funny. Like throw some water on the ground say, walk on that. I want your toes to be on top of the H2O. Nah, but, I gotta relationship with the real Jesus.
4:50: Rather than helping me with my quest Tyrone Burne gives me a burned copy of his comedy CD. He reminds me, for the road, that he was once on "That's So Raven."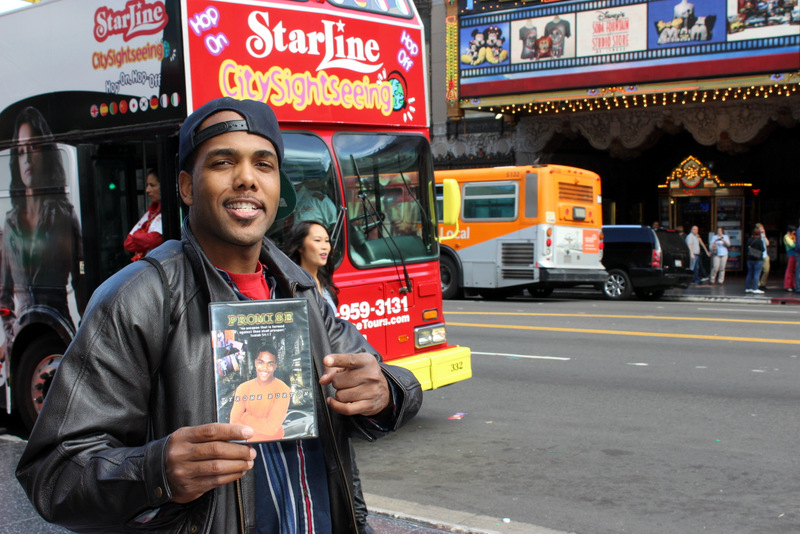 4:55: A tour-guide overhears my conversation with Burne and says Jesus hangs out on the corner of Crescent Heights and Sunset.
5:03: I forgot to validate my parking and have to pay full price....!@@$#%
5:15: I almost rear-end someone on three separate occasions scanning the street for flowing white robes. Is it time to give up?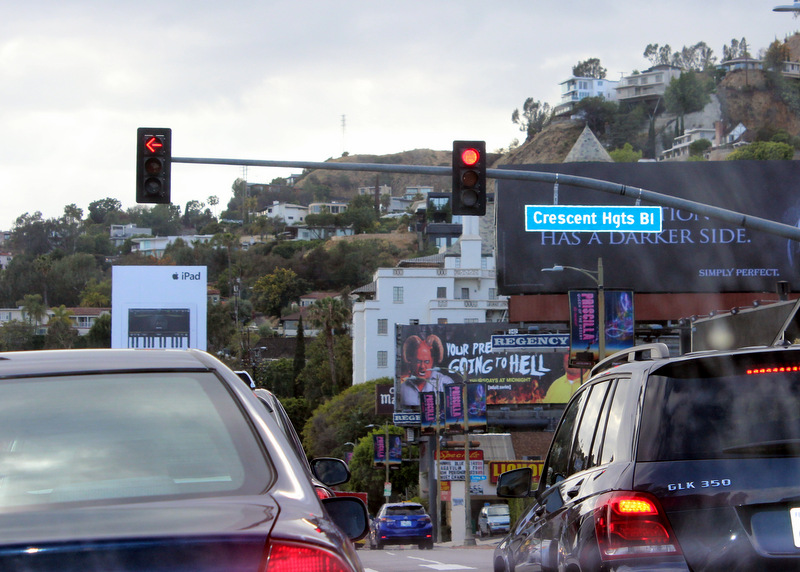 5:40: I am headed back toward home. The traffic is crammed the other way but I breeze by clearly headed the better direction. Jesus is one elusive guy. I wonder if he is OK, trapped somewhere or perhaps taking a break from the constant commotion on the streets of Hollywood. Then it dawns on me that maybe he only appears when you least expect it, when you aren't looking for him--when you need him most. I roll down the windows, crank up my music, and relish in the thought that perhaps the search for Jesus is more important than finding him. It gave me time to find myself and realize that things really aren't so bad. I mean, I may not have ever been on "That's So Raven," or be cool enough to talk to diva hairdressers, but as I crossed back into my new hometown I smiled. At least I no longer live in Hollywood.
Popular in the Community