Ernesto Hernandez was just about to bite into a chicken breast Friday night when he saw something bizarre.
"I was about to bite my piece and it looked right at me," Hernandez, 49, told HuffPost Weird News.
The chicken itself wasn't looking at Hernandez, but a strange image of a bearded man that possibly resembles Jesus certainly was.
"It must be the char marks, because the chicken wasn't breaded," said Hernandez, a New York City-based architectural specialist who was at his weekend home in Pocono Summit, Pennsylvania, when he enjoyed the perhaps divine chicken dinner.
"Everyone I show this too says it looks like Jesus without me saying anything," Hernandez said. "I don't want to say it looks like Jesus, but it's the personification of what people think he looks like. My sister, who is more cynical, says it looks like Charles Manson."
It's said that God will never give a person anything they can't handle, but figuring out how to preserve the possibly sacred piece of poultry has been a challenge for Hernandez.
"We don't know what to do," he admitted. "It's in the fridge, but it's starting to dry up and doesn't look as much like Jesus."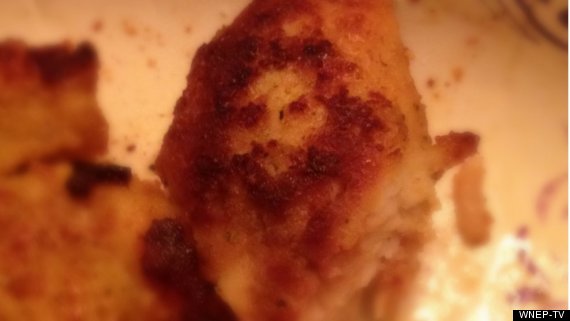 This isn't the first time Jesus and chicken have connected on the weird news front.
The Church by the Sea in Madeira Beach, Florida, is also known as the "Chicken Church" thanks to a photographer who noticed that, from just the right angle, the structure's round windows look like eyes and its roofing tiles resemble wings and a beak.
It's rare for the image of Jesus to appear in chicken, but not uncommon for people to see faces in random objects, a condition known as face peridolia.
Dr. Kang Lee, a psychologist at the University of Toronto, who released a study of face peridolia earlier this year, told HuffPost that "human brains are uniquely wired to recognize faces, so that even when there's only a slight suggestion of facial features the brain automatically interprets it as a face."
Calling all HuffPost superfans!
Sign up for membership to become a founding member and help shape HuffPost's next chapter
BEFORE YOU GO
PHOTO GALLERY
Sacred Sightings?