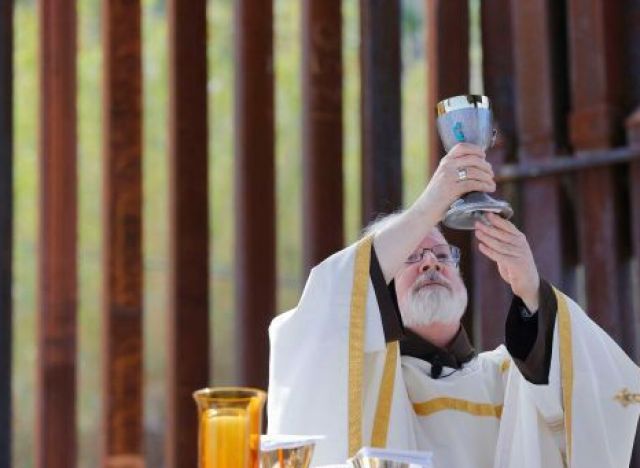 Photo credit: John Moore / Getty Images
Cardinal Sean O'Malley of Boston celebrates Communion at the U.S.-Mexico border fence.
Since October, at least 52,193 unaccompanied children have been apprehended at the U.S.'s border with Mexico. For months, churches, humanitarian organizations, and individuals have sought to offer clothing, food, and space for rest for the road-weary migrants, some of which have traveled on for more than a month.
Fleeing sexual assault, organized crime, and deteriorating economic conditions in their home countries, children and adults are risking life and safety to live in the United States. For people familiar with the Gospel according to Matthew, this crisis is nothing new.
Just after the Magi visit the toddler Jesus, Joseph, Jesus' stepfather, has a dream. "Get up, take the child and his mother, and flee to Egypt," the divine voices says, "and remain there until I tell you; for Herod is about to search for the child, to destroy him." Being the compassionate, devout man he was, Joseph springs up, gathers Jesus and Mary by night, and escapes to Egypt. Like the people crossing through Mexico to come the United States, the Holy Family were seeking the space, refuge, and right to flourish, borders be damned. The same God who led Joseph and Mary from Nazareth to Bethlehem is the same God who led Joseph, Mary, and Jesus from Nazareth to Egypt, legal documents or not.
Joseph and Mary -- like the parents and families of children fleeing Honduras, Guatemala, and El Salvador -- wanted a loving, violence-free atmosphere in which to raise their Son. Who am I, any government, or political party to deny them of that right? Worshipers of Jesus the Refugee are accompanying the displaced Holy Family from Nazareth every time they welcome and house the displaced peoples of Central America.
In Western Christianity's frantic effort to promote an omnipotent, omniscient God, we have lost the vulnerable, fragile Christ on his way to Egypt. Instead of finding solidarity with him and his parents in their politically-induced migration, we end up siding with Herod, the ruler who caused their displacement in the first place.
Wherever you end up on the spectrum of arguments from universal deportation to amnesty, I want you to consider this: Jesus is hidden in every person who begins that long trek away from the economic, political, and social unrest of their homes. He is in every pregnant mother who defies the odds of physical and emotional dehydration, every child ready to delight in a better future, and every tireless patrol officer, case manager, and volunteer who greet them with open arms and hearts. Do not deny these people the life they have been afforded by God in Christ. If anything, receive their suffering as yours, knowing that Jesus is the lifter of burdens and bearer of yokes.
Related
Popular in the Community