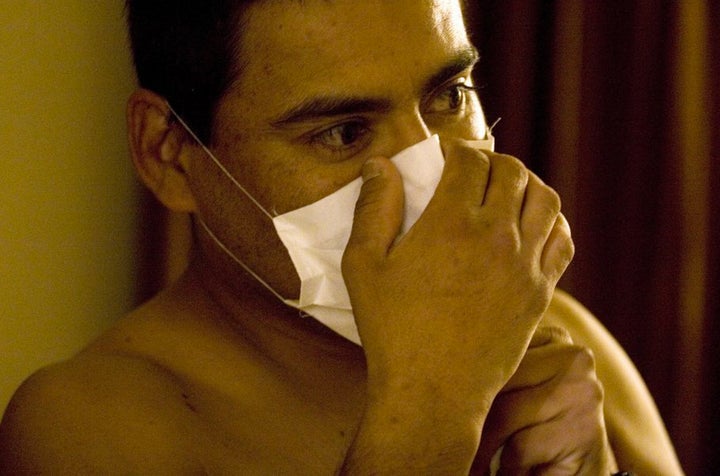 Update: Change.org has withdrawn their statement about UCSF agreeing to perform Mr. Navarro's procedure. Instead, the hospital has referred him to a community assistance organization in an effort to help his case move forward. A spokesperson from UCSF told the Huffington Post moving Mr. Navarro to "inactive" did not constitute a "denial" of his procedure on their part. More on this story as it develops.
After receiving more than 130,000 signatures on an online petition, the U.C. San Francisco Medical Center has agreed to work with Jesus Navarro, an undocumented immigrant in need of a kidney transplant, to help him find a solution.
Navarro's story made national news last month after the hospital moved him off of the active transplant waiting list for the potentially life-saving procedure despite having both medical insurance that would cover the operation as well as a willing and compatible donor--his wife.
Even though Navarro was in the country illegally, he had private health insurance from the 14 years he spent working at a steel foundry in Berkeley. Following an immigration sweep of the company earlier this year, Navarro lost his job, but still had access to the insurance.
However, USCF administrators feared if he lost his insurance and ended up on the state's Medi-Cal program, his new plan wouldn't pay for the post-surgery drugs necessary to prevent his body from rejecting the organ. Medi-Cal normally pays for the anti-rejection medication, but doesn't in the case of undocumented immigrants.
"UCSF's policy for financial clearance requires candidates to present evidence of adequate and stable insurance coverage or other financial sources necessary to sustain follow-up care long after transplant surgery," Recce Fawley, UCSF's executive director of transplantation, said in a statement to the Contra Costa Times. "Immigration status is among many factors taken into consideration."
Navarro had been on the waiting list for the operation for six years before being moved to "inactive" status. Navarro's brief inactive stint didn't affect his position on list; USCF officials expect him to reach the top within three to six months.
After hearing of Navarro's situation, Donald Kagan--a kidney recipient himself--started a Change.org petition directed at helping the Oakland resident.
"I was once in need of a transplant, but thankfully I was able to receive a kidney from a Nicaraguan friend of mine. UCSF never asked me if I was a legal resident," wrote Kagan in his petition. "UCSF hospital has told Jesus that the only reason he would not be able to get a transplant is because of his immigration status. As I see it, this is a matter of life and death."
Kagan's petition went viral almost immediately and accrued over 100,000 signatures within days of being posted.
"This is a clear example of Change.org's platform serving its purpose: to empower anyone, anywhere to take action on critical issues," said Change.org Director Jackie Mahendra. "The success that Donald Kagan achieved in just a few days in his campaign to save a father's life demonstrates the power that each and every one of us have to make a difference."
Bowing to the public outcry, the hospital released a statement on Tuesday morning detailing the change in Navarro's status on the transplant list:
UCSF is committed to helping Jesus Navarro and all kidney transplant candidates achieve their goal of a transplant. On Tuesday, we jointly developed a plan that we hope will secure for Mr. Navarro the health coverage he needs for his care during transplant surgery and beyond, including costly anti-rejection medications. While that plan is pursued, he will remain on the transplant list, as was always the case and will continue to accrue time toward a transplant.
In the years since the Connie Frank Transplant Center was established in 1964, UCSF has performed more kidney transplants than any other hospital in the world--it now averages around 350 per year.
Related
Popular in the Community