The statue is haunting and uncomfortable, depicting a darkly shrouded figure lying huddled on a long park bench. From a distance, the figure could be anyone, and only on close examination are the tell-tale "stigmata," or crucifixion wounds, visible on its exposed feet.
"Homeless Jesus had no home," Schmalz told the Toronto Star. "It was very upsetting because the rectors liked it, but when it got to the administration, people thought it might be too controversial or vague," he said, adding he was told the piece "was not an appropriate image."
In a phone interview with The Huffington Post, the sculptor explained that returning to the city and seeing so many homeless on its corners and benches can be a jarring experience. The December night when he spotted the homeless man who inspired him was a particularly poignant moment, he said. "My instinctive thought was, that is Jesus Christ. I just saw Jesus."
The Ontario-based artist, a Christian himself, said that statue is meant as a permanent reminder of the Bible's Gospel of Matthew, Chapter 25:31-46, when Jesus tells his disciples that when they help the sick, the tired, the homeless, they also help him.
"This is one of the most powerful messages from the Christian religion," he told HuffPost. The sculpture is a "visual translation" of that Gospel.
Feeling "chagrined" by his statue's initial rejections, Schmalz said he thinks some "higher-ups" in the Church were put off by the "radical" depiction of the man Christians believe is the son of God.
The statue has finally found a home, however, near the entrance to Regis College at the University of Toronto. Regis is a Jesuit school of theology that recognizes that "the intrinsic link between faith and 'doing justice' is central to an Ignatian way of living." The school is also hosting an April 17 panel discussion, centered around the topic of homelessness, to recognize the installation of the piece.
"The mission of our college is to promote critical theology, with advocacy for justice and an appreciation of beauty," Father Gordon Rixon, the dean of Regis College, told HuffPost in a phone interview.
Placed on a prominent corner across from city government buildings, the statue has high visibility, Rixon said, and is a beautiful way to "help interpret our college to the city."
Already, the reaction to the stature has been overwhelmingly positive, with people leaving flowers at its feet and emailing letters of support to the college.
Schmalz said that, in the future, he would like to replicate the statue and place copies around the world. "I think its a sign everyone should read," he said.
Related
Before You Go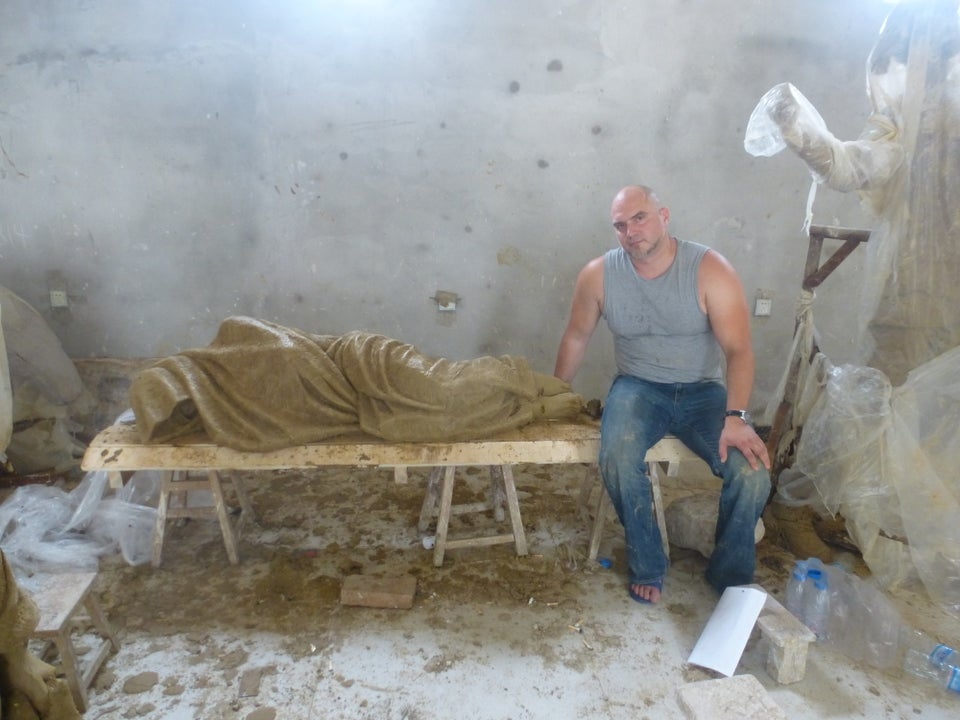 Jesus The Homeless
Popular in the Community