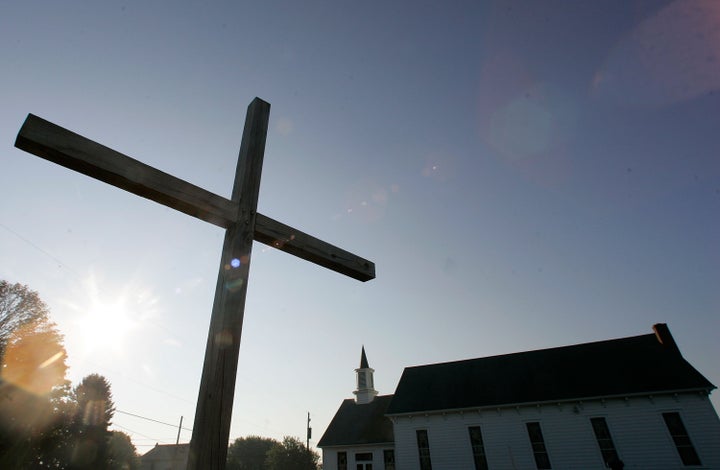 On Sunday, Oct. 6, 1963, I was a skinny, 13-year-old white kid with glasses. My dad pastored a fundamentalist Baptist church just north of Memphis, and my granddad, John R. Rice, was the dean of fundamentalists in the 20th century. He not only founded The Sword of the Lord newspaper in Texas in 1935, he also personally mentored and influenced many well-known fundamentalist preachers such as Billy Graham and Jerry Falwell, and he laid the ideological basis for the modern Religious Right.
As on every other Sunday morning, I sat in the sanctuary of our church. Sunlight streamed through the side windows and glanced off the simple wooden pews. Our congregation of just over 100 settled in by singing the opening verse to "Amazing Grace."
Just three weeks earlier a bomber had killed four little girls at a black Baptist church in Birmingham, Ala., and earlier that summer civil rights leader Medgar Evers had been slain. Yet, I was oblivious to the civil rights movement sweeping the South. No one in my family or church had even mentioned those tragedies. This Sunday morning, however, reality would intrude. A black sailor from the Memphis Naval Air Station walked in the front door of the church with his three white friends. All four wore their dress blue uniforms.
My dad's conducting of the music began to falter as some stopped singing. The sailors ignored the shocked stares and urgent whispers of the congregation, and sat down in our midst. Within minutes, most folks walked out of the church building, led by every member of the board of deacons and all their family members. The next day, my dad met with the black sailor and asked him not to disturb us again.
That day marked the beginning of my slide toward rage and apostasy. By high school, I concluded that there was no God and I hated everything my family and Christianity stood for. Christianity was for hypocrites, racists and warmongers.
I believed my family's brand of religion had little in common with Jesus' teachings about loving your neighbor, serving the poor and seeking peace. While still in high school, I began marching in civil rights demonstrations and protesting the war in Vietnam. Within a few more years I slid all the way to another extreme and called myself an atheist and communist, little realizing I had simply taken a small ideological step to adopt an equal and opposite fundamentalism, intolerant of dissent and similarly polarizing in its philosophy.
John R. Rice preached around the world and published more than 60 books and pamphlets in more than 200 million copies. As his oldest grandson, I was expected to follow in the footsteps of my dad and inherit the mantle of my famous grandfather. Instead, I spent my 20s doing my utmost to overthrow the imperialist bourgeoisie. Now in my 60s, I'm consoled by George Bernard Shaw, who famously paraphrased François Guizot: "Not to be a communist at 20 is proof you have no heart; to be one at 30 is proof you have no brain."
In 1980, my grandfather died. That same year Jerry Falwell led the Moral Majority to help elect Ronald Reagan. At my grandfather's funeral, three weeks before Reagan's inauguration, Falwell preached the sermon. Afterwards, at the family dinner, an anonymous and well-intentioned schemer -- probably one of my aunts -- thoughtfully placed my name tag next to Jerry Falwell's in a vain hope that Jerry might influence my return to the fold. I listened to Jerry explain how God had helped him to bring about Reagan's election, but Jerry failed to convert me.
That same year, I quit my factory job, left the proletarian revolution behind and began a decades-long journey to recover my life -- and to uncover my fundamentalist roots. I wanted to understand the forces that had shaped me and conditioned my family's religion. My book The Sword of the Lord: The Roots of Fundamentalism in an American Family is the result of that long and strange journey -- a work of both history and memoir.
The story of Southern fundamentalism -- and my family -- begins with a mass migration from Europe. Hundreds of thousands of Scots-Irish came to America in the 18th century, bringing with them an individualistic spirit, a stern form of Calvinism, a fierce love of freedom, and a hatred of oppression. They settled along the Southern coast and in Appalachia, provided the backbone of the Revolutionary Army, and then moved on to settle the South. They generally defended slavery, yet also gave the nation its most ardent abolitionists.
They suffered the terrible defeat and trauma of the Civil War, but then clung to a rigid, literalist religion that justified the continued exploitation and oppression of blacks. My great-great-grandfather was a slave-owning Presbyterian and Confederate cavalry officer. My great-grandfather was a Baptist preacher, a Ku Klux Klansman, and a one-term Texas State Senator. My grandfather was the fundamentalist leader who provided a bridge from that past to the modern world.
By the end of his life, my granddad turned his focus to what Jesus said were the true fundamentals of faith: loving God and loving your neighbor as yourself. Jesus viewed his own ministry on earth as a call to radical compassion: "The Spirit of the Lord is upon me," said Jesus, "because he has anointed me to proclaim good news to the poor. He has sent me to proclaim freedom for the prisoners and recovery of sight for the blind, to set the oppressed free, to proclaim the year of the Lord's favor."
Now I find I am once again willing to describe myself as a fundamentalist, for the first time in almost 50 years. As I try to follow the example and most fundamental teachings of Jesus, I come to better understand my grandfather's motivations, his own all too human attempts to follow Jesus. I find myself having more compassion for my neighbor, and slower to condemn those who don't understand the world exactly as I do.
Following Jesus requires more than right belief. It requires right practice: placing Christ's incarnation of love and justice at the center of your life and practice. Fundamentalism that recalls the unearned grace proclaimed by Jesus will be open-hearted, generous, kind, and hopeful, and will seek the Kindom (my intentional spelling) of God on earth.
Calling all HuffPost superfans!
Sign up for membership to become a founding member and help shape HuffPost's next chapter