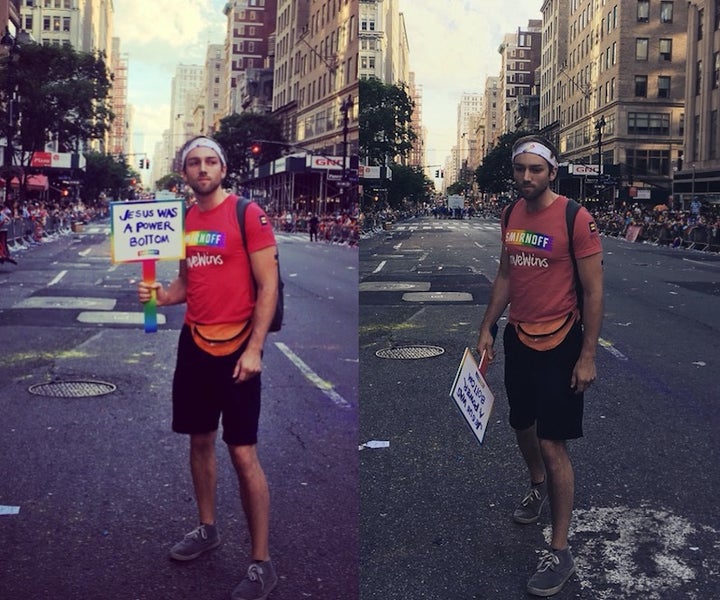 At the Smirnoff base on 39th and Park, a few straight, male reps gave out blank signs and markers. Stroked by God's hand, the words flowed from me— 'Jesus was a power bottom."
When I woke up on Sunday, I didn't plan on marching in Pride. I was in my small hometown where I once spent my Sundays at church. On the trip back into the city, a friend asked if I wanted to join a float. I had a burger in a take-out container, my laundry in a grocery bag, and honey mustard everywhere— no man has ever looked or smelled so straight.
Smirnoff wasn't asking for my religious convictions that afternoon, but I'm not the one who brought markers and signs to a pride parade. In my opinion, Jesus was probably more brown and gay than white and straight. And I'm not the first one to think it. Beautiful, queer, Dame Margaret Cho once said "Jesus was all about taking other people's pain and absorbing it, and making himself stronger because of it — absorbing all the negativity from your persecutors and taking it on for someone else. He is not at all about guilt. A lot of Christianity has been distorted by anti-gay stuff that doesn't even exist in the Bible at all. I think of Christ, at face value, as very much a power bottom. That's a really good thing to be!"
"Praise be" Margaret, I couldn't agree more. That's why it was troubling when a rep asked me to change my sign or bow out. This happened at 20th street, after I had been with the team for almost three hours and had walked twenty blocks with power bottom Jesus. I'd passed many thumbs up, laughing gay men, women, and golden retrievers, even a smiling priest who handed me a free cup of water. Perhaps what they'd really wanted me to write was "Drink more Smirnoff, faggot." Clearly, mine was not the brand of gay they were advertising.
I asked the rep if he was gay, which he was not. I asked him to explain why he thought this was offensive, which he could not. He could only mention a nameless few were suddenly offended by my sign. So on 20th and 5th, I felt shame. I felt like an asshole who should have stayed home, who, even as a gay man, didn't really understand pride.
My friend assured me it was okay, I've always been more of a Grey Goose gay. We left on 14th. But I was confused. Why was a company with Russian origins so on board with pride? And why, at the parade, did a straight man tell me what was appropriate? Contrary to the straight Bible, gayness does not come in a fruity branded bottle ― it is not a commodity to be sanitized for your "bottom" line. Pride is a people, a culture, maybe even a power bottom from Nazareth with twelve close male friends.
Brands be brands, but in the wake of Kim Burrell, the continued stories of conversion therapy, and with Mike Pence in the White House, I stand with my sentiment and my sign. I'm not asking corporate America to stay home, but I'm aware of their angle— the prophets have foretold of the gay profits. In an Atlantic article, "USAID and the Williams Institute at UCLA, finds that countries that treat LGBT people equally also have better-performing economies." According to the Pew Research Center, 74% of millennials support same sex marriage. And in a Bloomberg post from 2016, 'the combined buying power of U.S. lesbian, gay, bisexual and transgender adults rose about 3.7 percent to $917 billion last year." I'm not trying to "ice" Smirnoff, I'm not asking them to get on their knees and chug, but take the controversy with the queer cash, the strife with the sashay, or please keep your 'brand of gay' in the closet.
REAL LIFE. REAL NEWS. REAL VOICES.
Help us tell more of the stories that matter from voices that too often remain unheard.