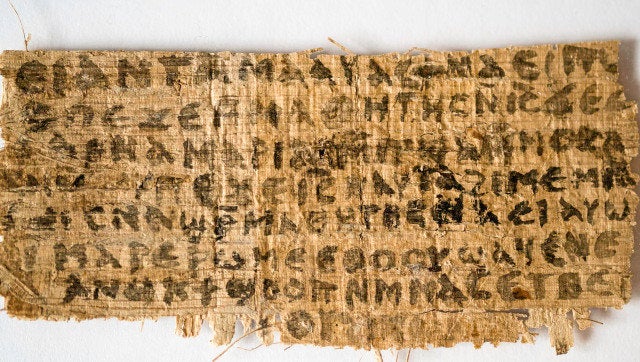 Facing mounting doubts over the legitimacy of a business card-sized Coptic papyrus fragment that appears to quote Jesus Christ discussing his wife, the Harvard professor who acquired the artifact said Wednesday that she stands behind her findings, but is "open to questions about authenticity."
Karen L. King, the Harvard Divinity School professor whose announcement at a Coptic studies conference in Rome last week about a 1½-by-3-inch fragment inspired "Jesus' Wife" headlines worldwide, said the badly damaged artifact has been sent for testing. She said the tests should determine if it is from the fourth century as originally proposed, or if parts of it are a modern forgery, as an increasing number of scholars of Coptology and papyrology have suggested.
The fragment, which has eight mostly legible dark lines on the front side and six barely legible faded lines on the back, was never meant to prove Jesus was married, King said, since its writing dates back to hundreds of years after his death. It was intended to highlight that some early Christians may have believed he was married. That would be significant because debates over sexuality and marriage have dominated contemporary discussions about Christianity; the Catholic Church cites Jesus' celibacy as one reason its priests must not have sex or marry.
The legible lines on the front of the artifact seem to be a conversation between Jesus and his disciples. The fourth line of the text says, "Jesus said to them, my wife." Line 5 says "... she will be able to be my disciple," while the line before the "wife" quote has Jesus saying "Mary is worthy of it" and line 7 says, "As for me, I dwell with her in order to ..."
King, who carefully guarded her discovery until the Rome conference, released photos of the fragment and a draft of a related paper, scheduled to be published in the Harvard Theological Review. But after the conference, scholars quickly began to doubt the findings. Some said the handwriting, grammar, shape of the papyrus, and the ink's color and quality make it suspect. Others said the ink and papyrus should have been chemically dated before being publicly announced. The fact that the fragment's owner is unknown also has attracted suspicion.
King said the owner acquired the piece in 1997 from a German owner and wants to remain anonymous.
On Wednesday, bloggers began circulating a rumor that the Harvard Theological Review reneged on publishing King's 52-page paper titled, "Gospel of Jesus' Wife" because of doubts over whether the papyrus was genuine.
Helmut Koester, a professor emeritus of Harvard Divinity School and a former 25-year editor of the journal, said in an interview that he heard "they did not want to publish because of doubts from two respected scholars." Koester, who specializes in early Christianity and early Christian archaeology, added that after seeing an evaluation of King's work from a colleague in the field, he was "absolutely convinced that this is a modern forgery."
A call to the Harvard Theological Review was redirected to a Harvard spokesman, and Kevin Madigan, the journal's co-editor, did not reply to an email. But in an earlier Associated Press article, Madigan said King's paper had only been "provisionally" accepted for a January publication. He said that there would be ongoing studies about the "scientific dating and further reports from Coptic papyrologists and grammarians."
King, however, said on Wednesday that her work is on track to be published in January.
Craig Evans, a New Testament professor at Acadia Divinity College in Nova Scotia, is one of the scholars who still has questions. Evans blogged Wednesday on Near Emmaus, a biblical history website, that he thought "the papyrus itself is probably quite old, perhaps fourth or fifth century, but the oddly written letters are probably modern and probably reflect recent interest in Jesus and Mary Magdalene."
"It's usually the science that precedes the big announcements. These things aren't usually left untested, especially where a papyrologist has not uncovered it in Egypt," said Evans in an interview.
King said Wednesday that she is "very anxious" to see what testing determines and that she is working on additions to her paper in response to criticisms. She also plans to report on the ink and papyrus analysis. It's unclear when testing will be complete.
"The idea was precisely to put it in the hands of scholars so we can began the discussion, to get opinions about authenticity, what they see in the fragment and what they think it is, what the conversations are," King said. "That's what we are seeing ... This is the academic process."
Front of fragment with translation

Back of fragment with translation

Related
Before You Go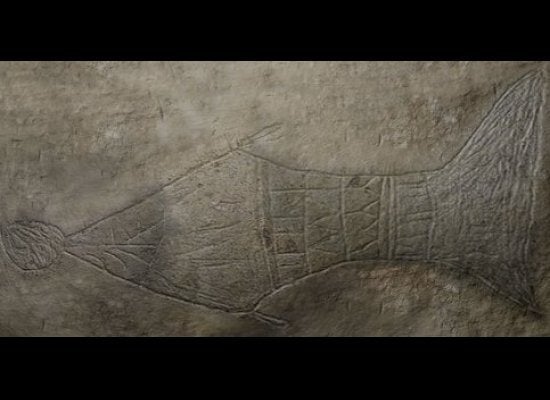 Biblical Archaeology
Popular in the Community