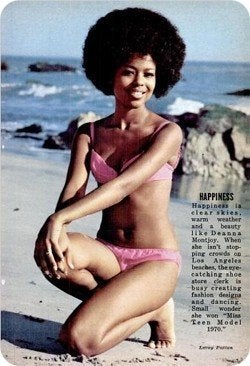 Admiring these gorgeous women of color has definitely become a pastime. And once you're able to peel your eyes away from their fantastic physiques clad in cheeky swimwear, their bios reveal there is plenty of talent, personality and brains to go with those curves.
So it's no surprise that thousands of women have vied for the chance to be spotlighted on the page. And until now, the only way to do so was by submitting an application and photos to the magazine via the mail or the Internet.
But for the first time in history, JET is hosting an open casting call to fill the historic page with a new generation of beauties. This weekend in Atlanta, Ga., aspiring women (over the age of 18) will get the chance to show JET what they've got...in person.
JET's editor-in-chief, Mitzi Miller, will host the event with "The Real Housewives of Atlanta" star and model Cynthia Bailey in hopes of finding women who "embody the look and spirit of the 'Beauty Of The Week.'"
A male point of view will come courtesy of the special celebrity guest Q Parker -- a singer formally of the R&B group 112.
The B.O.W. franchise remains one of the most popular sections of the magazine, so there is no shortage of submissions. Miller said she is excited for the opportunity to get in touch with her readers.
"We're not hosting an open call because we need more 'Beauty Of The Weeks' -- we're having an open call because we want to reach out to our readers and I want them to be aware of how JET is changing," Miller told The Huffington Post. "It's not becoming something that is unfamiliar, we're just stepping up our game and modernizing it -- so we're looking for today's beauties."
This weekend hopefuls are asked to bring a headshot and wear a bikini. That's right, the streets are about to be filled with scantily clad ladies. Looks like Hot-lanta is about to get even hotter!
But we're confident JET will be able to pull off a classy event. For more information, head over to the JET website.
Check out the slideshow below for a look at a few stunning "Beauty of the Week" ladies from past to present.
REAL LIFE. REAL NEWS. REAL VOICES.
Help us tell more of the stories that matter from voices that too often remain unheard.