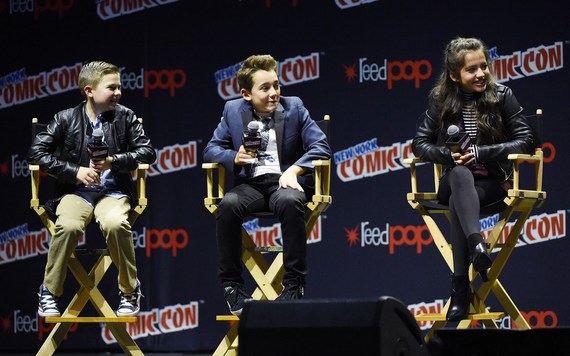 Kirk Fogg was joined by actors Isabela Moner, Colin Critchley, Jet Jurgensmeyer, the voice of Olmec himself, Dee Bradley Baker, and executive producer Michael Sammaciccia for a special panel for Legends of the Hidden Temple: The Movie at New York Comic Con last Thursday (October 6th) in New York City.
Fans in attendance were able to hear that the film would premiere this Thanksgiving, get their questions answered from the cast and crew, and watch a behind-the-scenes look at the TV movie. Check out the newest trailer for the film below.
Legends of the Hidden Temple: The Movie follows three siblings, Sadie (Moner), Noah (Critchley), and Dudley (Jurgensmeyer), who break away from a lackluster tour in a jungle, finding themselves immersed in a high-stakes adventure comprised of obstacles that they must complete in order to escape alive.
The TV movie will feature elements from the original game show including: Olmec, a talking stone head who greets anyone who dares to enter the temple; The Steps of Knowledge, the entrance to the temple and launching pad for the mission; and cameos from a green monkey, red jaguar, and silver snakes, among others.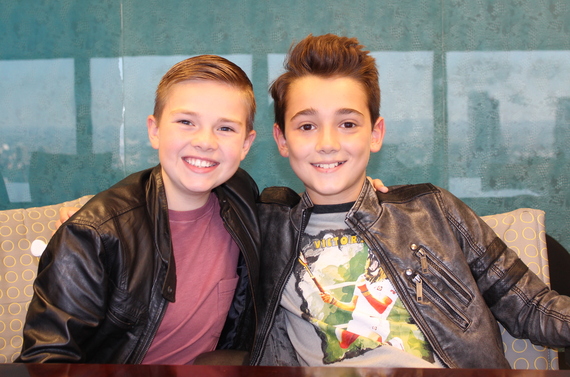 Prior to New York Comic Con, Celeb Secrets had the opportunity to sit down with Jet Jurgensmeyer and Colin Critchley to talk all things about the TV movie. In the interview below, the boys reveal the similarities and differences between the hit 90's game show and the film, what it was like filming on set, and what they learned from original cast members Kirk Fogg and Dee Bradley Baker. They even reveal some major behind-the-scenes secrets, which you can only hear by watching the video below.
Make sure to tune in to Legends of the Hidden Temple: The Movie on Saturday, November 26th @ 8PM ET/PT on Nickelodeon.
Photo credit (as they appear): Nicholas Hunt/Getty Images, Juliet Schroder/Celeb Secrets. This article, written by Juliet Schroder, originally appears on Celeb Secrets and can be viewed here.
Popular in the Community