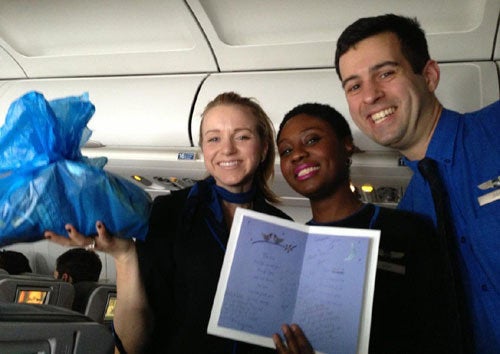 A married gay couple has penned an incredible testimony of the lengths the staff on their JetBlue flight went to as they traveled to New York to tie the knot on Dec. 12, 2012 (or 12/12/12).
The couple, Rick and Liam, were apparently left "truly speechless" by the customer service they received during their flight. After learning of Rick and Liam's impending nuptials, flight attendants Virginia, Nichola and Dan delivered "a beautifully wrapped blue basket of the delicious JetBlue snacks and a congratulations card with handwritten notes" to the couple's seats.
Check out the full letter below, then scroll down to keep reading: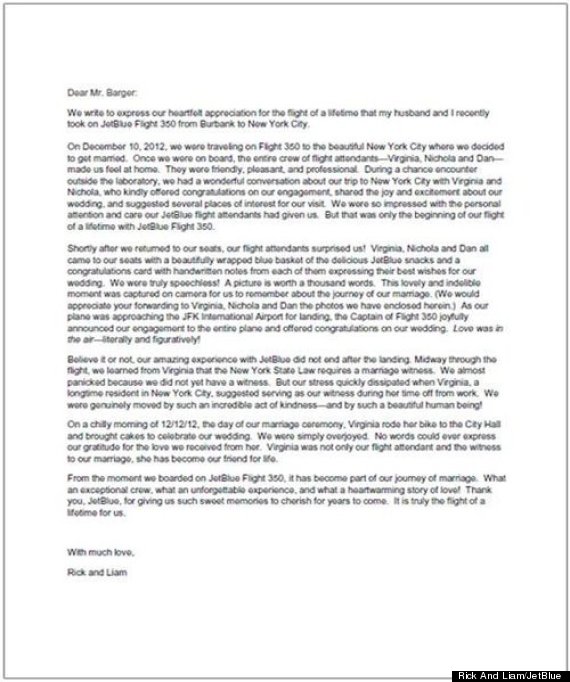 But the experience didn't end there. Upon learning their marriage would require a witness, Rick and Liam panicked, but Virginia, a longtime New York resident, opted to step up. Of the act, Rick and Liam noted, "We were genuinely moved by such an incredible act of kindness—and by such a beautiful human being!"
"From the moment we boarded on JetBlue Flight 350, it has become part of our journey of marriage. What an exceptional crew, what an unforgettable experience, and what a heartwarming story of love! Thank you, JetBlue, for giving us such sweet memories to cherish for years to come. It is truly the flight of a lifetime for us."
Check out photos of Rick and Liam's JetBlue experience below:
JetBlue 12-12-12 Wedding
All materials provided to HuffPost Gay Voices courtesy of JetBlue.

Before You Go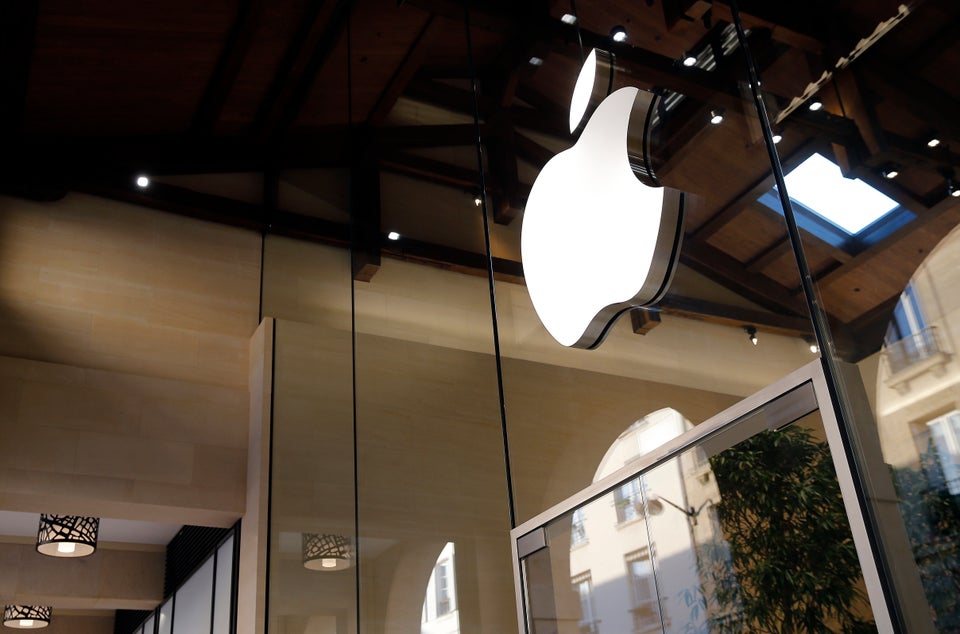 21 LGBT-Friendly Products And Companies
Popular in the Community