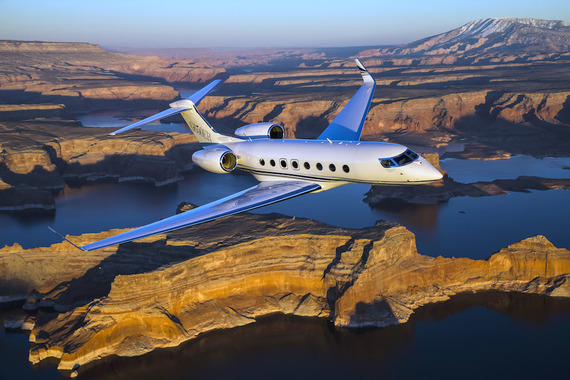 Zooming through the skies at up to Mach 0.90 and a maximum cruising altitude of 51,000 feet, the Gulfstream G500 business jet headed out from from the company's Savannah, Georgia base to the 2016 Farnborough International Airshow in England, where it ultimately made its European debut last week.
The new jet -- expected to attain United States and European certification next year and to enter into service by 2019 -- made smashing time, flying nine tenths the speed of sound in six hours and 55 minutes. That's about an hour less than its infinitely less fabulous commercial airliner cousins. Those are 60 crucial minutes if you're a sleep-deprived CEO or a billionaire entrepreneur with a penchant for fast modes of transportation like proud Gulfstream (G650ER) owner Sir Philip Green.
The G500, along with the G600 represent a duo in development -- the latest of the company's brand new best in class business jets. The former -- which I had the chance to see with my own eyes in a private viewing ahead of the public air show -- was all sleek pomp and circumstance on the outside and an exposed network of colorful wires on the inside (which had yet to be kitted out as it is in its testing phase). The possibility inherent in its wildly unglamorous pre-fab state is poised to thrill any future owner -- as the ultimate blank canvas.
The G500 and G600 are slightly smaller than the popular G650 and G650ER -- which boasts the longest range at the fastest speed and the largest purpose-built business jet cabin out there. But similar design options are of course available.
Although the grounded G650ER which I visit at the air show has a fairly standard configuration and universally palatable cream leather seats -- unsurprisingly, the Fortune 500 companies which make up approximately two thirds of Gulfstream's clientele, are often keen to brand their jets with corporate logos and color schemes.
Sporting brand Nike, which apparently acquired its Gulfstream (G550) from The Prem Rawat Foundation, famously went all out to create eye-catching flamboyant looks for its corporate Gulfstream jet -- with a bespoke swoosh tail and custom-painted trainer soles beneath the aircraft's wings.
Gulfstream however is well-reputed for its own interiors customization, which its Europe and Africa-based customers can plan and order at the company's relatively new (2013) London base in well-heeled Mayfair.
High-end corporate branding notwithstanding, there are also naturally private buyers attracted to more personal customization -- à-la Paris apartment in the sky, complete with cushion-festooned divan and dark wood panelling -- explains Gulfstream Interior Design Director Tray Crow. He reveals that -- taking jet design cues from their homes -- buyers have come up with a range of interiors strategies, including one instance of featuring Old World master paintings on bulkheads.
Understandable, considering the natural lighting in the G650ER, and its 'offspring' jets, is fit for the likes of a Mario Testino studio. The degree of sunlight streaming through its over-sized (28 by 20.5) oval windows can be adjusted via three electric horizontal shade settings -- open, closed and screen. The latter, which recalls a rich-hued Japanese rice paper screen, casts a soft light over bleary-eyed high-net-worth travelers, nestled under their camel-hued woolen blankets by Loro Piana (one of the designers whose wares are on offer to buyers when they customize their new jets).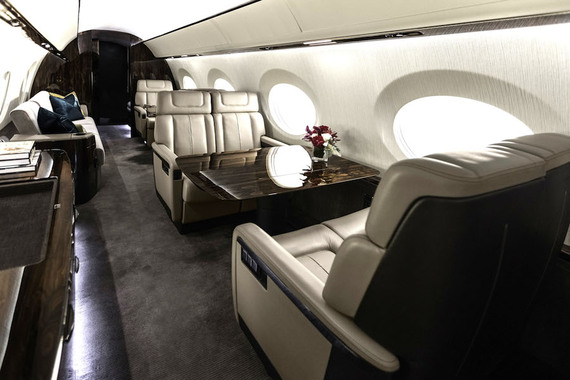 As the G650ER flies long distances -- between New York, Hong Kong, Sao Paulo and London -- passengers are also likely to be found slumbering in a fully flat sky bed. Gulfstream claims that a mix of low interior altitude and clean refreshed air in the plane mitigate the effects of jet lag. The inadvertent 'light therapy' provided by the panoramic window shades may well be another time-adjusting side benefit for long-haul jet setters.
Asia Pacific in fact now makes up Gulfstream's biggest international market, says Heidi Fedak, the aerospace company's Senior Manager, Social Media and External Communications. If recent news is any indicator, Southwest Asia is also gaining ground: this month Qatar Airways -- which had already signed a 30 Gulfstream jet deal in May -- announced that it was activating three of its G650ERs options.
The Doha-based air carrier's business jet subsidiary Qatar Executive will also become one of the G500 and G600's 'launch customers' as they acquire the newest jets as part of the deal. Flexjet -- which offers jet leasing and fractional aircraft ownership -- has also ordered the new planes, set for delivery in 2018.