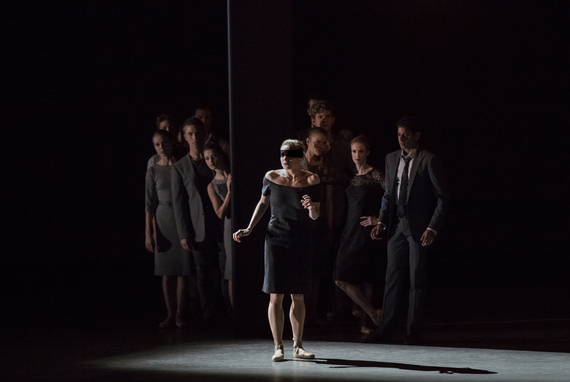 Sara Mearns and Company in Kim Brandstrup's Jeux. Photo credit: Paul Kolnik

Black, white and grey. An imposing opaqueness consumes the David H. Koch Theater, like in an old-fashioned film. Every twist of the palm seems shrouded in darkness and contrast, a silhouetted semblance of reality. The lone gold light adds warmth to the scene, a splash of color in the void. Romance masks emotion so that nothing feels so intimidatingly honest. Like when Audrey Hepburn appeared onscreen, the stage is a mirage, a nostalgic, glamorous, gorgeous rendering of what the world will never be: simply lovely.
And yet it is this simplicity that feels too safe in Kim Brandstrup's premiere for New York City Ballet. Jeux reminds you of Kurt Vonnegut's iconic line: "Everything was beautiful and nothing hurt." But sometimes you crave that ache, that immediacy. Sometimes you want to feel something -- sweet, cruel, fresh, haunting, anything -- just to know that you're alive. Brandstrup won't offer that kind of narrative; as a former film student at the University of Copenhagen, he's more invested in a story's intrigue than its subtext.
On its own, Jeux sparkles, entrenched in a '50s imagination reminiscent of Gigi and An American in Paris. But on a program beside the season's other commissions by Myles Thatcher, Robert Binet, Troy Schumacher and Justin Peck, the action seems drained, almost exhausted. There's none of the novelty of Thatcher's gender obfuscation, or Binet's use of space, or Schumacher's intricate patterning or Peck's avant-garde vitality. Brandstrup's piece is a ballet, amidst other ballets, bland in its generality. You can glue your eyes to it for twenty minutes and claim its pleasure. But it probably won't make you smile from enthusiasm or whimsy.
The curtain opens to a promising image: Sara Mearns standing in a spotlight, a heap of bodies hiding behind her. Amar Ramasar ties a blindfold around her temples, and the game begins. Unlike Vaslav Nijinsky's original Jeux from 1913, nobody's really playing tennis; this is a love sport. Mearns is infatuated with Ramasar, who in turn falls mutually for Sterling Hyltin. Adrian Danchig-Waring likes Mearns, who doesn't notice his affection because she's obsessed with Ramasar. If anyone hurts, scorned by a partner, it doesn't feel so urgent. Claude Debussy's score swells too often and too richly for pain to matter, and you know you're in a universe where the plot will sort itself out neatly in the end. If Brandstrup intended for Jeux to have any dab of authenticity, he should have chosen a less majestic, dreamy composer.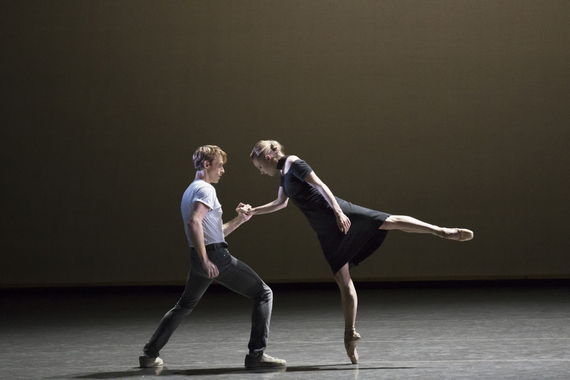 Sara Mearns and Adrian Danchig-Waring in Kim Brandstrup's Jeux.Photo credit: Paul Kolnik.
The work isn't insignificant -- every moment is articulate and stunning, and a few gel so nicely that you can't distinguish motion from music. When Mearns cascades backwards into awaiting arms, faint, weak, her body hinged at the hips as she's rotated 360 degrees. When Hyltin seamlessly wanders into a triple piqué turn, her arms plopped in a sassy "V." When the corps waltzes across the floor and under the moon, popping into lifts in passé, their reflections dancing like phantoms on a scrim. In fact, these shadows are the most interesting part... man-made projections crafted by the human body, distorted and elongated.
Still, when Mearns removes the blindfold from her face and throws it onto Danchig-Waring -- the next victim of blinding lust -- the symbolism feels empty. Were you supposed to sympathize with Mearns? Was Jeux anything more than a game? What were you -- was I -- meant to feel? Mearns tumbles into Danchig-Waring, pressed above, slowly melting to lie over him on the ground. She has snatched him as prey, like Ramasar did to her, like your lover did to you and like you've probably done to an innocent someone.
Popular in the Community