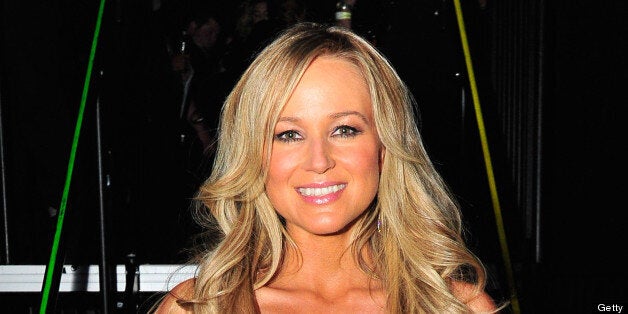 These days, our knowledge of celebrities too often originates with paparazzi images and snarky quotes by anonymous "insiders." After a while, it's easy to forget that stars are real people. That's why HuffPost Celebrity decided to launch its all-new #nofilter quick-fire question-and-answer series. Because how well do you know someone until they've shared their guiltiest pleasures?
It's been nearly two decades since Jewel released her multiplatinum debut, "Pieces of You," and on her recent "Greatest Hits" album she revisits '90s favorites like "Who Will Save Your Soul" and offers fresh takes on old hits, such as a duet of "Foolish Games" With Kelly Clarkson. Jewel, 39, has also taken on a new role as an ambassador for ReThink, a campaign to raise awareness for the importance of public housing. We caught up with the singer-songwriter to hear about her involvement with the initiative, her upcoming gig on NBC's "The Sing-Off" and her foray into children's lit.
Why did you want to work with ReThink? I'm somebody who, as a child, had a lot of insecurity about stable housing, where I was going to be living, if I was going to have a roof over my head, all those types of things. And I know the impact it can have on you psychologically and emotionally. And now that I'm a parent, the idea of not being able to provide that for my child is such a heart-wrenching prospect. And I was really pleased to join the ReThink initiative just to help reeducate people about what public housing is and what the real stats are, because I think there are a lot of misconceptions about it.
What are the biggest misconceptions? I think a big one is that they think everyone in public housing gets a free ride, and that isn't the case. Everybody pays rent, on a sliding scale depending on their income. Forty percent are children, 32 percent are the elderly, there are lots Vietnam War vets. Crime rates don't necessarily have to do with public housing. A lot of the time, it has to do with the zip code the housing is in. There's some public housing in Milwaukee, where they have an 80 percent graduation rate for their high school students, which is well above the national average. So there's a lot of really positive things that come from it, as well as citizens that end up really contributing to society -- I think we've had presidents, Supreme Court justices. Whoopi Goldberg. Lots of people have gone from public housing to do great things in the world and have a tremendous sense of duty to their fellow man because of it. There's a tremendous need for it. In some places, there are 70,000 people on a waiting list trying to get into 8,000 units.
You recently released a "Greatest Hits" album. What was the process of choosing what tracks to include like? The most difficult thing about putting that record together was choosing songs. I coudn't put them all on there so I just ended up being a mercenary and putting them in chronological order by the most popular. I would've thought "You Were Meant For Me" was my most downloaded song and it wasn't. It was actually "Intuition," which was sort of surprising.
There's a duet of "Foolish Games" with Kelly Clarkson. What was she like? She is a hoot. She's a really down-to-earth gal with a great big talent and it was a lot of fun singing with her.
You're going to be a judge on "The Sing-Off." How many singing-competition shows do you watch? I was able to be on "American Idol" back when it was Paula [Abdul] and the original cast. I was a mentor on "The Voice." I really like these shows. It's really fun to see young kids trying to find excellence in themselves. A lot of them are self-taught. And I was mentored by my heroes. [Bob] Dylan and Neil Young and Merle Haggard all took me under their wing when I was quite young. And I wouldn't have the same direction and compass that I had, having benefitted from that mentorship. Our music industry isn't consolidated where we all get to hang out with each other. We're quite scattered. And so we don't really get to hang out and share tips and advice. And these shows give an opportunity -- especially ones like "The Voice" -- to be mentored, and I think that's great.
You have a second children's book coming out, and you've written poetry and a memoir. What genre do you find most challenging? It really changes. I guess I'm a Gemini through and through, but I'm mercurial. I get bored doing the same things. I've been writing a lot of short stories and fiction, which hasn't been published, but I've been spending a lot of time doing that. And children's books have been a lot of fun. I loved reading as a kid and that's something I really hope to share with my son, a love of words. I remember my first metaphors as a 6-year-old. For some reason, it blew my mind that you could use words to evoke feelings. I loved the power of that and became very addicted to it at a young age. That's something I hope to give other kids. Whether they become writers or not is insignificant. But the power of being able to communicate and speak, not just articulately but poetically, is really a gift. And the illustrations on the second book are just beautiful. Amy June Bates did a beautiful job. It brought a tear to my eye when I got the hard copy, because it was amazing to see my lyrics brought to life in such a beautiful way.
Did you son, Kase, enjoy it? I haven't shown it to him yet. I just got it two days ago, so tonight I'm going to crack it out.
As a mom, what's your take on nontraditional baby names like North West? I don't care, at all. I think it's funny that the world gets upset about it. I love that parenting is your divine right to do what you see fit, right or wrong. And everything's in phases. They'll go wild with crazy names and then the next generation will name their kids Bob. It's just how it goes.
What's the last song you downloaded? I downloaded a hippie record by Deva. The record's called "Moola Mantra" and it's really beautiful singing,
What's the dumbest thing you've read about yourself? That I dated Jean-Claude Van Damme. I thought that was hilarious. How little people know me [laughs].
How much time do you spend on Twitter? It varies. With the baby, a lot less. But I get on there several times a day.
If you could give advice to a younger version of yourself, what would it be? Just be patient.
What movie could you watch over and over? Probably "Forrest Gump." I love that movie. "Princess Bride," I've watched that 3 million times.
If you were on death row, what would your last meal be? Sushi.
What's your guilty pleasure? "Murder She Wrote" marathons.
What shows are always on your DVR? Right now "The Sing Off." I've been catching up. I saw last season, but hadn't seen the two prior seasons. "Breaking Bad," "Mad Men," True Blood."
What would people be surprised to know you've never done? Never been stoned, never smoked weed. I might be the only musician who can say that.
What's on your nightstand? About 3 million things at the moment. It's very cluttered. I have, like, five books and some different kinds of herbs and 12 pens and 50 plug-in outlets for different devices.
If failure weren't an option, what's one thing you would do? Well, with everything I do, I feel like failure isn't an option. I like challenges. But if I didn't get to be a singer and I had a magic wand, my favorite job would be ... well, there's a lot of them. One is, I'd just like to be paid to learn things. I'd go around the world and learn everything that I could, from photography to Mongolian cow wrangling. That would make me pretty happy.
Calling all HuffPost superfans!
Sign up for membership to become a founding member and help shape HuffPost's next chapter
BEFORE YOU GO
PHOTO GALLERY
They said WHAT? #nofilter