Now that it is officially autumn, it's time to dig into the hot colors of fall flowers. The fashion world dictates the color schemes we will see from the runways in New York and Paris, right down to the colors a bride requests for her fall wedding. The name of the game this season is "Jewel Tones." Jewel tones are the rich, saturated colors associated with jewels, such as emeralds, rubies, sapphires and amber. These tones aren't the bright and shiny side of the precious stones, but the dark, warm interiors of the stones. According to the trend setters at Pantone, the jewels tone palette will be accented by neutrals, such as brown and taupe.

So let's investigate the cut flowers that represent jewel tones.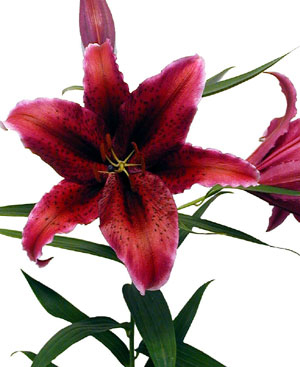 Sumatra Lily
In the lily department, the Sumatra Lily will be a stand out this fall. This beautiful Oriental is big and dark; the saturated colors will ensure that this lily will be the focal of many autumn floral events. In the LA Hybrid category (Longiflorum bred with Asiatic), the Sunset Royal lily has all the warmth of a gorgeous autumn sunset. A lily you may never have seen before is Orange Art; this is from the Tango Series which is a flower bred from LA Hybrids.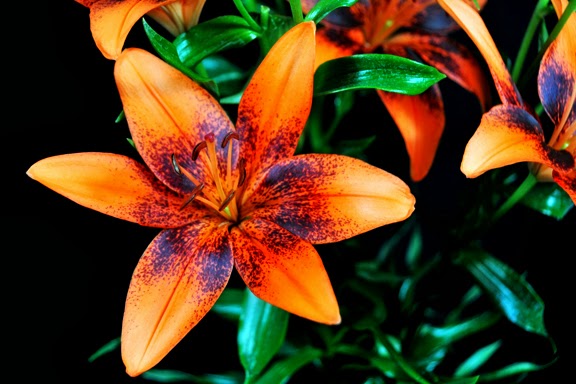 Orange Art
A flower that is often used as "filler" yet can easily be the focal point of an arrangement is Delphinium, the variety called "Sea Waltz" really shows off the rich sapphire blue that will be hot this season.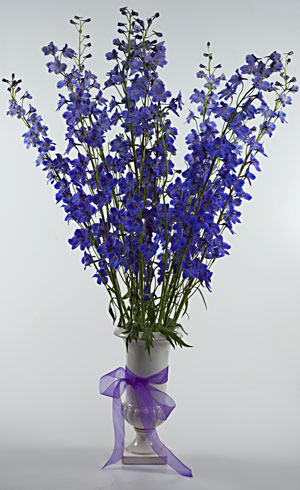 Sea Waltz Delphinium
Not all jewel tones are necessarily dark; gerbera daisies are bright, yet saturated. Some varieties which will be hot this fall are: Maya, Shania, Carambole, Intensa and Malibu.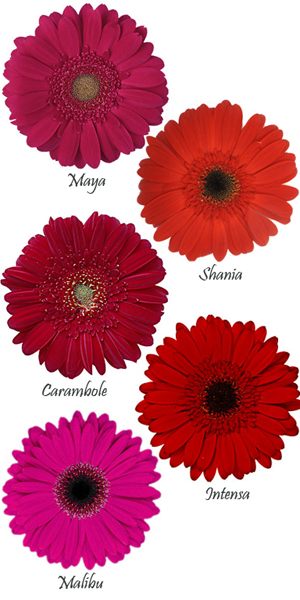 Gerbera Daisies
I recently took a walk through a gerbera greenhouse in Oxnard, California. Wow is this a beautiful sight!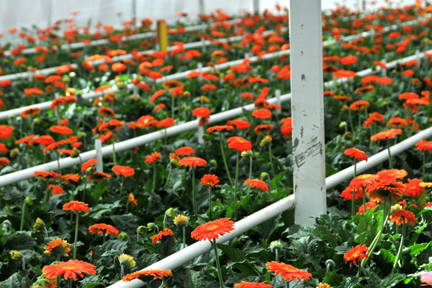 Geberas growing at Sun Valley Floral Farm
The last flower I need to mention to give you the inside track on jewel tones are fall tulips. Many folks just think of tulips as a spring flower, however, this is not the case. Creative flower growers in California use bulbs bred in the Southern Hemisphere, specifically New Zealand, so that the tulips grow and bloom just like it is spring. These tulips are grown in greenhouses where the atmosphere is kept cool and moist, creating spring-like conditions year round. Look for deep oranges, subtle yellows, ruby reds and bi-colors for a splash of fun fall color.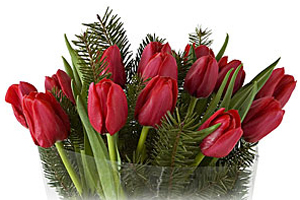 Ruby Red Tulips, with Douglas Fir
This season the theme is jewel tones, and now you know the perfect blend of flowers to compliment the fall color palette.