WASHINGTON--As a sartorial signifier, nothing says Serious Political Woman or, for that matter, Political Wife, like an Ann Hand Liberty Eagle.
Since the early '90s, the red-eyed raptor clawing a faux pearl has, like a sorority pin on steroids, perched on the bodices of countless high-profile Republicans and Democrats, from Nancy Reagan and Cindy McCain to Janet Reno and Tipper Gore.
Hillary Clinton wore hers to meet Mother Teresa. Secretary of State Madeleine Albright donned one to take the oath that broke the glass ceiling in Foggy Bottom. Even Geena Davis got one to play Mackenzie Allen, America's first female president, on ABC's "Commander-in-Chief," which is fitting since the very eagle was copied from the legs of a White House piano.
These days Ann Hand, the undisputed Queen of Bejeweled Patriotica, is flying high with a line of Obama bling that includes $175 Swarovski-studded black plastic sunglasses, inspired by a trip to Vegas as the official designer of Miss America baubles (her shades touting John McCain and Hillary went nowhere); a $25 blue plastic mini-thermos, its crystal collar rendering it too delicate for the dishwasher (but perfect as a party favor at Thursday's hot-ticket Cafe Milano party in Georgetown); and the $75 Great Seal of the United States circle pin bearing Barack Obama's name ($3,800 in 18k gold and diamonds).
She now has two Washington stores, takes private commissions and her website has generated orders for Obama trinkets from as far away as Singapore and Norway.
Hand did not set out to build a mini-empire that has expanded well beyond jewelry to scarves, ties, boxes, blankets, paperweights, perfume, T-shirts, frames and other objects designed to celebrate American history and the U.S. military.
She just wanted a hobby. So back in 1988, with her five children grown and gone, she started making earrings in her kitchen.
"I'd wad up pieces of the Washington Post, mix them with flour and water and put them on a greased cookie sheet at 350 degrees. When they dried, I'd paint and bead them. They were not always patriotic. I was just trying to do something pretty."
Although she had taken a few jewelry-making classes, "I never thought this was going to be a business. I knew I didn't want to work with gold and silver. I don't like to get my hands dirty. I didn't want to be soldering."
Tragedy turned a diversion into grief therapy. "My son Tommy, my baby, was 27 and he was struck by an automobile and died in Florida. It was a horrible, horrible time for us. My husband had his law practice. I had just started this, so I could get lost in my work from early morning to night. I was stringing pearls. I learned how to put on clasps. It did help me recover."
So did her friends, many of them Congressional wives. The Hands had come to Washington in the late 1950s, when her husband, Lloyd, was hired by a fellow Texan, Senate Majority Leader Lyndon Johnson. By 1963, LBJ was in the White House and his trusted aide was chief of protocol. Johnson left office and returned home in 1969, but the Hands stayed put.
After Tommy's death, Colleen Nunn, wife of Georgia Sen. Sam Nunn, asked Hand to design a brooch of the statue of Freedom that tops the Capitol dome. "I said, 'Sure, I can do that,'" though she wasn't convinced she actually could. But the design was sound, and the pins were produced in Rhode Island.
The ubiquitous eagle was hatched in 1991 or '92, she recalls, and "no one would buy it when I brought it out. But it took off when Pamela Harriman became ambassador to France. She wore it and wore it, and a lot of people who told us no one was wearing eagles because they were kind of corny saw that this sophisticated citizen of the world liked it. Then Hillary got one."
And so, it seems, did every third woman in politics who felt moved to spend $150 on a piece of costume jewelry. An additional $125 buys a pair of matchy-matchy eagle earrings.
Not every design has been such a runaway hit. "I did a drawing of Lady Justice," says Hand. "I was so excited, and then the prototype came in and it looked like she had a 44-inch bosom and a 22-inch waist. And I learned that something on paper doesn't always translate to metal."
On the other hand, a $45 "First Pooch" dog tag, with a paw print in honor of a non-existent canine that may someday occupy the Obama White House, is selling briskly.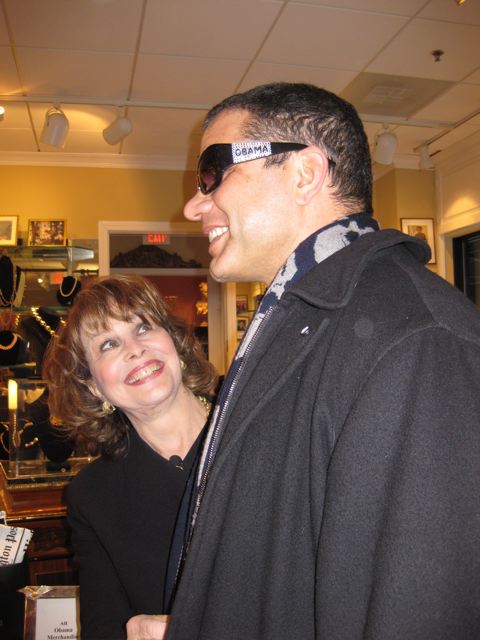 Washington-based tech exec Basel Dalloul models glitzy Obama shades for designer Ann Hand.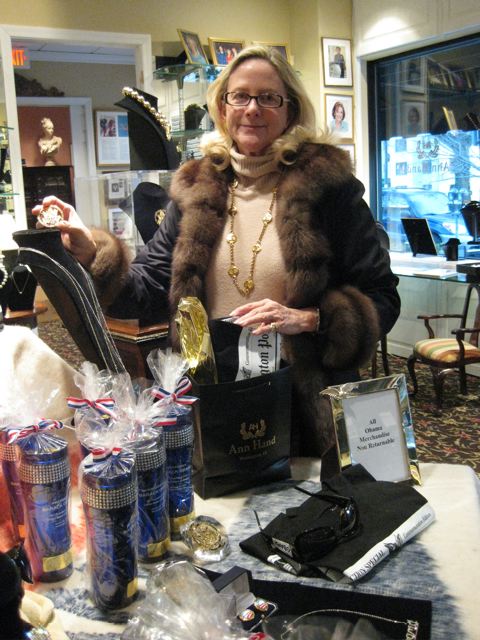 French Wallop, an investment banker who splits her time between London and Washington,
checks out Ann Hand's Obama-rama souvenir table.