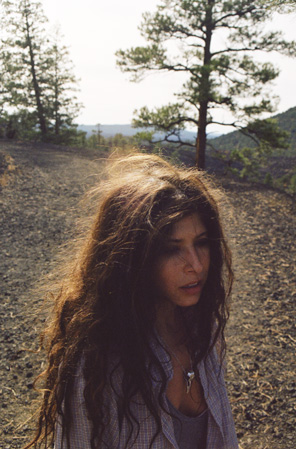 Though her name may evoke romance, Pamela Love is certainly not an X's and O's kind of designer. Her jewelry, known for its hard-edged vibe, is more likely to incorporate aortas than hearts. But that doesn't mean it isn't rife with raw emotion. For Fall 2011, the CFDA/Vogue Fashion Fund finalist revealed a collection that added new-agey, hand-carved metal crystals to her signature claws and spikes. She also did jewelry for the Luca Luca and Nomia shows. Suzanne Singer, a regular contributor to The Inside Source, eBay's online style magazine, spoke with Love her about inspirations and obsessions. To check out more interviews with style makers and designers, visit The Inside Source.
The Inside Source: You are a native New Yorker. Does that play a significant role in your jewelry designs?
Pamela Love: Yes, I'm always inspired by the hidden treasures, unique personalities and New York's overall charm.

The Inside Source: You studied film and worked as a painting assistant, art director and stylist. What made you make the leap to jewelry designer? How does that background affect your jewelry?
Pamela Love: I've always enjoyed working with my hands, and my experience in sculpting and painting has helped me build a foundation for creating jewelry. To me, jewelry is a natural progression and there is something so meaningful and magical about creating that one of a kind, special piece.
The Inside Source: Do you have a personal philosophy on jewelry?
Pamela Love: I love how significant jewelry is throughout the world and throughout time. People have been adorning themselves with jewelry for years and its one of the oldest forms of art and design. This is something that has and will always inspire me.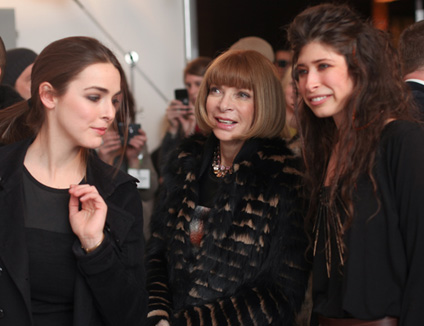 The Inside Source: Do you have a specific time period that inspires your collections?
Pamela Love: The '60s and '70s.
The Inside Source: Who is your ideal customer? Who are you designing your jewelry for?
Pamela Love: A strong unique woman who loves to have fun with style. Someone who really cares about quality and appreciates the more intricate details.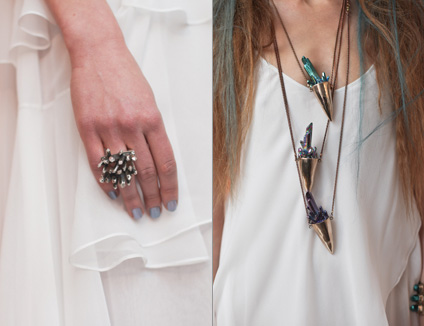 The Inside Source: What is your design process?
Pamela Love: We begin with an inspiration board and then move on to wax carvings and casting models in different materials. Each piece starts out by me personally hand carving the wax model, and thanks to my amazing production team, together we make it possible to produce high quality pieces. As far as inspiration goes, I'm constantly inspired by traveling, symbols, magic and different cultural traditions around the world.
The Inside Source: What inspired you for your Spring collection, in stores now?
Pamela Love: I was inspired by so many different things. The lunar cycles and the moon were especially influential. The moon is a symbol for femininity in a few cultures and I wanted to take those feminine symbols and use them to create strong, masculine feeling pieces. It's the irony and contrast that I like.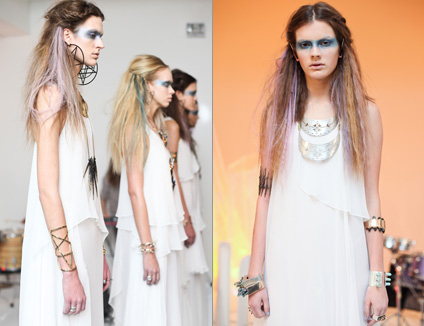 The Inside Source: Do you shop on eBay?
Pameka Love: Yes, I shop on eBay a lot.

The Inside Source: What do you like to search for?
Pamela Love: Mostly jewelry equipment and materials, and also sometimes designer shoes.

The Inside Source: Your jewelry is more tough than romantic. What are your suggestions for finding chic, not sappy, jewelry?
Pamela Love: I say antiques are always the best.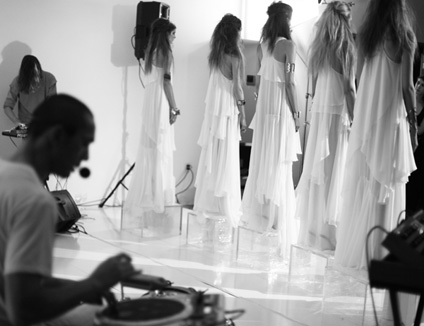 All photos courtesy of Pamela Love.