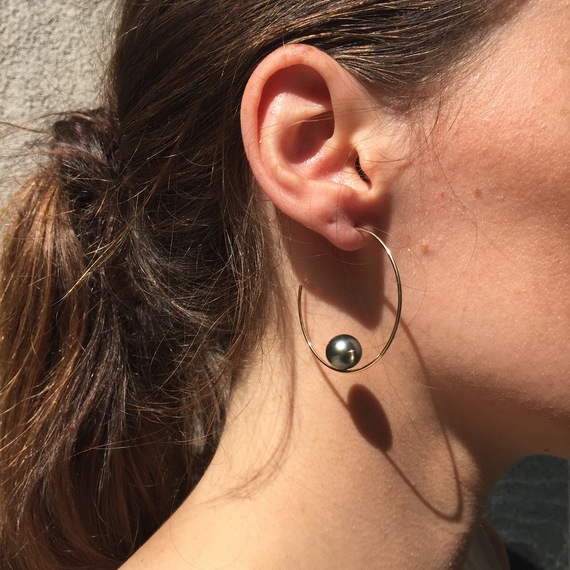 Mizuki, Courtesy of Stone & Strand
Last month, in the midst of a conversation about gift recommendations, a jewelry-editor friend asked me a rather interesting question: Were there any designers I had my eye on for 2017? I did, in fact, and so did she. We ended up having a great exchange, which I then mentally filed away for this column. There are so many great young talents out there, and I'm excited to share them with you. And what better time than now, as we're in the swing of the new year?
Vancouver native Wing Yau is a jewelry designer who has been quietly building buzz ever since she launched her WWAKE collection in 2012. But 2016 was really the year she began to break through for her artful, intriguing takes on heirloom jewelry -- like her delicate bejeweled rings with a surprise arc. Yau was named one of Forbes' 30 Under 30 (Sarah Jessica Parker was among those on the judging panel) and had a marquee moment during New York Fashion Week in September when she launched her secondary line CLOSER on Amanda Phelan's runway. CLOSER is the yang to WWAKE's yin, beautifully "brutalist," as she calls it, with bold sculptural origami-like folds. The new designs tie back to her background in sculpture. I'm impressed that the New York-based Yau, a RISD grad who -- fun fact -- started out as a barista, can so early in her career carve two distinct aesthetics that still feel authentic to her. She's primed to soak up more of the spotlight in 2017.
I profiled Sabine Getty, née Ghanem, in 2014, but she's back on my list because of her recently opened salon, a jewel box of a space in London's Mayfair district. It's glamorous and daring, much like her designs, with an emphasis on color brights by way of the Memphis Group. Some interiors intel: The Ettore Sottsass lamp and Michele De Lucchi table are from Getty's actual childhood bedroom. (Her mom was a collector.) Getty's designs have always been fun, but I'm really enjoying the collection's new direction, which is more in line with the spirit and humor of that Memphis movement, and can't wait to see where it goes next.
Other designers on my list for the upcoming year: Carine Larretgère of AIMÉE.AIMER, Mizuki Goltz and Nektar De Stagni. All three offer an element of the unexpected in their designs, albeit in very different ways: Larretgère punches things up with a lively charm, Goltz fuses the unpredictable with high elegance while De Stagni always injects a soupçon of cheerful irreverence. I've grouped them here together, though, because their collections all include some beautiful pearl pieces -- which continues to be a trend, one that's only growing stronger in the new year. Plus, their approaches to the pearl are all delightfully out of the box. Nektar De Stagni, a Miami native who's also a DJ, embellishes hers with decorative gold dots and diamonds -- she even has a smiley face pearl ring. Goltz plays with proportions, using oversized baroque pearls in a way that, while bold, still reads as very delicate and refined. As for Larretgère, she isn't afraid to use pearls in a graphic way, creating cool patterns and contours -- like with her lovely Constellation earrings.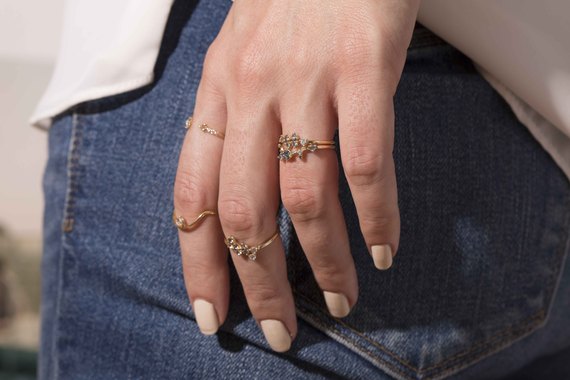 WWAKE, courtesy of Stone & Strand