Sarah Manthey loves making jewelry. This has been her inspired hobby for almost a decade.
In 2012, Sarah went to work for the World Food Program USA, an organization dedicated to fighting hunger. When this opportunity met her passion, Sarah became a social entrepreneur dedicated to feeding the hungry.
The World Food Program USA (WFP USA) uses fundraising, advocacy and education to fight world hunger. Located in Washington, DC the group is active in supporting the hunger relief programs of the United Nations. When Sarah joined the organization she saw how companies would partner with WFP USA. Businesses would donate a portion of their sale proceeds to help fight hunger.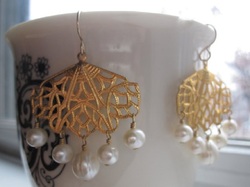 A light went off in Sarah's head. That is when BeCause, beautiful jewelry with a cause, took off.
Here is how it works. Sarah makes custom jewelry pieces for special events. This could be making jewelry for someone's birthday party or a wedding. Each a time an order is placed that means a donation to WFP USA. Sarah explains, "For each piece sold, I calculate how much the 15% would equate to in school meals, and share that with each customer."
In this way customers know the impact of their purchase for helping the world's hungry. Sarah says her business has grown since adopting the cause of fighting hunger. The social cause business model benefits everyone. BeCause also hosts 'trunk shows" where groups can browse the jewelry selections.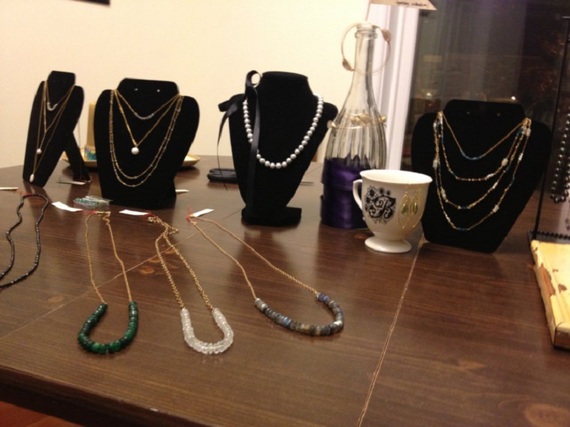 So every month, based on her sales, BeCause jewelry is making donations to WFP USA. The funds go specifically to the school meals programs run by the United Nations World Food Program. The donations support school meals in Haiti, Democratic Republic of the Congo or any one of the countries where the UN feeds children in need.
In two countries facing the brink of famine, South Sudan and Central African Republic, WFP is trying to provide emergency school feeding. In Yemen, WFP hopes to develop a nationwide school feeding initiative.
School meals fight hunger and encourage class attendance. The food and nutrition improves classroom performance. The school feeding plan is one of the most important the UN runs for millions of children in developing countries.
Sarah says, "BeCause has provided the equivalent of 5,700 school meals to WFP USA to date." If you had a class of 100 students in a school in Haiti, as an example, this would provide school meals for about two months. So that will give you an idea of what kind of social impact a business can have.
The UN World Food Program depends on voluntary donations. That is the only way these school meals can happen. The more companies and individuals step forward the more resources there will be to fight hunger. Globally, there are 842 million people suffering from hunger. Yet, there is enough food on the planet for everyone.
You can visit the BeCause web site and browse the selections. If you are looking for jewelry for an event and would like to help feed children worldwide then come on over and visit the store.