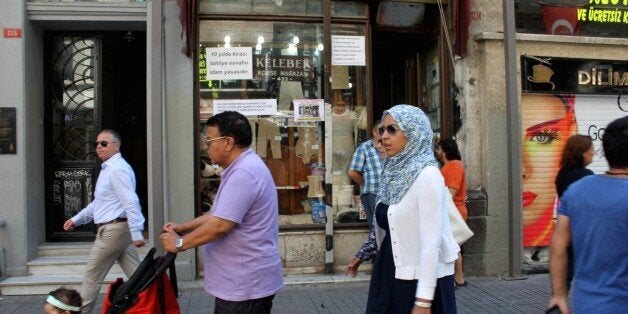 ISTANBUL -- Three generations of men in Ilya Avramoglu's family have devoted their lives to women's undergarments.
But after 78 years in business, their Kelebek Corset Shop is fighting an uphill battle to stay open. The tiny shop has survived eight decades of gentrification, violence against minorities, and the rise of huge stores with entire departments devoted to underwear.
Now its unassuming middle-aged Jewish Turkish owner -- an unlikely panty connoisseur -- is struggling to thwart an eviction order he says is fueled by anti-Semitism.
"We have good days and bad days," Avramoglu says, speaking for his community that makes up a tiny percentage of the Muslim-majority country. "Today is one of the bad days."
Kelebek is on Istanbul's bustling Istiklal Avenue. The emergence of big-name stores, posh cafes and crowded bars has undone much of Istiklal's old-world charm, but Kelebek seems to have defied time. It smells like an old book.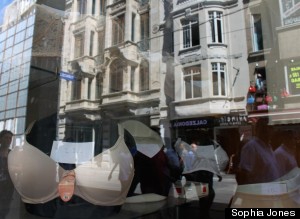 Back when the shop was just starting out, Istiklal was one of the few places women could buy handmade undergarments like bras, slips, girdles, corsets, panties and garters.
In the store windows, Avramoglu displays the oldest style of undergarment sold at Kelebek.
"It's called the 'scandal corset,'" he says without batting an eye. "Women would wear them without panties."
Then he pulls out a no-frills bra, simple and beige without underwire. It's a style from before he was born, popular among older women who still buy the same bra they've worn all their lives. The next bra he shows is a little different.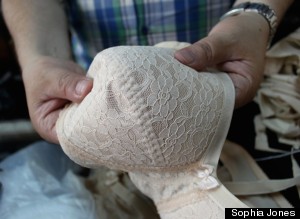 Avramoglu shows one of the older models of bras he sells, popular in the '50s and '60s. "Breasts like missiles," he said, smiling.
"Breasts like missiles," he says with a laugh, showing how each cup comes to a dramatic point.
Many of his customers are young girls who come in with their mothers to buy their first bras. "From grandmother to granddaughter," he beams, "people come here to remember."
He boasts that his merchandise is worn by of the cast of the Magnificent Century, a popular Turkish soap opera about Suleiman the Magnificent, the longest-reigning Sultan of the Ottoman Empire. Safiye Ayla, one of Turkey's most famous classical singers, who died in 1998, would come to Kelebek to buy specially made corsets to relieve her back problems. "Every year until her death," Ayramoglu says with pride.
And then there are women who come before their weddings to stock up on lacy and sheer unmentionables, as well as the conservative Muslim men who ask for undergarments to conceal their wives' curves. Avramoglu also sells mens' briefs and undershirts, as well as wrist guards and specially made orthopedic braces.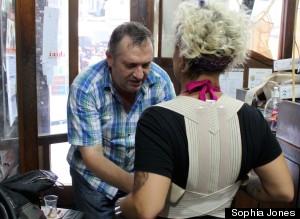 Avramoglu fits a customer with an orthopedic corset.
The soft-spoken shopkeeper says he has many overweight customers who desperately seek his help. Ayse Demirci is one of those customers. She comes to the shop, which is well known among her friends, to find bodywear that makes her feel more comfortable in her curvy body. "This place is important," she says, before walking out smiling, her new corset hidden under her shirt.
Avramoglu also is well acquainted with Istanbul's transgender community. He provides many of its members with their undergarments, he says, showing boxes full of specially designed underpants and chest binders meant to compress and hide.
But Kelebek's long history with the neighborhood may come to an abrupt end. Avramoglu fears he's losing the battle against the Catholic church next door that wants the corset shop out — fast.
For most of the 78 years renting from Church of Santa Maria Draperi, he said, his landlord was a kind-hearted Italian priest. But that priest recently died, and a new Turkish law gives landlords the right to evict tenants of more than 10 years without justification.
Several tenants in buildings owned by the Catholic church have received eviction warnings, but Avramoglu says he has received three notices and significantly harsher treatment. He accuses the new priest, Eleuthère Makuta, of anti-Semitism. According to Avramoglu, when his son went to plead with the church to let the family business continue, Makuta told him, "I will finish your dad off."
Makuta declined to comment on accusations of anti-Semitism when approached by The WorldPost. He did not explain why Kelebek Corset Shop is being evicted, only calling it a "long story."
"It's between us and him," he said, standing on the steps of the church as locals waved at him. "We have an obligation as the church. It's not our life. He's making it personal." Makuta says the church cannot bow down to pressure.
But for Ayramoglu, the store is his life. It's what defines him.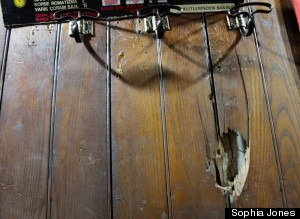 A hole from the September 1955 Istanbul pogrom, in which the Kelebek Corset Shop was attacked by a violent mob.
In one of the wood-paneled walls at the back of the shop, just below a poster of a smiling woman in a black bra, is a small hole. It's all that is left from an attack on the minority-owned shop 60 years ago. It was nearly his grandfather's downfall. In early September 1955, rumors spread like wildfire that the home of Kemal Ataturk, the widely loved founder of modern Turkey, was set ablaze by Greeks (the rumor was entirely false). What ensued was a slew of attacks on homes, churches, schools and shops of Greeks, as well as Armenians, Georgians and Jews. The actual death toll of what is now known as the Istanbul pogrom is unknown; at least a dozen people were killed. Istiklal, then home to many shops owned and run by foreigners and minorities, was totally destroyed.
Kelebek was ransacked, its money and merchandise stolen. Nothing was left except debris and broken glass, and there was a hole in the wood paneling -- which Avramoglu now proudly shows off as a mark of defiance.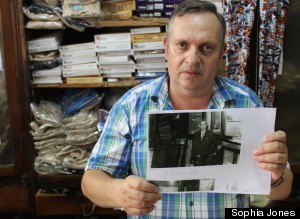 Avramoglu holds up a photo of his grandfather standing in Kelebek Corset Shop after it was destroyed by a mob in 1955 during the Istanbul pogrom.
Two faded black and white portraits, one of his grandfather, and another of Ataturk, hang in the shop like a silent reminder of the time.
Two generations later, Avramoglu says he still isn't safe from persecution. He vividly recalls two major anti-Semitic attacks in particular: In 1986, two gunmen locked the doors of an Istanbul synagogue and open fired during Sabbath prayers, killing at least 21. And then in 2003, twin car bombs exploded near two synagogues in central Istanbul. Avramoglu's sister, who was attending a bar mitzvah in one of the synagogues during the attack, survived. But more than 24 people were killed and 300 wounded, the majority of them Turkish bystanders.
Rising levels of anti-Semitism have rocked Turkey's Jewish community. Scores of Jews have left home, bound for Europe, the United States and Israel in search of religious freedom and a better life. In some cities, like Antakya, there are only a few remaining members of the ancient communities.
Avramoglu's family started a Change.org petition pleading to Pope Francis to rescind the eviction order, and they plan to go to court. His lawyer tells him they'll lose, he says, somberly. "The law is against us."
Avramoglu cannot support his large family if he gets evicted. A local Jewish foundation is already pitching in to help pay his son's university tuition.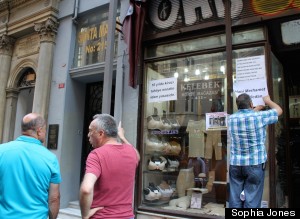 Avramoglu hangs fliers condemning his eviction order.
On Thursday, Avramoglu taped up his eviction order in the storefront and a poster in Turkish reading, "Where is the mercy? Where is the conscience?" Passersby stopped and watched him, whispering among themselves.
"We support you fully," a woman said to Avramoglu, briefly poking her head into the store.
"An era is ending," murmured a man who has been coming to Kelebek for 48 years.
For Avramoglu, his shop is a monument, not just to bras and underwear, but to religion and identity -- which is what he's fighting for. Kelebek is his life's work, and he's proud to have achieved his grandfather's dream.
"This store is everything for me," he says. "It's history."
Support HuffPost
The Stakes Have Never Been Higher
Related
Popular in the Community