Members of a resurgent hate group are being accused of violently attacking a Palestinian-American professor in Washington D.C. last weekend and of knocking another man unconscious.
Videos and photos from a protest outside the annual conference for the American Israel Public Affairs Council on Sunday show a mob of Jewish Defense League members ganging up on 55-year-old Kamal Nayfeh.
Nayfeh can be seen in one video being repeatedly punched, kicked and hit in the face with flagpoles, even after he fell to the ground, until police officers arrive and stop the attack.
"They beat him after they heard he was Palestinian," Nayfeh's daughter, Danya, said in a statement Wednesday. "He was not threatening at all, it's perfectly clear that my father was brutalized simply because of who he is."
Nayfeh, a father of four from North Carolina who teaches at a community college in Charlotte, was in D.C. to visit Danya, a 25-year-old law student at Georgetown University.
Danya told The Huffington Post she's participated in protests outside AIPAC conferences for years. She was among several hundred protesters at Sunday's demonstration organized by IfNotNow, a left-wing Jewish organization opposed to the Israeli occupation of the West Bank.
Danya said her father and other family members had walked with her to the protest, but weren't planning on participating. But when a Jewish Defense League protester shouted "something about there being no Palestinians," Danya said, her father felt compelled to respond.
"I am Palestine," Danya says her father, a Palestinian-American, calmly told the JDL protester. That's when the attack started.
The five or so men who attacked Nayfeh, Danya said, were either carrying big flags or wearing black hooded sweatshirts bearing the clearly identifiable JDL logo: a Star of David with a fist. Also on the sweatshirts, she said, were the group's slogan, "Never again."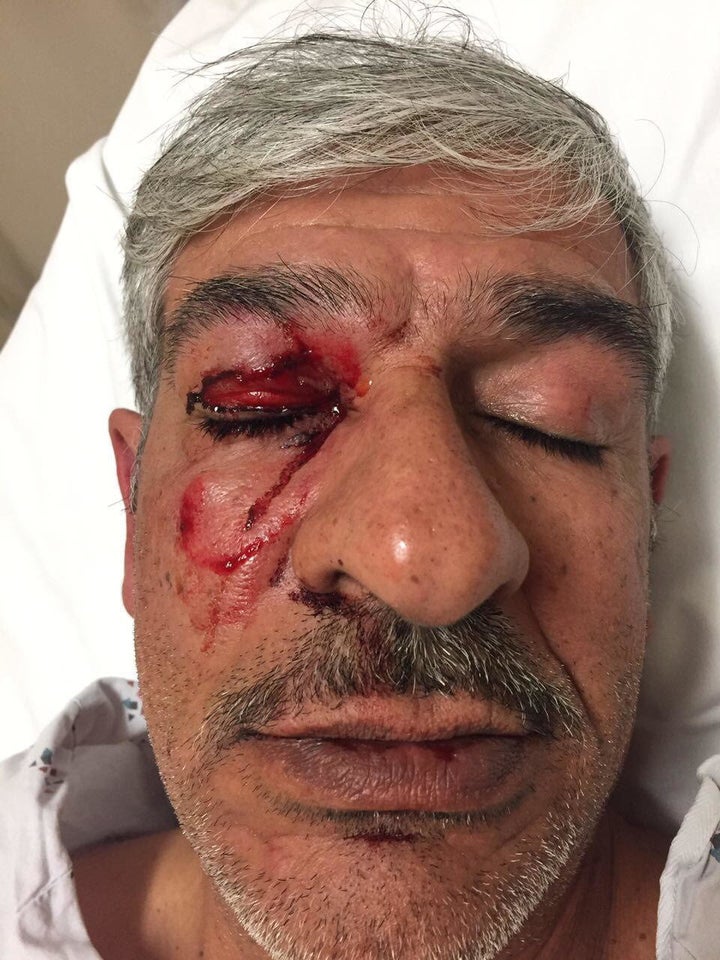 Metropolitan police later arrested two men in the attack. A spokesman for the U.S. attorney's office in Washington D.C., William Miller, told HuffPost that Yosef Steynovitz, of Vaughan, Ontario, was charged with a felony count of assault with significant bodily injury; and Rami Lubranicki of Howell, New Jersey, was charged with a misdemeanor count of simple assault.
"Both are free on personal recognizance pending court hearings," Miller said, adding that the men were due back in court in April.
The criminal complaint against Lubranicki identifies him as wearing a "black hooded sweatshirt" during the attack. It also notes that he told a police detective he never assaulted Nayfeh, but was just trying to "pull his guys off the victim."
Reached for comment, Lubranicki denied being a JDL member and said he couldn't discuss his case. Daniel Kovler, a lawyer for Steynovitz, also declined to comment on the case.
Nayfeh suffered "cuts and bruises all over his face and body," according to a statement from the Institute for Middle East Understanding, a Palestinian rights advocacy group working with the Nayfeh family. An ambulance took the professor to George Washington University hospital, where he was treated for his injuries and released.
Danya told HuffPost she hopes the two men arrested are charged with a hate crime. (Miller, of the U.S. attorney's office in Washington D.C., wouldn't comment on whether hate crime charges would be pursued, saying only that the case is "still under investigation.")
"Our entire family is shaken by this incident," Danya said in her statement. "Communities can't feel safe and secure when the JDL and other hate groups are emboldened by this new hateful atmosphere we're living in."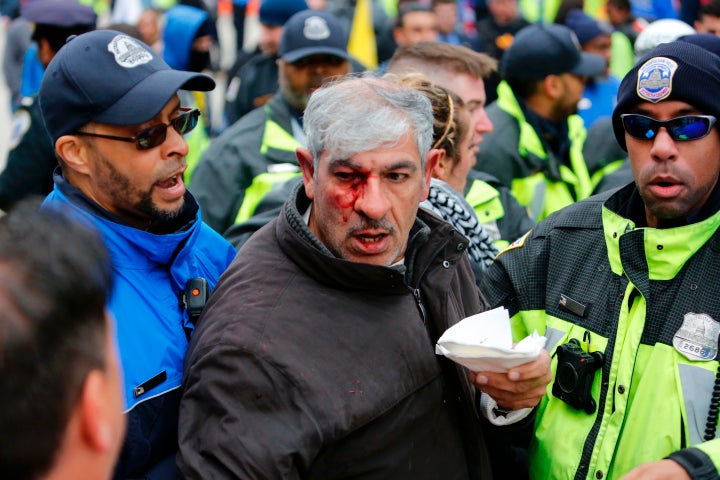 According to IfNotNow, the progressive Jewish-American group, a protester and group member named Ben Doernberg was also attacked by JDL members and "was diagnosed with a concussion after being beaten with a JDL flag."
The JDL ― which has been relatively dormant for years ― was described in a 2001 FBI report as a "right-wing terrorist group" and is designated by the Southern Poverty Law Center as a hate group.
"The group has orchestrated countless terrorist attacks in the U.S. and abroad, and has engaged in intense harassment of foreign diplomats, Muslims, Jewish scholars and community leaders, and officials," the SPLC says.
Since its founding in 1968, JDL members have attempted bombings at a mosque and congressional offices, and assaulted members of Jewish organizations, including a Holocaust survivor.
In 1994, a JDL member named Baruch Goldstein massacred 29 Palestinian Muslims praying at a West Bank mosque. According to the SPLC, the JDL website defended the act of mass murder, saying "Goldstein took a preventative measure against yet another Arab attack on Jews."
According to The Forward, the JDL has sought to reestablish itself recently, after "decades of inactivity." In January, the group held a party in New York City to celebrate the inauguration of Donald Trump as president.
The JDL did not respond to a request for comment on Sunday's assaults in Washington D.C. but Meir Weinstein, who described himself as a JDL coordinator to the Washington Jewish Week, did post a Facebook Live video about his group's actions.
He blamed "[anti-facism] and anti-Israel gangs" for antagonizing JDL members.
"We had to resort to a certain level of force and we made it very clear: the days of Jews being attacked and being docile, those days are long over," he said in the video.
He said the JDL met with students from across the country at AIPAC who were eager to join the JDL. And he called on "all people with pride in your country, nationalist pride" to join the JDL and "stop these [anti-fascism] thugs from having their having their way."
Weinstein also acknowledged that the JDL had "a couple arrests on our side" during the AIPAC protests. "We need your support and cooperation," he said, "if there are any legal fees that need to be covered."
IfNotNow accused AIPAC this week of cozying up to the JDL.
"We watched as AIPAC members walking into the conference shook hands with and vocalized support for the JDL presence," the group said in a statement. "AIPAC therefore must take responsibility for the JDL violence. Until this moment, AIPAC leadership has been silent."
Reached for comment, AIPAC spokesman Marshall Wittmann told HuffPost: "We deplore all violence and any violations of the law that occurred outside of the convention center."
America does not do a good job of tracking incidents of hate and bias. We need your help to create a database of such incidents across the country, so we all know what's going on. Tell us your story.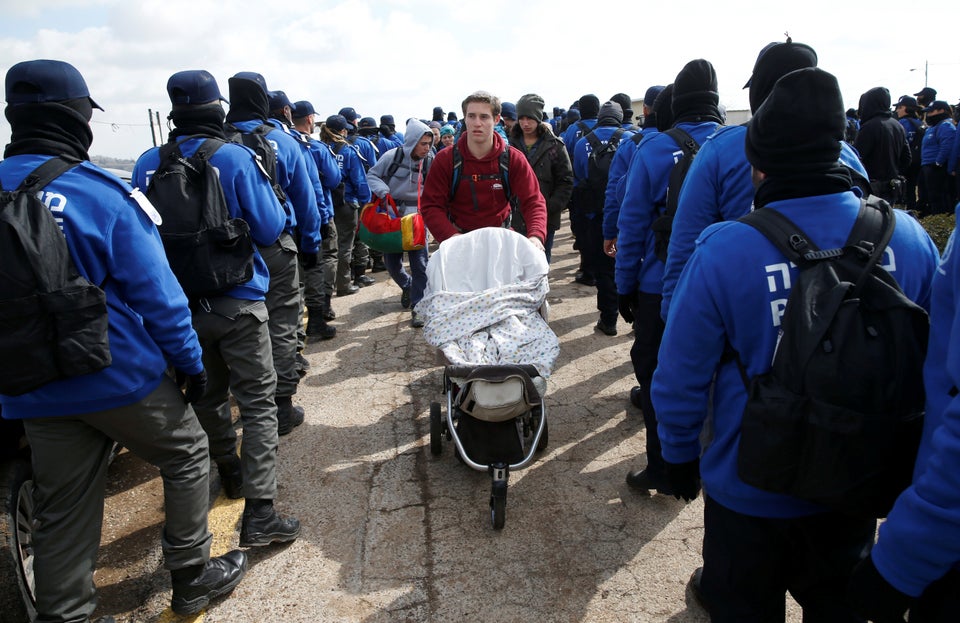 Israeli Settlers Removed From West Bank Outpost
Popular in the Community