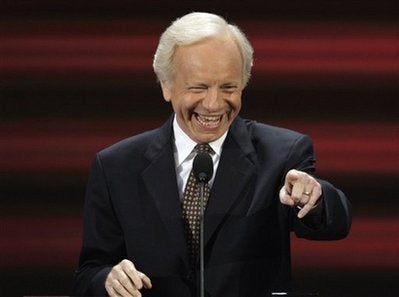 Sen. Joe Lieberman may have finally worn out his welcome within Washington D.C.'s Jewish Democrat community.
One of the foremost members of that group took the Connecticut Senator to task on Wednesday for his speech at the GOP convention, proclaiming that history would prove this moment to "not be Joe Lieberman's finest hour."
"I think what hit me strongest, was the irony," said Ira Forman, executive director of the National Jewish Democratic Council. "How ironic that Joe Lieberman was talking about reaching across the aisle and bipartisanship. Yet, if we are to believe the McCain spin machine Lieberman would be the vice presidential pick and yet there was no way the delegates would have accepted that because he's a Democrat. There was no bipartisanship there."
Forman went on. "At one point he said colleagues like Sen. Obama have cut off funds for our troops while on the battlefield. This attack is not the most honorable. He has said he has wants to go positive and that's what his persona has always been. 'I don't play negative politics.' That's who he professes to be and for a long time we believed it. As we look back upon this in the future this will not be Joe Lieberman's finest hour."
The comments are the first publicly aired criticism of Lieberman to come from the NJDC, ending what had been for over a year a noticeable silence on the Senator's advocacy for John McCain and drift towards Republican politics. Other prominent Jewish figures have not been so willing to bite their tongues. In an interview with the Huffington Post several weeks ago, Steve Rabinowitz, a prominent Jewish political consultant, discussed the personal and professional disenchantment he had felt with the rightward course Lieberman had taken.
"It was a dilemma for me when Joe lost his primary for Senate and I am a big partisan Democrat. And I'm mostly for Democrats. But I sucked it up and pretended to support him in the general election and he promised a million times that he would caucus with the Democrats that he would stay a Democrat. This thing that he is supporting McCain because he is friends, there are a million Senators who are good best friends and drinking buddies with folks from the other side of the aisle: they never endorse them for president, campaign for them, and trash their opponents. He really lost me with the McCain endorsement... I am phenomenally sad that he has done this."
Reached by phone the morning after Lieberman addressed the Republican convention in Minneapolis, Forman hinted at a similarly personal strain he felt towards his former ally.
"I don't know if this is the final straw," he said. "There is a certain reservoir of loyalty and respect that has been drawn upon. I do think that people might understand if not agree with your support of a friend. But the negative stuff, the spouting of the most twisted of partisan of line. I think people are going to say: hey, we disagree with this."
In his speech to the GOP throngs, Lieberman presented himself as a disenchanted Democrat with deep concerns over Barack Obama's foreign policy and lack of experience.
"Senator Obama is a gifted and eloquent young man who can do great things for our country in the years ahead. But eloquence is no substitute for a record -- not in these tough times," said the 2000 Democratic vice presidential nominee. "In the Senate he has not reached across party lines to get anything significant done, nor has he been willing to take on powerful interest groups in the Democratic Party."
The lines were not particularly sharp in the context of other attacks Lieberman has launched at Obama during the campaign. But because they were delivered before the Republican convention, they were particularly hard for Democrats to swallow. And when Lieberman subsequently went on to defend Alaska Gov. Sarah Palin's experience and credentials -- a politician with whom, unlike McCain, he does not share close ties -- Forman took objection.
"The phrases that must have stuck in his throat were those when he criticized Obama's lack of experience," said the NJDC head. "'Gov Palin like McCain is a reformer we can believe in and count on.' He knows as well as the rest of us, the reform façade is a Potemkin Village. She was for the bridge to nowhere until it was politically untenable. She has lobbied for pork... If I were him that would be a hard line to force out."
Popular in the Community