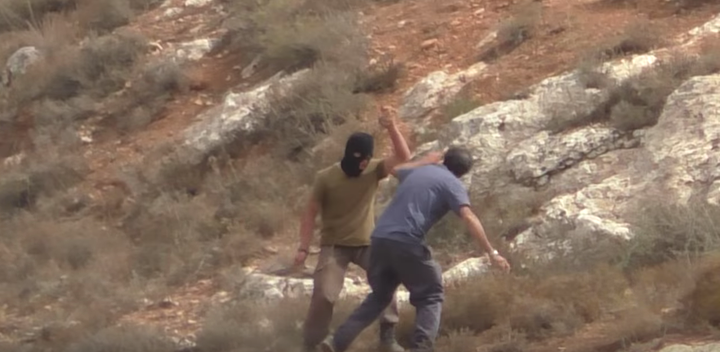 A masked assailant attacked the leader of a Jewish human rights organization during a Palestinian olive harvest near a Jewish West Bank settlement on Friday in an incident caught on camera. The victim told local media he believed the attacker was a Jewish extremist.
The video shows a masked man throwing a rock and jabbing a knife at Rabbi Arik Ascherman, president of the Jerusalem-based group Rabbis for Human Rights.
Ascherman was part of a group of Israeli and international activists that was helping a local Palestinian community with its annual olive harvest under the supervision of the Israeli army, according to reports by Israeli news outlets. They were there to protect Palestinian farmers from violence by Jewish settlers, theft of olives and destruction of olive groves, which they say Israeli security forces routinely fail to prevent.
Ascherman told digital news site +972 that the altercation occurred when he noticed people he identified as Jewish settlers trying to steal olives and light olive trees on fire. The rabbi then went to put out the fire.
That is where the video begins, showing the masked man -- one of the group believed to be settlers -- accosting Ascherman, apparently to prevent him from putting out the fire. Ascherman was not significantly injured, according to reports.
The olive groves are near the Jewish settlement of Itamar. According to +972, they are also near Gideonim, an offshoot of Itamar that is an unauthorized outpost under Israeli law. (The Israeli government sees Jewish West Bank settlements it sanctions as legal because it views the West Bank as disputed. But all such settlements -- permitted by the Israeli government or not -- are considered illegal under international law.)
Rabbis for Human Rights calls itself "the only rabbinic voice in Israel that is explicitly dedicated to human rights." Founded in 1988, the organization represents over 100 rabbis and rabbinical students inspired by Jewish teachings and universal values to fight for human rights in Israel and the occupied Palestinian territories. Rabbis for Human Rights focuses on protecting West Bank Palestinians from violence, theft and land seizures, as well as alleviating poverty inside Israel proper.
As part of this mission, group members frequently accompany Palestinian farmers to their fields to ensure that they have safe access.
The Israeli police did not immediately respond to a request for comment.
However, the police told Haaretz that they are treating the incident as a case of "friction between left wing and right wing activists during the time of the [Palestinian] olive harvest." They have initiated an investigation into the affair and are searching the area for the suspected attacker, they told Haaretz.
If history is any guide, however, it is not likely that the inquiry will lead to an indictment. The Israeli human rights group Yesh Din has documented 246 cases between 2005 and 2014 in which Palestinian complaints about damage done to fruit trees prompted Israeli police to open an investigation. Just four of them have resulted in an indictment.
Palestinians argue that the apparent reluctance of Israeli authorities to prosecute and prevent settler violence reflects an unequal application of justice for Jews and Palestinians in the occupied Palestinian territories.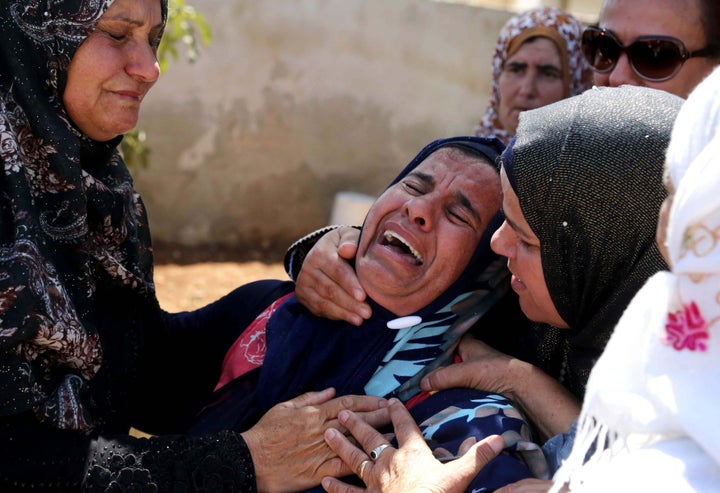 For example, the Israeli government has yet to charge anyone for an arson attack in July that killed three members of the Palestinian Dawabsheh family, including an infant boy, in the West Bank. Israel's defense minister, Moshe Yaalon, said in September that while the Israeli government had identified the Jewish extremists who perpetrated the attack, it has "not brought charges for the time being so as not to divulge our sources, but we are continuing our efforts to bring them to justice."
Palestinian analysts believe that the handling of the Dawabsheh killings is one of the factors inspiring a recent wave of Palestinian attacks on Israeli civilians.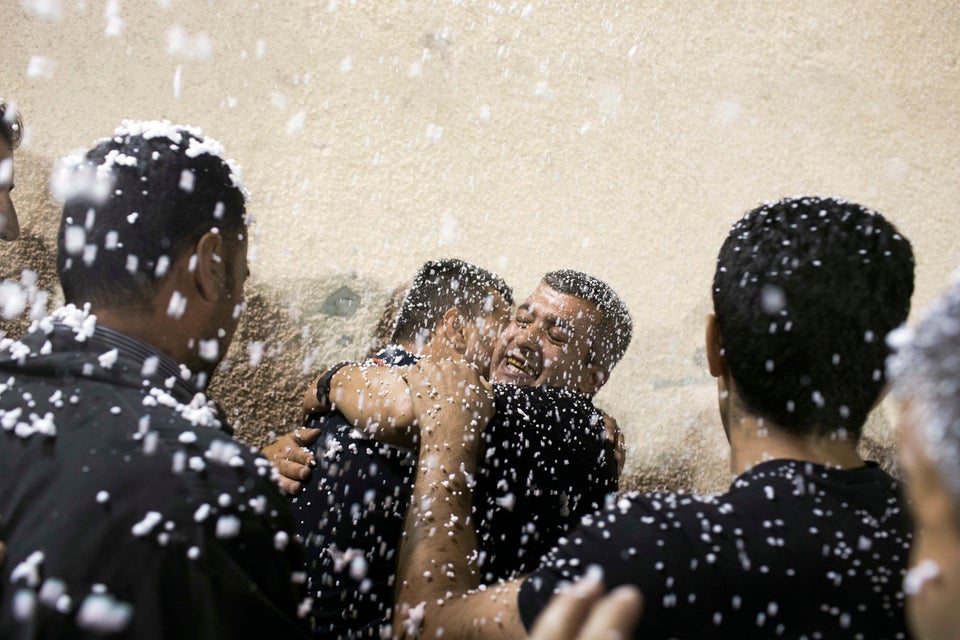 Palestinian Prisoners Freed
Popular in the Community