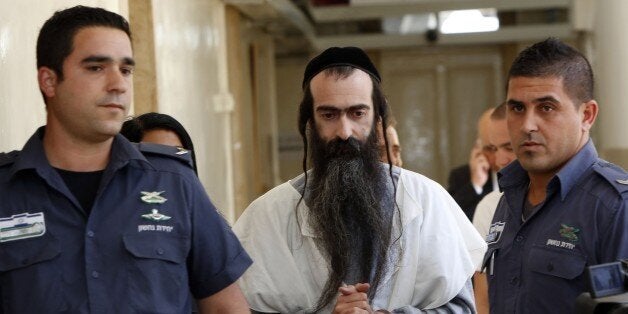 Last night, together with my wife and children, I volunteered at my synagogue's annual Housing the Homeless program -- a week-long homeless shelter that takes over the congregation's large building in suburban Detroit. As we served dinner to our guests and then I watched as my kids headed outside to the playground with their new friends, I thought to myself that this is what Judaism is about. This is God's intention. We are to follow the path of the righteous.
Only a few days earlier I was lamenting how embarrassed I am to be Jewish. While I have lived my entire life as a proud Jew and I certainly wear my Judaism on my sleeve, I found myself shaking my head in disbelief at the horrific acts of violence and hatred committed at the end of last week by Jewish extremists in Israel.
Yishai Schlissel (may his name be forgotten), a Haredi Orthodox man from the West Bank, stabbed six marchers in the annual gay pride parade in Jerusalem after serving ten years for a similar attack at the same gay pride parade a decade earlier. Shira Banki, of blessed memory, a 16-year-old girl who was stabbed during the parade has died from her wounds. An LGBT advocate, Shira participated in the parade to support her gay friends. In a statement, her family said, "For no good reason and because of evil, stupidity and negligence, the life of our beautiful flower was cut short."
Just as the week was ending and word of the shocking attack at the gay pride parade was making its way around the world, our stomachs were unsettled once again by more tragic news spurred by hatred. Israeli extremists set fire to a home in a West Bank village and an 18-month-old Palestinian child was burned to death. The attack in the village of Duma was carried out by a group of masked people from a nearby settlement. Lehava, or the Price Tag organization, an anti-Arab Jewish extremist group which operates in West Bank Israeli settlements, was believed to be responsible for the violence.
These violent acts of senseless hatred occurred only days after the annual observance of Tisha B'Av, a solemn day of fasting and mourning in commemoration of the destruction of the two temples which once stood in Jerusalem. Traditionally, on this day Jewish people lament the destruction of the temples, but we also use the day as a clarion call against baseless hate -- both internal and external. How men who consider themselves religious Jews can so grossly violate the core principles of the Jewish religion is beyond me.
It is both shocking and embarrassing that these extremists cite my Torah as the blueprint for their brutality. If we Jewish people are to call on Muslims to rail against Islamic extremism, then we in the Jewish community must heed our own call. We must stand in opposition against those who tarnish Judaism through their hate and bloodshed. We must distance ourselves from these warriors and show the world that Judaism is about love -- the love of our own people as well as the love of the other.
In an op-ed titled "We Are At War," Yair Lapid, a member of Israel's Knesset and the chairman of the Yesh Atid party, wrote a poetic reproach of these Jewish extremists: "He who burns a Palestinian baby declares war on the State of Israel. He who stabs young people at a Pride March declares war on the State of Israel. He who burns down a church declares war on the State of Israel. He who threatens to attack the Supreme Court with a D-9 bulldozer declares war on the State of Israel. He who throws rocks at the security services declares war on the State of Israel."
Indeed, these hateful terrorists are not my own. They are my enemies. Just as I encourage peace loving Muslims to rebuke the extremists that claim to be of their same religion, I stand in sharp opposition of these contemptible terrorists. As we learn in Psalms, the Lord regards the way of the righteous, but the way of the wicked shall perish.
Popular in the Community