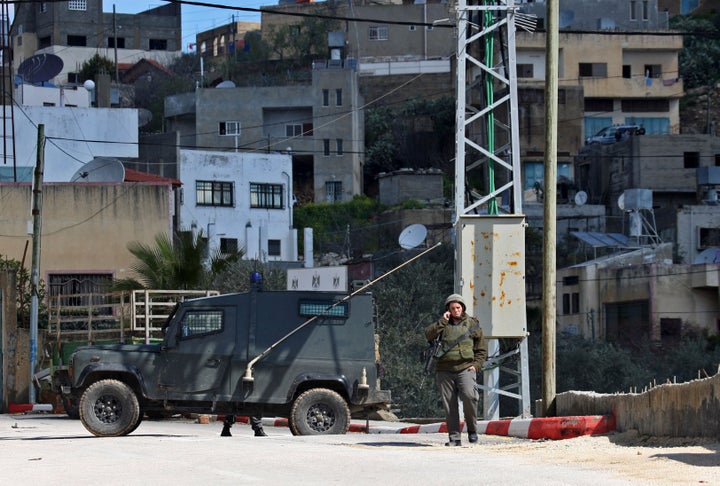 West Bank - A Jewish couple and three of their children were stabbed to death in bed in a West Bank settlement in what Israeli officials said Saturday was an attack by one or more Palestinians who broke into their home.
Israeli troops set up roadblocks and were searching the area around the Jewish religious settlement of Itamar, near the Palestinian city of Nablus, for the killer or killers.
In a televised speech, Prime Minister Benjamin Netanyahu expressed shock that the parents and three of their children -- including a baby -- were ``brutally murdered on Sabbath eve while sleeping.''
"I instructed our security forces to make all efforts to find the murderers and we will not rest until we find them and bring them to justice,'' he said.
The office of U.S. President Barack Obama said: "There is no possible justification for the killing of parents and children in their home. We call on the Palestinian Authority to unequivocally condemn this terrorist attack.''
Palestinian President Mahmoud Abbas later put out a statement condemning "all acts of violence against civilians, regardless of who carried them out and their motives.''
Netanyahu, who spoke with Abbas by phone, said the statements by the Palestinian leadership were not enough and that it must take action to end incitement against Israelis in Palestinian schools, mosques and media.
The Quartet of Middle East mediators also condemned the killings and said it "welcomes the strong condemnation of this attack by President Abbas and the Palestinian leadership.''
The grouping of the United States, European Union, Russia and the United Nations stressed the need "to expedite efforts to achieve Israeli-Palestinian and comprehensive Arab-Israeli peace.''
No group claimed responsibility for the attack but the Hamas Islamists who rule the Gaza Strip said they offered their "full support'' to any actions taken against settlers in occupied territory.
But a senior figure in Hamas's exiled leadership in Syria, Izzat al-Rishq, said, "We had nothing to do with it.''
The attack may complicate efforts to restart peace talks, which are frozen in arguments over whether Israel should first stop building in settlements on occupied land, which the World Court deems illegal under international law.
Kabha Ma'awiyeh, one of the first paramedics to arrive on the scene, said the family members had been stabbed in bed and pools of blood had collected on the floor.
Colonel Nimrod Aloni, the Israeli army's division commander for the area, told reporters that troops were searching nearby Palestinian villages and that it could take days before the attacker or attackers were found.
Violence in the West Bank has dropped significantly since its peak during a Palestinian uprising a decade ago.
Tensions had risen earlier in the week when Israeli troops fired live rounds at Palestinians after they clashed with settlers. Ten Palestinians and one Israeli were wounded in the confrontation.
Netanyahu, in what appeared to be a warning to settlers not to launch revenge attacks, urged Israelis not to take the law into their own hands after the killings.
Israel has been loosening restrictions on the movement of Palestinians and goods in the occupied territory but maintains a system of roadblocks and checkpoints.
The army has also limited the scope of its raids against suspected militants in Palestinian towns and villages, handing over some responsibility to Palestinian security forces.
Israeli officials have said Netanyahu, who insists on keeping an Israeli military presence along the West Bank's eastern border with Jordan in any peace deal, is weighing fresh steps to move the diplomatic process forward.
Israeli media have reported his moves could include a proposal for a Palestinian state inside temporary borders, an option Palestinian leaders have rejected.
According to the settlers' YESHA council, about 100 families live in Itamar. There was a similar attack on the settlement in 2002, when a gunman broke into a house and opened fire, killing four members of one family and a neighbor. (Reporting by Nidal al-Mughrabi in Gaza, Ali Sawafta in Ramallah and Ari Rabinovitch in Jerusalem; Damascus bureau; Alister Bull in Washington; Writing by Ari Rabinovitch; Editing by by Jon Boyle Peter Cooney)
Popular in the Community