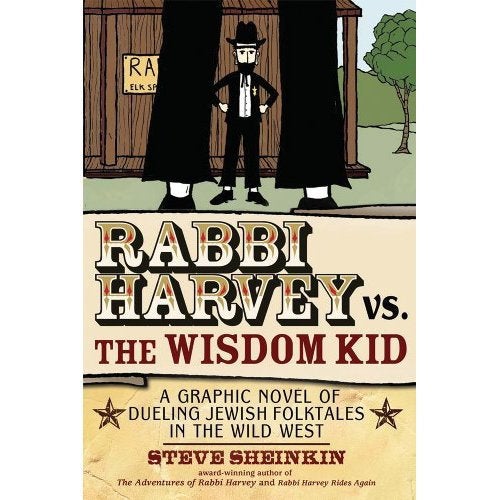 Here's a puzzle: how does an author of history textbooks convince American kids that traditional Jewish folklore is cool?
Historian Steve Sheinkin solved the problem this way: he's created comic books featuring an original character, Rabbi Harvey of the Wild West. His graphic novels contain real-life Jewish wisdom embodied in a tough, tall, black-garbed hero who looks like Clint Eastwood's Jewish cousin -- except that Harvey always shoots from his brain, never from his hip.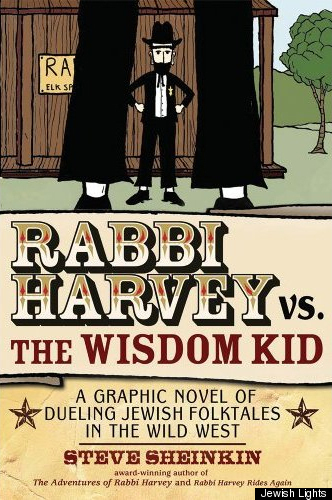 Sheinkin's third book-length comic, Rabbi Harvey vs. the Wisdom Kid, hits bookstores just in time for Passover. That's appropriate since Passover celebrates the Bible's most famous story of courage and liberation: Moses leading Hebrew slaves from Egypt to freedom.
Rabbi Harvey doesn't part waters, but he dodges plenty of fists, knives, bullets, and nooses by fearlessly drawing on the sheer wit and wisdom of Jewish literature.
"I write these books thinking of myself when I was an 11- or 12-year old Jewish kid," Sheinkin said in an interview from his Brooklyn home, where he lives with is wife and their two children.
For many years, Sheinkin supported his family by writing material for American history textbooks used in public schools. But, his love of history stems from the moment in his own childhood when his father gave him a hardback collection of Jewish folklore.
Until that moment, Hebrew school was a chore, Sheinkin recalls. "It was important to my father that I go to Hebrew school three days a week for two or three hours each time. To me, it felt endless. Think about it from a kid's perspective: I would finish my normal school day, then get on a bus and go to another school. That was tough to take."
Mainly, 11-year-old Steve Sheinkin simply couldn't imagine why this stuff mattered so much to his family. Then, his father gave him a copy of 101 Jewish Folktales. That was the spark that blazed into Sheinkin's lifelong love of Jewish culture and history.
Through the creation of Rabbi Harvey, Sheinkin now is drawing fresh young eyes to classic eastern European storytelling and the best in Jewish wisdom.
A recent story in the online edition of the New York Post put it this way: "Rabbi Harvey is made for Hollywood." The Post story also speculated that Adam Sandler might be the perfect choice to play the rabbi, although there's no movie deal in the works at the moment.
The French press, including Le Monde, also has picked up coverage of Les aventures de Rabbi Harvey. Sheinkin's previous two Rabbi Harvey books are praised in Paris, and this new third book will follow with a French edition.
Sheinkin's goal is a revival of interest in Jewish folklore, and even more than that he wants to show readers that there are solutions to violent challenges that don't involve escalating the violence. Sheinkin's lifelong love of American history lights up especially around those moments when men and women find clever solutions to defuse crises.
Similarly, when Sheinkin sketches his hero Harvey, the drawings may look a bit like Clint Eastwood -- but the overall storylines hark back to classic Hollywood Westerns with thoughtful themes about American values.
"I'm a big fan of Clint Eastwood, but the Westerns I draw from most directly come from an earlier period in Hollywood," Sheinkin said. "I actually look back at movies like Rio Bravo and others I've liked over the years, and I capture pictures from the movies and use them as a reference for the scenes I create.
"For this new book, I looked at High Noon, in particular. It's got that classic man in the street bravely facing his foe. I had screen captures from High Noon around me as I worked on this."
Each of the three Rabbi Harvey books, all released by Jewish Lights Publishing, is comprised of a series of shorter stories that fit into the book's larger narrative. In the debut book, The Adventures of Rabbi Harvey, we meet our hero as he becomes the unlikely sheriff of a little town in Colorado in the 1870s. In Rabbi Harvey Rides Again, Sheinkin brings back a couple of Harvey's toughest foes and introduces a love interest: a smart, tough miner named Abigail. In the newest book, Harvey meets his biggest challenge: a rival rabbi who teams up with a villain hoping to take over Harvey's town. Harvey may lose his job and his life, and his neighbors in the small town may be fleeced by the bad guys.
Even though Sheinkin's international fan base is growing, there won't be a fourth book until at least the end of 2011. Each graphic novel takes Sheinkin more a year and a half to produce.
"I do hope to continue the series," Sheinkin said. "But I always want to keep them fresh. I think of all the readers out there who know Rabbi Harvey now and have high expectations of our hero."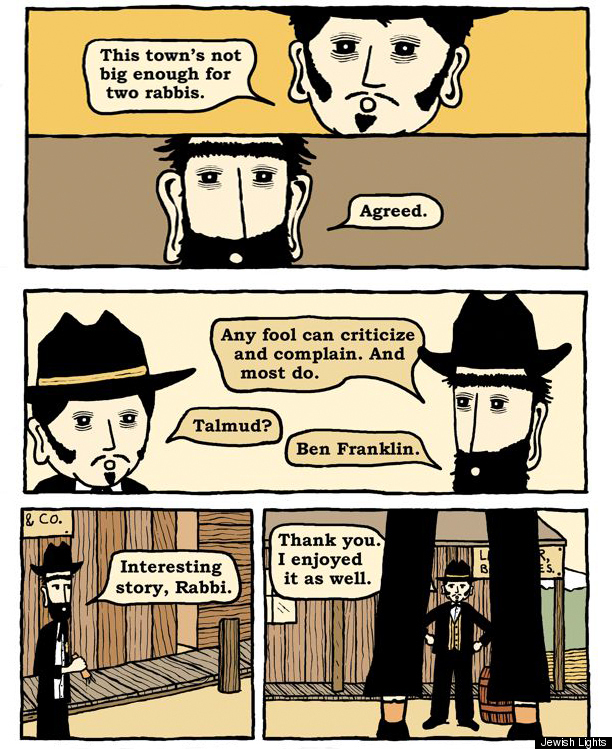 Related
Popular in the Community