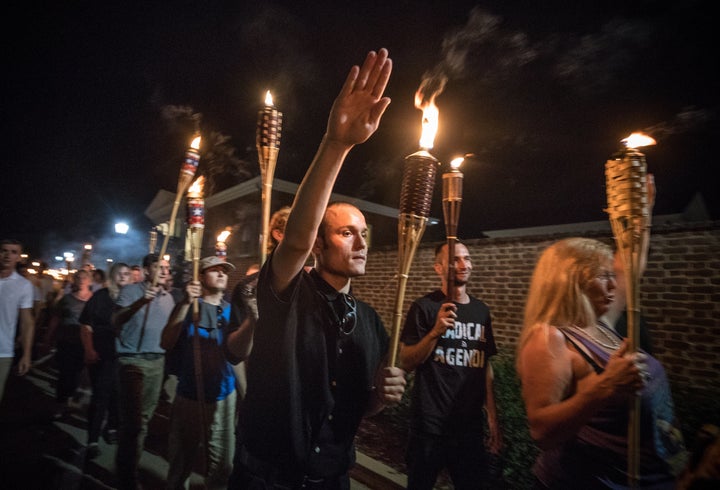 As white supremacist rallies overtook Charlottesville, Va. on a Saturday last month, congregants of the local Congregation Beth Israel made their way to Shabbat services in an atmosphere of tension.
The temple's leaders had removed the Torah scrolls from the premises in case of an attack. Over the course of morning services, the synagogue's president recounted, armed men dressed in fatigues stood menacingly across the street from the temple. Parades of neo-Nazis passed by the building, waving flags emblazoned with swastikas and shouting, "There's the synagogue!" A man in a white polo shirt ― a similar uniform as the one worn by James Alex Fields Jr. and other white supremacists ― walked by the synagogue several times, arousing the suspicion of temple security.
Synagogue president Alan Zimmerman wondered if he was being "paranoid," but he wasn't taking any chances.
"When services ended, my heart broke as I advised congregants that it would be safer to leave the temple through the back entrance rather than through the front, and to please go in groups," Zimmerman wrote in an article about the experience.
"This is 2017 in the United States of America."
It's been just over a month since the violence in Charlottesville, and it's still fresh in the awareness of Jewish organizations and synagogues as they gear up for the high holidays.
The holidays kick off with Rosh Hashanah, the Jewish new year, on Wednesday evening, followed up by Yom Kippur, Sukkot, Shemini Atzeret and finally Simchat Torah on Oct. 13. These are some of the biggest holidays in the Jewish year and tend to draw large numbers of congregants to synagogues around the country.
The Anti-Defamation League, a leading Jewish civil rights group, conducts security trainings for synagogues and law enforcement year-round. But the need for such training, said ADL CEO Jonathan Greenblatt, felt particularly urgent this year as the holidays approached.
"Anxiety levels are high," Greenblatt told HuffPost. "We're seeing an increase in anti-Semitic incidents over the past year, and in light of the anti-Semitism at full display in Charlottesville, this public display of hate is fresh in the minds of Jewish groups."
Some institutions are implementing additional security measures this year in light of the post-Charlottesville climate. The Lubavitch Chabad Jewish Student & Community Center in Gainesville, Fla., which expects roughly 1,000 students to show up for holiday observations, will have an armed police officer present during the week. Temple Israel in Alameda, Calif., which was vandalized in August, increased its security camera surveillance, hired a private security firm to be onsite during the week and reached out to the local police department to request increased patrol over the holidays.
Last week, ADL partnered with the Secure Community Network, a security initiative of several major Jewish organizations, to provide a briefing for Jewish community institutions ahead of the high holidays. Greenblatt said more than 500 representatives of Jewish institutions across the country participated in the call.
There's reason for concern.
The neo-Nazi marches in Charlottesville were just one manifestation of larger trends the country has witnessed in recent months. Data collected by the Center for the Study of Hate and Extremism at California State University, San Bernardino, and provided exclusively to HuffPost, revealed roughly a 5 percent rise in all hate crimes from 2015 to 2016. Hate crimes against Jews were among the highest in several parts of the country and surpassed incidents targeting other groups in places like New York City and Montgomery County, Md.
The ADL also tallied anti-Semitic attacks, including both criminal and non-criminal incidents, and discovered a 34 percent increase nationally from 2015 to 2016. Nearly 30 percent of all incidents ADL recorded last year occurred in the last two months, around the time of the election. ADL also found that in the first quarter of 2017, anti-Semitic incidents spiked 86 percent nationally over the same period last year.
"Our security briefings are constantly updated by our Center on Extremism, which tracks threats and ensures that our briefings reflect real time developments," Greenblatt said.
"People are very concerned about bomb threats, whether coming in through email or phone," Greenblatt noted. "And people continue to be very concerned about mass shootings."
"The main thing to keep in mind is that we are always monitoring the climate and always mindful," said a representative from the Los Angeles Wilshire Boulevard Temple, which received several bomb threats over the summer. "This is true today, and it was true several years ago. We as an organization are always vigilant."
Greenblatt emphasized that security should be a priority for Jewish groups year-round and referenced ADL's security manual as a helpful resource. He also urged institutions to connect with law enforcement to ensure that their congregants and buildings are kept safe from harm.
"Extremists continue to feel emboldened, and it's very problematic," Greenblatt said. "I'm optimistic there won't be any problems, but we need to be sure we're prepared."
Before You Go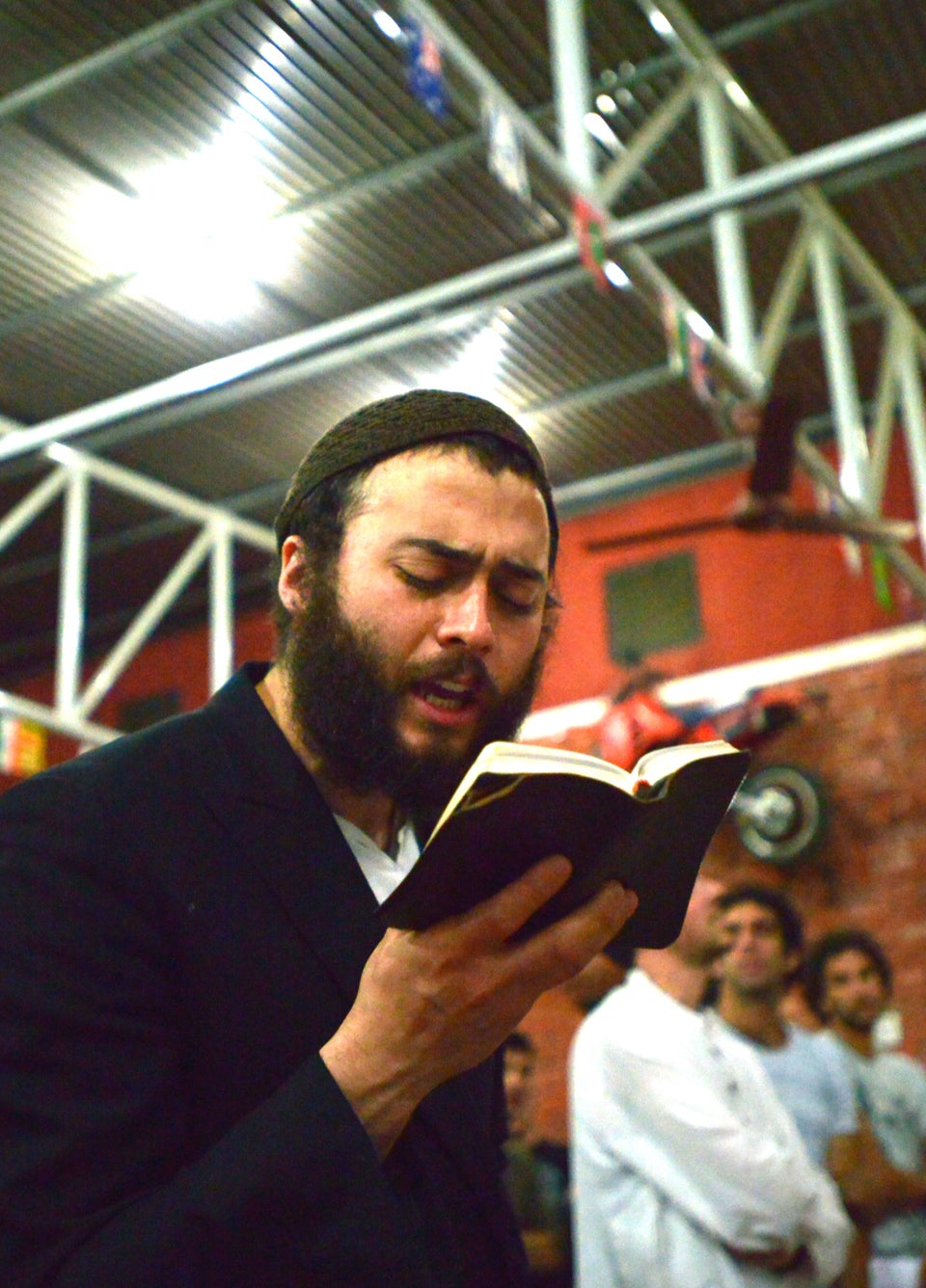 Jewish Prayer
Popular in the Community