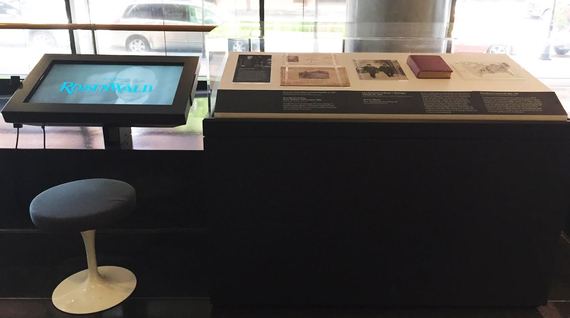 The National Museum of American Jewish History (NMAJH) will induct Julius Rosenwald, the late CEO of Sears, Roebuck and Co. whose philanthropy transformed education for African Americans, into their Only In America/Hall of Fame at a gala in New York on June 1, 2016. Rosenwald, who lived from 1862-1932, facilitated the building of over 5000 schools and 217 teacher's homes. His generosity is responsible for educating 663,615 African-American students in 15 states in the Jim Crow South that otherwise would have been attended one room school houses or not been educated at all. Many of these students later became the backbone of the African American middle class and led the fights for civil rights.
Rosenwald, a documentary about his life by Aviva Kempner, was screened at the White House this week for Jewish Heritage Month. Senior Advisor to the President Valerie Jarrett, in remarks after the screening, referred to Rosenwald as part of my family. Her great grandfather, Robert Robinson Taylor, designed the schools. Her mother and aunt appeared in the film. The film will be part of the permanent exhibit at the NMAJH.
Former Paramount Pictures CEO Sherry Lansing, Retired Aramark CEO Joseph Neubauer, Manhattan real estate developer Daniel Rose, and investor George Weiss will also be honored for their educational philanthropy. In some ways, both Rose and Weiss followed in Rosenwald's august footsteps. Rose is the founder of the Harlem Educational Activities Fund, which provides year round academic enrichment to underserved youth beginning in middle school. Weiss started the Say Yes to Education program in Philadelphia by promising to pay the college education of 112 students at Belmont elementary. It has since expanded to include 65,000 students in 5 cities. Neubauer is chairman of the University of Chicago Board Of Trustees.
Befitting Lansing's groundbreaking role as the first woman to ever head a movie studio, she threw out the old educational constructs and engendered a new paradigm. The former math teacher created two initiatives that utilize retirees, EnCorps STEM Teachers program and PrimeTime LAUSD, to enhance the educational experience. The idea to originate "rewire not retire" programs came to her after she left the movie business and established The Sherry Lansing Foundation.
The producer of such hits as "Fatal Attraction" and "Indecent Proposal" explained, "After I started my foundation, people would say to me I want to do what you are doing. I am 71 years old so I am at the tail end of the baby boomers. I realized our generation, 76 million people, are already 65 or turning 65 in the next few years. We were like the forgotten generation. We marched for civil rights; we marched for women's rights; we marched for gay rights. Now we have to redefine aging. You want to talk about prejudice. There is such a prejudice against people over a certain age. It's ridiculous. Mick Jagger is 72 today and he is bouncing around. If that is what retirement age looks like, they could certainly teach math and science."
Lansing, while serving on the California P-16 Council, developed the idea of a program that is the flip side of Teach for America. "I realized if students graduating from MIT were offered a $35,000 teaching position in a school district in an underprivileged area or a job at Boeing or a bio tech company, the school district would lose most of the time even if the student wanted to teach," said Lansing. "Then I started thinking about people in my demographic who want to give back and who want to continue working and have math and science skills. It was initially hard to get enthusiasm for it. My foundation funded the idea. Now it is its own 501C3 EnCorps Stem Teachers Program. We are taking people who have training in math and science and we are saying to them we will get you your teaching certificate. They are all going back to school for less than a year's training and then teaching in high need areas."
130 EnCorps fellows have transitioned to full-time teachers since the program started in 2007. Another 226 Fellows have started their training. Lansing hopes someday the program will be able to expand outside the state of California.
Related
Popular in the Community