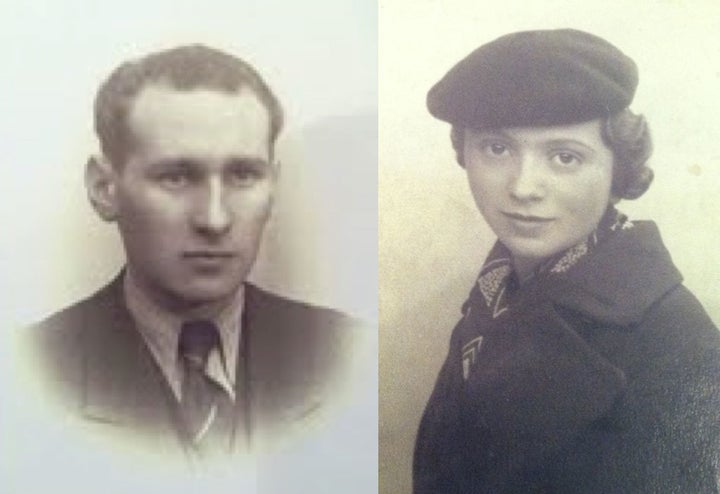 President Donald Trump signed an executive order Friday that makes it much harder for refugees to enter the United States and effectively bans refugees from Syria from coming here at all. He did this on Holocaust Remembrance Day, which honors the victims of that atrocity — many of them refugees who tried to flee to the U.S. but were turned away.
Our grandparents were refugees.
Max Horst Segall and Frieda Lopatka were born in Germany in 1916. They grew up down the street from each other in the Prenzlauer Berg neighborhood of Berlin.
When they were teenagers, they fell in love.
Max and Frieda were both raised Jewish. Frieda, however, was born to a Christian mother, which meant under Jewish law, she wasn't Jewish. But in 1936, Frieda chose to formally convert to Judaism so that she could be with Max. At that time, she also received her Hebrew name — Esther, after the clever and resourceful Jewish hero who saved her people from extermination while they were living in a foreign land.
In the late 1930s, the German government was obsessed with "protecting" its citizens from Jews, who were portrayed as an internal threat. Citizenship in Germany was based on your father's birthplace. Because Max's birth father was born in a disputed area between Poland and Germany, Max was never able to obtain citizenship. After his birth father died, his stepfather, who had fought for Germany in World War I, adopted him. But Max still couldn't get documents proving that he was German. He was treated as a stateless person — an illegal immigrant.
On Oct. 28, 1938, in the middle of the night, he was arrested in his parents' apartment in Berlin, interrogated, beaten and deported — first to a concentration camp and later to the Warsaw Ghetto.
By August 1939, with war looming, Esther had obtained two visas — one to Peru and one to Chile. By that point, many people outside Germany knew that Jews were suffering horrific persecution under the Nazis. But most nations, including the U.S., never opened their doors more than a crack. The perverse logic of the Nazi regime meant that Esther, with her Christian mother, was able to get permission to emigrate. But she never used her visas. She wanted to be with Max. She stayed in Berlin.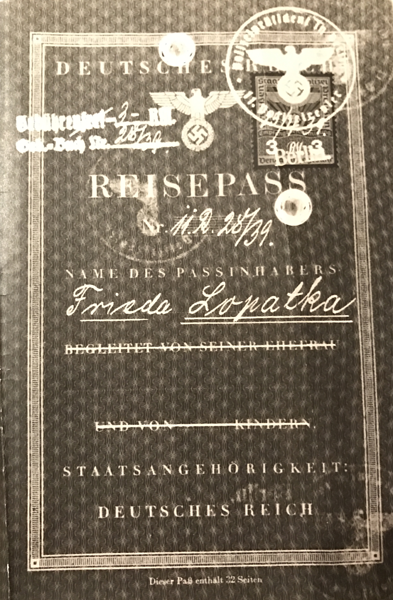 Soon enough, the government came even for the Jews whose German citizenship was unquestioned. On Nov. 1, 1941, Esther was taken to Grunewald train station. Most people brought there at that time were deported to extermination camps and gassed, or simply shot in the forest and buried in mass graves. Esther, along with Max's parents, was deported to the Warsaw Ghetto. There they were able to find Max again.
In 1942, before the Nazis liquidated the Warsaw Ghetto, Sgt. G――-, a Nazi soldier, helped Max and Esther escape. They were both caught and returned to the ghetto. The Nazi soldier helped them escape again, and they hid in the countryside. During this time, Max joined the Polish Resistance and fought with them from 1942 until 1944.
On Easter Sunday, 1944, our grandparents audaciously returned to Berlin by train, carrying fake papers. Max figured that Berlin, which the Nazis had declared free of Jews in May 1943, was the last place the government would look for them. They hid in an attic. It was searched several times, but they were never found.
The war ended, and Max and Esther were reunited with their surviving family members. Although they had been married in hiding, they wed again in a civil ceremony on June 4, 1945, just weeks after V-E Day. They wanted to emigrate to the U.S., not Israel. "We'd had enough excitement already," they said later.
But even after the horrors of the Holocaust, the U.S. still refused to open its doors to Jewish refugees. So Max and Esther did what most refugees spend huge periods of their lives doing: They waited.
Slowly, the door cracked open. President Harry Truman permitted some 35,000 to 40,000 displaced persons, most of them Jewish, to come between 1945 and 1948. In 1948, Congress passed a law allowing more Jews to reach U.S. shores. In late 1949, our grandparents arrived. The next year, they received a letter from Illinois Gov. Adlai Stevenson: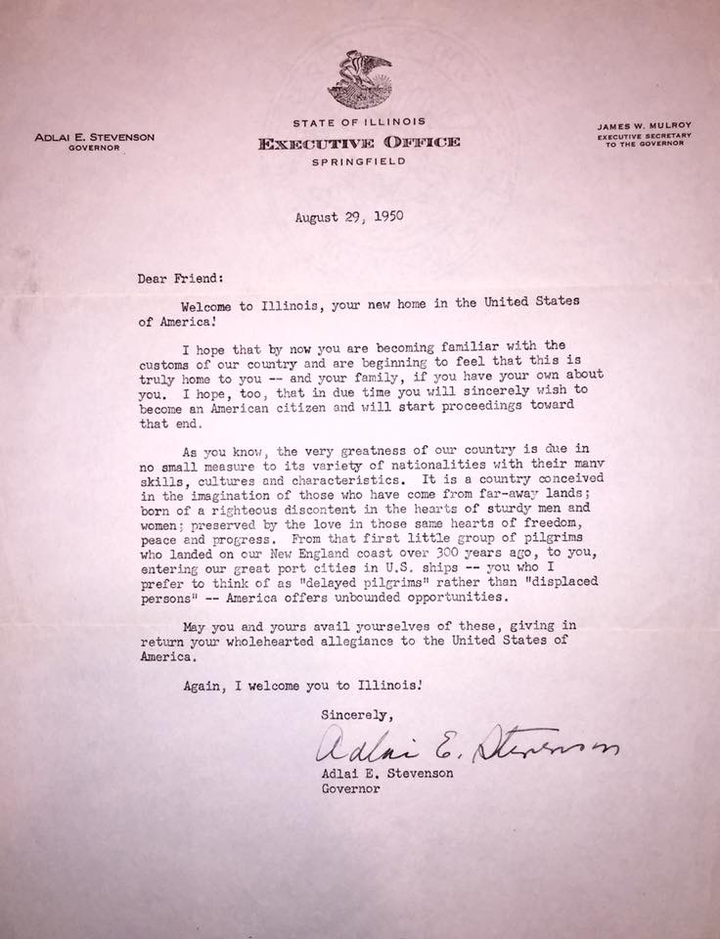 A few years ago, Rachel won a fellowship and traveled to Germany to learn more about Max and Esther. Through archival research, she found testimony given by our grandfather after the war — and the address where they had hidden in the outskirts of Berlin. She went to that house and knocked on the door. The people who had lived there in the 1940s no longer did. But the current residents had records of the previous owners, a family named B――-.
Two brothers, by then in their late 70s, had lived in the house as boys during the war. Rachel set up a call with them. The older brother didn't remember anything other than that they had been forbidden to enter certain parts of the property when they were little. But then the younger brother revealed something he had never told his sibling before. In their mother's last years, she had confessed to him that during the war, she and his father had sheltered a young Jewish couple.
On Max's application for U.S. citizenship in 1954, the government asked him whether he had, in the United States or any other country, been arrested, been charged with a violation, broken any law or ordinance, or been fined or imprisoned. He checked "yes." Then he wrote this:
1938: Concentration Camp, Germany. Outcome of Case: Deported to Poland.

1941: Concentration Camps. Offense Involved: As a Jew. Outcome: Returned to Ghetto.

1953-1954: Offense Involved: 2 parking violations. Outcome: $3 fine paid, each.
Our grandparents died when we were young. They loved this country. They were deeply grateful to the U.S. and the other nations that fought and won the war against Hitler. But when we went through their things, we found many valuables stored away in unexpected places. They spoke only rarely about their early lives  — and usually to their son-in-law, not their daughter — and they never felt totally safe. They knew how fast a country could change.
We miss them. We think about them a lot these days — and the people who chose to help them, and the people who chose not to.
Sign up for the HuffPost Must Reads newsletter. Each Sunday, we will bring you the best original reporting, long form writing and breaking news from The Huffington Post and around the web, plus behind-the-scenes looks at how it's all made. Click here to sign up!
Read Max Horst Segall's testimony about his Holocaust story (in German) below: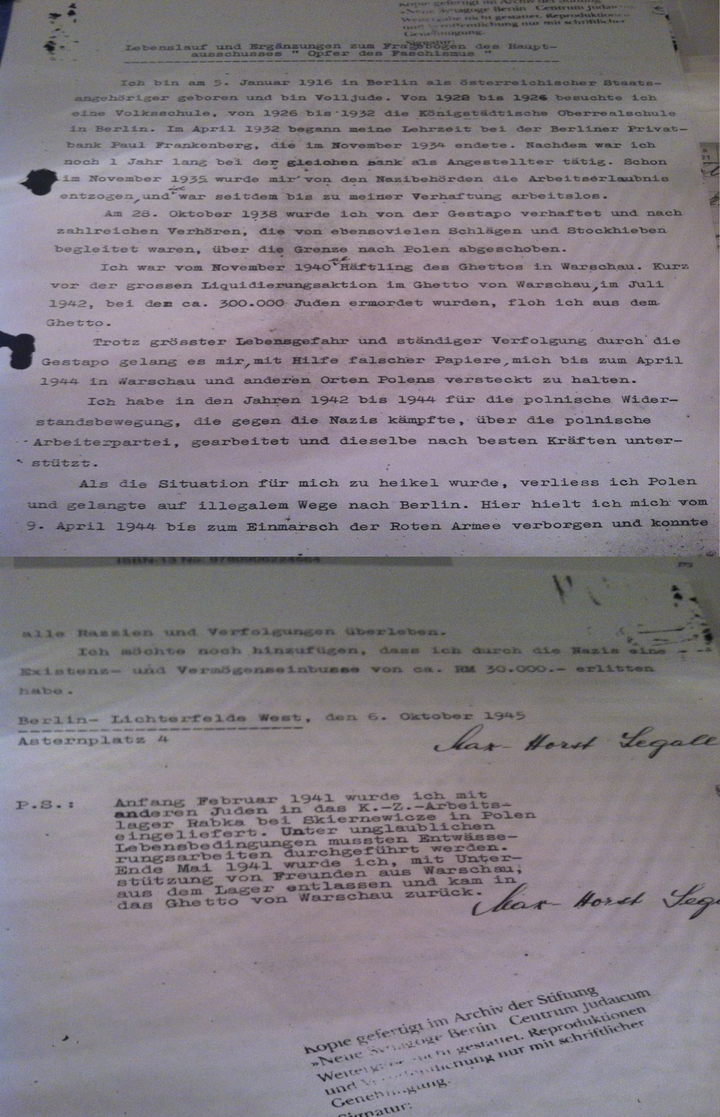 REAL LIFE. REAL NEWS. REAL VOICES.
Help us tell more of the stories that matter from voices that too often remain unheard.