 WASHINGTON -- The push to win a particular 2 percent of the population entered its last hours Monday, with both presidential candidates' seeking an edge with Jewish voters who may play a deciding role in the key battleground states of Ohio and Florida.
"I'm confident that we will see a meaningful increase in the Jewish vote from 2008 and that we will continue our efforts at making inroads with 2012 marking five out of six national elections where Republicans have gained with Jewish voters while the Dems have lost market share," Matthew Brooks, Republican Jewish Coalition executive director, wrote in an email to The Huffington Post.
Brooks, whose group has enlisted campaign workers by giving away iPads , said volunteers expected to make 400,000 calls to Jewish voters in battleground states Monday. Pro-Romney campaign literature also will be dropped at 100,000 homes. Last-minute rallies will feature volunteers waving "Obama Oy Vey" banners, a reminder of the tsuris Republicans say the president has brought for Israel.
Another conservative group, the Emergency Committee for Israel, has unleashed robocalls to Jewish households featuring a made-up "debate" about Iran between Obama and Israeli Prime Minister Benjamin Netanyahu. Veteran Jewish journalist Ron Kampeas called it full of "deceptions."
Meanwhile, the Romney campaign has sent surrogates to woo Jewish voters. Among them: former Sen. Norm Coleman a Minnesota Republican who has tried to assure socially liberal Jews in Ohio that Romney won't try to overturn Roe v. Wade if elected.
Romney's biggest Jewish fan base is in the socially conservative Orthodox Jewish community, which has trended increasingly Republican in recent elections. Indeed, while it steered clear of making endorsements, a group of Orthodox and Hasidic rabbis in the Cleveland area taped messages to "Torah Jews" pointing out differences between the candidates and urging them to vote.
Ohio, where Jews make up 1.3 percent of the population, and Florida, which has about 640,000 Jews, are the two battleground states where a few Jewish votes could swing the electoral results. Virginia, also in play, has more Jewish voters than Ohio and could also prove pivotal to the results. Other states with larger Jewish populations such as New York, New Jersey and California are solidly blue and out of contention for Republicans.
As the Times of Israel noted, "The raw math seems to justify an inordinate investment in the Jewish vote." No less than 96 percent of Jewish registered voters are believed to have cast ballots in 2008. In comparison, of the more than 20 million Hispanics who are eligible to vote, only half turned out in the last presidential election.
Yet even though American expats in Israel are more receptive to Romney's message than Jews in the United States, Democratic strategists saw earlier this year that Republicans, with the help of Adelson and others, had managed to chip away at Obama's support in some parts of the Jewish community.
The Obama campaign would not give HuffPost specific numbers on its 11th-hour outreach to Jewish voters, saying only that it has worked for more than a year with local leaders in key swing state cities to mobilize the community.
David Harris of the National Jewish Democratic Council said his group was using direct mail, phone calls, email, web ads in social media and other conduits to get the vote out.
Among the most concerted efforts to rally Jewish voters to Obama has been the work of a handful of Democratic strategists who since July 1 have worked out of the attic of a cramped townhouse on Connecticut Avenue in the Woodley Park neighborhood of Washington. The quick-strike message machine, dubbed The Hub, was funded by a few deep-pocketed Democratic donors, including Greg Rosenbaum, the former CEO of Empire Kosher Poultry, who runs a private equity firm in Bethesda, Md. An Obama bundler who has raised or donated nearly $500,000 to support Obama and other Democrats, Rosenbaum has given $110,000 to The Hub.
"I knew there was no way on the Democratic side we could match (Adelson's) money, but we needed an efficient and effective rapid response to combat what I viewed to be the lies and distortions coming from the other side about the president's record on Israel," Rosenbaum told HuffPost in an interview.
The Jewish-centric operation has been run by former Hill staffer Aaron Keyak out of the offices of two longtime Democratic strategists with deep ties to progressive Jewish groups -- Steve Rabinowitz, a Clinton White House veteran, and Matt Dorf, who worked on Howard Dean's 2004 presidential campaign. In four months, the group produced Obama endorsements from former New York Mayor Ed Koch, Barbra Streisand and residents of of the Israeli city of Sderot lauding Israel's U.S.-funded Iron Dome missile defense system. It also created micro websites such as romneyandiran.com that took apart Romney's position on Iran.
The Obama campaign had organized Jewish Americans and Rabbis for Obama, but those close to the campaign said they worried political conservatives would spend tens of millions of dollars to portray the president as less than rock-solid on Israel -- even though surveys show that isn't the top issue for most Jewish voters.
"None of this was meant to be a substitute for the campaign's Jewish outreach," Keyak said in an email. "It was simply meant to be much more nimble and more timely. While others had to multi-task political organizing, donor maintenance, new fundraising, field and other needs, a new Jewish media hub was able (to) concentrate on the tone and tenor of the campaign in the Jewish community. We messaged on our own and responded in kind."
Whether that will pay off may not be known until exit polls are released, possibly as early as Wednesday.
Harris said that although the issue of Israel resonates deeply in Florida, he is optimistic Obama can win the Jewish vote there. "The internal polling that I've seen inspires some confidence. I feel good that what we're doing is getting the job done," he said.
Rosenbaum said he was more worried about the lopsided spending on the GOP side 6 to 8 months ago than he was on the eve of the election.
"The economist in me is hoping that with so much money being spent and all these ads, that there are diminishing returns," Rosenbaum said. "I think we have reached the point where a lot of this money is just being wasted."
Before You Go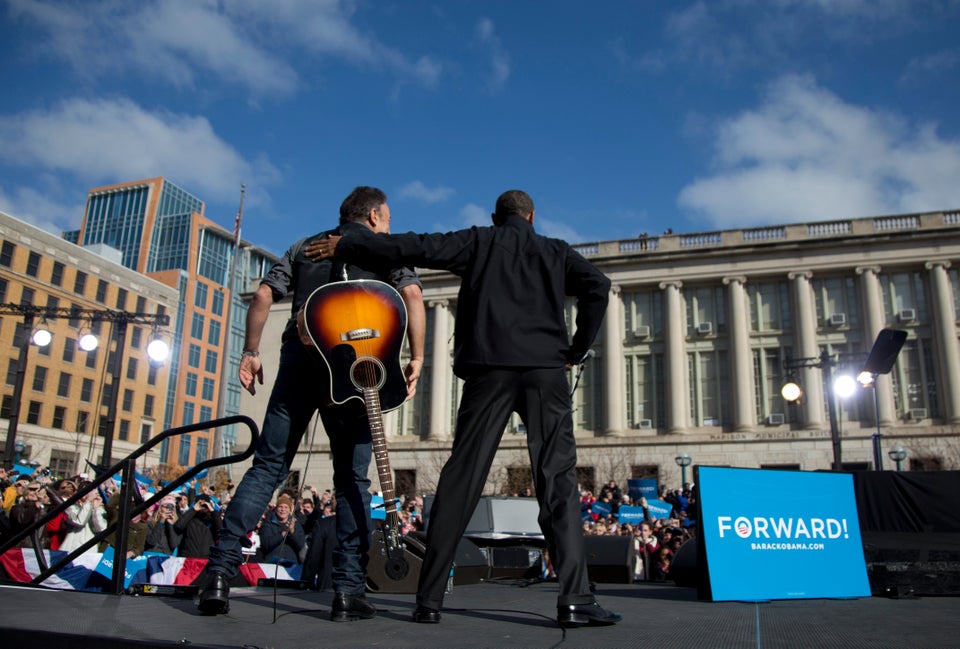 Madness In The Final Hours
Popular in the Community