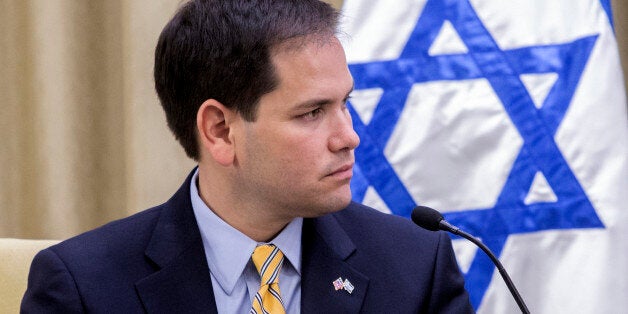 For the past several months, Jews across America have been quietly organizing rides to the polls, registering new voters, setting up phone banks, and distributing policy guides to help voters make their decision on November 4. Guided by deeply held convictions, these activists are making their influence known in this election around the most controversial of issues -- but they're not talking about Israel, in fact, Israel doesn't even make their list.
Too often, politicians operate on the mistaken assumption that the only issue that matters to America's Jewish voters at the polls is Israel. Yes, it's true that many are passionate about Israel for profound and disparate reasons. But the intense focus on Israel by candidates courting the Jewish vote does our community -- and the candidates' campaigns -- a real disservice.
The reality is that according to the Public Religion Research Institute survey, "Chosen for What? Jewish Values in 2012," only 4 percent of Jewish voters said that Israel was their top issue when they went to the polls. That's a shockingly low number given the conventional wisdom of how to secure the Jewish vote. A deeper dive into that survey and the exhaustive 2012 survey of American Jews by Pew shows that the soul of American Jews lives within our borders and that the community's priorities often have very little to do with the perceived parochial interests of Jews themselves.
Rather, our community is consistently motivated to the polls by values instilled in us through faith and ethical traditions, and how they play out in American public policy. LGBT rights, immigration reform, voting rights, and economic justice, to name a few, are issues passionately supported by American Jews, who aren't just voting on these issues but helping organize around them.
Politicians seeking public office may fare better with the Jewish vote by appealing to the somewhat broader definition of Jewish identity described by 20th century Jewish philosopher and civil rights activist Rabbi Abraham Joshua Heschel, "Who is a Jew? A person whose integrity decays when unmoved by the knowledge of wrong done to other people."
Jewish voters disproportionately care about social and legal equality for other social groups, particularly women and LGBT individuals. Approximately 80 percent of Jews say that LGBT people and their families should be accepted by society, and 72 percent of Jews see discrimination against LGBT individuals as evidence that we have not yet achieved full acceptance.
This is the area where many Jewish activists operate -- recognizing that our current political reality falls short of our values, and striving to create the world befitting of our ideals.
According to the Pew survey, American Jews pay close attention to the social equality of religious and ethnic minorities -- possibly a lingering and heightened sensitivity from having historically been subject to discrimination and bigotry ourselves. Four in ten Jews say there is still discrimination against Jewish people in America today, but this pales in comparison to the percentage of Jews that recognize discrimination against Muslim Americans, African Americans and Latinos and feel compelled to do something about it.
The sensitivity towards discrimination against others stems from a core Jewish value that our community life should be open, inclusive and fair. It's what motivated Jewish activists in 1964 to travel to Mississippi to register black voters, an activist stance they were murdered for. It's why we came together earlier this year to commemorate that sacrifice with an interfaith, twilight candlelight vigil on the steps of the Lincoln Memorial. It's why Bend the Arc's members and leadership have protested the deportation of undocumented immigrants, and have been arrested in the process. It's why Rabbi Jason Kimelman-Block marched with local faith leaders against police brutality in Ferguson, and why Jews have spoken out about the need to grapple with America's history of systemic racism.
Like most American voters, Jewish voters are also thinking about the economy -- but the "jobs, jobs, jobs" rhetoric of many candidates doesn't address their concerns. Rather, Jews prioritize a just economy, and believe government has a crucial rule in combatting poverty, and helping alleviate human suffering. These values are again borne out in the data, which show that Jewish voters are generally more supportive of "bigger government," or more services to help the most vulnerable people meet their basic needs. Rather than listening to candidates talk about cutting the deficit and slashing budgets, America's Jewish voters would rather hear someone's forward-looking vision for an economy where taxpayers come together for the greater good and create a system that lifts everybody up.
If candidates want Jewish support in this election, politicians and their super PACs would do well to think beyond just Israel and talk about solving problems here at home.
Stosh Cotler is the CEO of Bend the Arc: A Jewish Partnership for Justice.