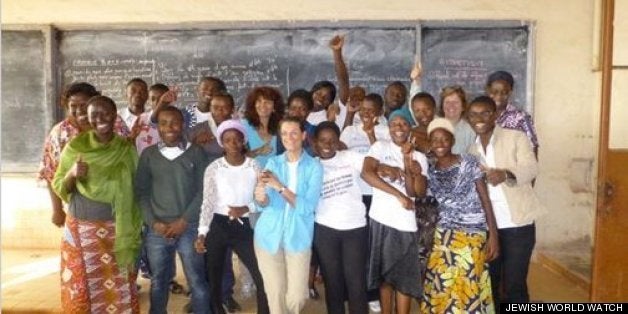 Diana Buckhantz is a Board Member of Jewish World Watch (JWW), a leading organization in the fight against genocide and mass atrocities worldwide. JWW's work is currently focused on the ongoing crises in Sudan and Congo. Diana recently traveled, along with fellow JWW Board Members Diane Kabat and Janice Kamenir-Reznik, to Congo's eastern provinces to meet with JWW's on-the-ground project partners, to participate in the dedication of JWW's Chambucha Rape and Crisis Center, and to work with survivors of Congo's decades-long conflict to build innovative new partnerships and projects.
These trips fly by for me. It seems like I just get acclimated to the schedule, to the food (or lack thereof), to not sleeping (somehow I never sleep in Congo), to 18 hour days, and suddenly it's time to go home. And as I seem to always say, at the end of every trip, I feel sad to leave. It's never long enough for me. I love being here.
The Congolese people are warm and welcoming and despite the terrible hardships, they manifest an amazing life force. Music is everywhere, and they sing and dance at every opportunity. They have a profound faith in God despite everything that has occurred, and they know that life will be better soon. The individuals who run the small organizations with whom we partner are dedicated, extraordinary people who struggle to see and achieve a different future for Congo -- a future that is not rife with violence, corruption and abuse, and one in which there is gender equity and job opportunities. They believe in the young people as the future, and they will do all that is humanly possible to educate and inspire them. They are truly an inspiration to me.
When we first began to work in Congo, we were very concerned about accountability. We were not certain how to guarantee that our funds would be spent properly with local organizations. In that first year, we partnered mainly with large NGOs -- International Medical Group, Women 4 Women International or Heal Africa Hospital, which, while Congolese, has a U.S office. While we are still partnering with them and continue to be impressed with the impact those projects are having on their communities, with each subsequent trip, we have found small local organizations doing amazing work which we can now support with confidence.
Just today as we were rushing out of Bukavu for a short visit to Goma, we visited LAV (Laissez L'Afrique Vivre), an organization that works to train boys and girls who had previously been child soldiers. Founded in 2000, LAV serves 250 youth in 4 centers around South Kivu. The youth are trained in mechanics, cooking, sewing, cooking -- many skills similar to other programs; however, the difference here is that the youth who graduate are put into collectives to start an entrepreneurial business together. LAV continues to offer support and advice after they leave. They have a 95 percent success rate. We visited a restaurant that a few of the youth had started and our only wish was that we had had time to have a meal there! We also met a young woman who was abducted into the militia at age 11 and was finally freed at age 13. From her first day with LAV, she said she wanted to be a lawyer. In a few weeks, she will graduate law school. LAV has paid for her schooling and Sosthene Kubisa, the Founder and Director of the program, beams with pride when he introduces her.
While some of the NGO community express the understandable frustration of trying to accomplish anything in a country with absolutely no infrastructure and rampant corruption, our local partners never express anything but determination and hope. These people are the heart of Congo. It is their home, and long after the NGOs move on, they will be there continuing to work for a new Congo. And I hope that Jewish World Watch and I will be right there with them. Until the next trip ...
PHOTO GALLERY
Jewish World Watch in The Democratic Republic of Congo
REAL LIFE. REAL NEWS. REAL VOICES.
Help us tell more of the stories that matter from voices that too often remain unheard.