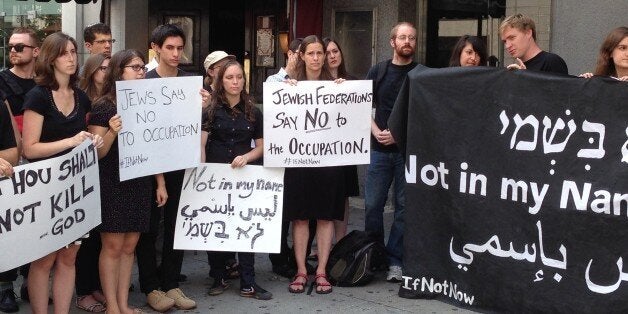 WASHINGTON -- As a 72-hour cease-fire between Israel and Hamas took effect on Tuesday, a group of young Jewish Americans held a protest against Israel's offensive outside the national office of the Jewish Federations of North America.
Approximately 50 protesters called on the group, which represents hundreds of affiliated organizations across North America, to condemn "the gratuitous killing of Palestinian civilians," "the bombing of U.N. schools" and "the use of live ammunition on non-violent protesters in the West Bank." In a letter delivered Tuesday to William Daroff, the Jewish Federations' senior vice president for public policy, they wrote:
We reject your organization's promotion of the "well being of Jews worldwide" as you support a war that leaves our friends and cousins running to bomb shelters and only worsens the horrific status quo of a stateless and oppressed people, the Palestinians. Occupation and expulsion has left the Jewish community numb to the suffering of others and callous in the face of bloodshed.
The protesters, who were all dressed in black, timed the demonstration to coincide with Tisha B'Av, a day of mourning and fasting meant to commemorate the destruction of two temples in Jerusalem in ancient times. They read the names of Palestinians killed during the offensive and said a mourner's prayer while placing dozens of stones on the ground, a tradition at Jewish funerals and memorial services. When people walked by, they were handed photos of Gazans killed during the offensive.
The Jewish Federations' press spokesman said the organization declined to comment in response to the protest.
Becca Russell Einhorn, a 26-year-old Jewish woman married to a Palestinian, told The Huffington Post that she's upset the organization has not taken "an ethical position" on the conflict.
"Believing that Israel should exist does not mean unequivocal support for everything Israel does," she said, adding that it "boggles" her mind that the organization hadn't spoken out against military actions like the bombing of a United Nations-run school in Gaza.
Jesse Rabinowitz, a 23-year-old, said that the cease-fire announced this week doesn't change the goal of the protest.
"I don't see how there could be a true peace when Palestine is still occupied and there is still a siege," he said.
"The Jewish Federations of North America claims to speak for North American Jews and I'm an American Jew who is tired of the ceaseless killing and bombing of U.N. schools," he continued. "[The organization] needs to stand up for what this group of over 50 people believe, which is that Gazans deserve respect and a life free from bombs and war."
The protest is a reflection of broader trends among young Jewish Americans, according to a Pew Research poll released last year. The survey found that while 70 percent of American Jews aged 18-29 believe there is a way for Israel and an independent Palestinian state to coexist peacefully, just 26 percent of people in that age group believe the Israeli government is making a sincere effort to reach that goal. Fifty percent of people aged 18-29 said they believe that settlement construction in the West Bank is detrimental to Israel's security.
Similar protests against other Jewish institutions have been held recently in New York City, Chicago, Boston, Atlanta and San Francisco.
Support HuffPost
The Stakes Have Never Been Higher
Related
Before You Go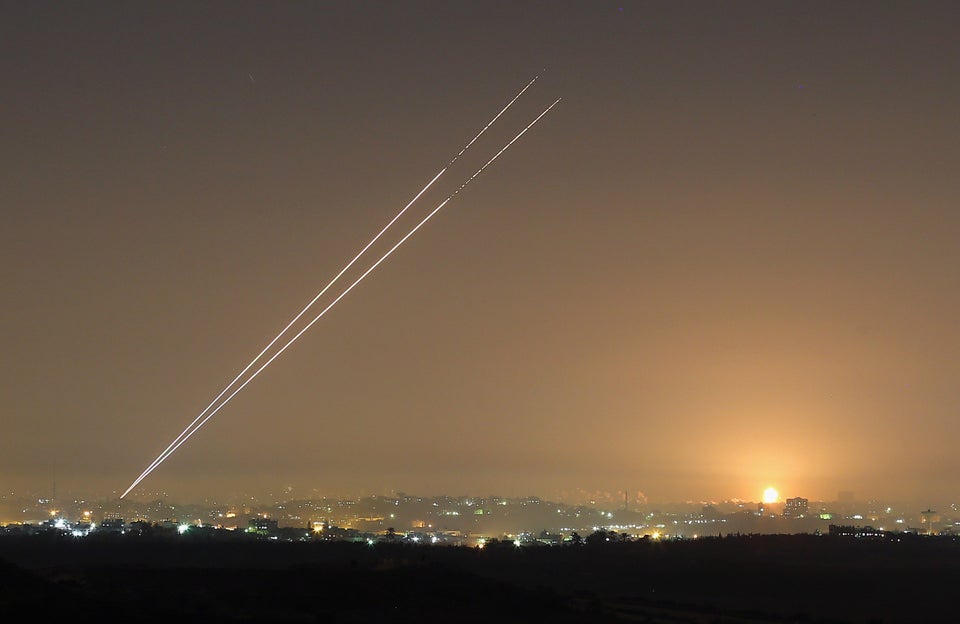 Israel-Gaza Conflict
Popular in the Community