Over the past year I've learned and grown as an activist through my work at Jews United for Justice, a grassroots community organization which brings DC-area Jews together to win campaigns on issues like immigrants' rights, affordable housing, fair budgets and more. Through my work with JUFJ I've become more connected to other Jews and allies who care about these key, basic social justice issues, and to the morals of our faith. I had a bris and bar mitzvah and a childhood full of Hebrew School, but I have never felt so intimate with the content of my religion -- and its community -- as I do with JUFJ. Last Sunday we gathered 350-plus Jews, activists, allies, and friends for our annual Labor Seder, where we celebrate the freedom story of Passover by talking about a local social justice issue. This year's seder, entitled "Let My People Go Home Sick," was a perfect blend of Jewish tradition and activism for paid sick leave -- in particular for restaurant workers, who are especially vulnerable when it comes to paid sick leave access. All evening there were so many great little moments, but these were my favorites: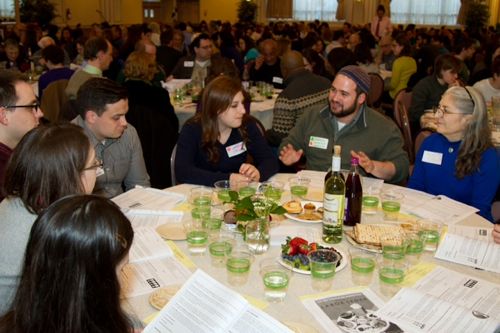 5) Not Quite the Maxwell House Haggadah . Our Four Questions included "Who needs paid sick leave?" and "Why is paid sick leave critical to public health?" The Ten Plagues included Injury On The Job, Sick Children Who Can't Get Care, and Laws That Have Kept Wages Low. I learned that over 90 percent of low-wage workers have no paid sick leave, and 60 percent of restaurant workers report cooking or serving food while sick. It made me really question why people in my socio-economic class get paid sick days while people working just as hard in more physically demanding jobs don't.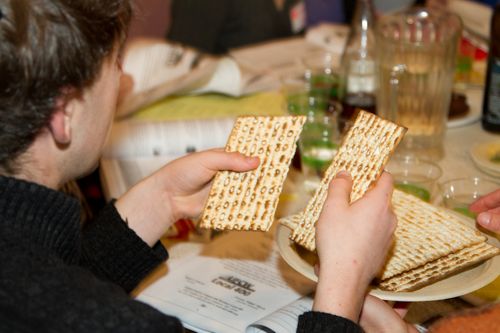 4) The Action. I've been part of the tiny staff at Jews United for Justice for over a year and I'm still always amazed at our members' and volunteers' commitment to taking action to make change. This time, 350 attendees took pens in their hands and wrote original, personal letters to their local legislators and business owners. A small number of the many highlights includes:
"When I worked at an ice cream store the summer after high school, I had no paid sick days. With no other options, I came to work sick for several days, doing my best to sniffle quietly and dash back to the kitchen to wipe my streaming nose out of sight of my customers. I didn't dare request a day off for fear of losing my job."
"Dear Mr. Otis [CEO of Darden Restaurant Group, which owns Olive Garden and Capital Grille], I was recently disturbed to learn that despite Darden's financial success you do not provide your restaurant workers with basic workplace benefits.... Your food is delicious, but I feel strongly about this issue and will not likely return until this issue is resolved and your workers are treated with the respect they deserve."
I don't write letters very often, and this exercise reminded me that it actually feels pretty good. It's also fulfilling to know that elected officials and others take it seriously when they get a big stack of letters with a unified, compelling argument in the mail.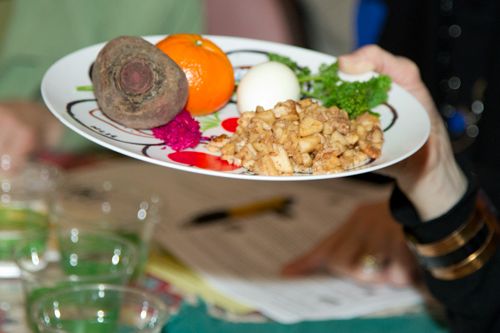 3) Speaking of respecting your workers... Andy Shallal, one of our speakers, is a well-known local restaurateur and a trailblazer in the food justice movement. He was one of the first restaurant owners in DC to offer his tipped workers paid sick days. At the Labor Seder he spoke about how paid sick leave is a basic issue of human rights. "We're going to look back on this years from now just like we look back on smoking laws and child labor laws, and all of these laws that were put in place, because we as a collective humanity have evolved." He added, "It's not okay to charge five dollars for a burger and not pay workers well or give them paid sick days." Winning on this issue -- and other issues of workers' rights -- feels much more possible with people like Andy on our side.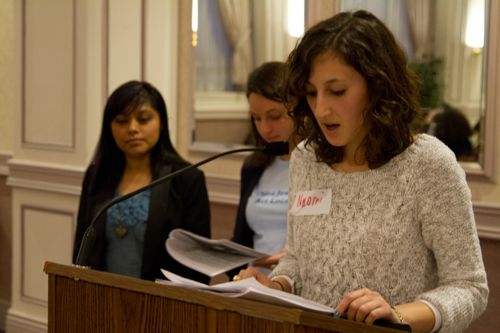 2) The Proposal. Near the end of the night, my boss, Rebecca Ennen, went up to the podium. This was definitely not in the script, and in a tightly planned event, I was wondering what she could possibly be doing. She started to thank her partner Ari Weisbard for being so supportive of JUFJ -- and all of a sudden she said, "I'd like to ask you to marry me." The room erupted in cheers as Rebecca and Ari ran to each other and hugged in the middle of the crowded tables. The band broke out into Siman Tov U'Mazel Tov, and dozens of us grabbed hands and danced around the room as hundreds of attendees sang, clapped and cheered. It reminded me that our community doesn't just fight for justice, we share our lives with each other and celebrate together too.
1) The Standing Ovation. Saru Jayaraman, our headline speaker and the Co-Director and Co-Founder of the Restaurant Opportunities Center, held the room rapt with a story about an Olive Garden bartender who didn't get a single paid sick day in 20 years of work. She developed serious carpal tunnel syndrome, was never able to sacrifice a day's pay to visit a doctor, and was then fired with no workers' compensation when her pain got so bad that she was essentially paralyzed. "As a community," Saru said, "as a world, if we care about one another as human beings, we cannot allow this to happen to any person on earth."
"Please speak up as a customer," she finished. "I know you care not just because paid sick days are good for us when we eat out, and not just because it's good for the employer, but because it's good for every worker, who's a human being, and should not have to choose between their job and their health."
I was happy to see Saru get a standing ovation from the entire room. Few speakers can pivot from telling a deeply troubling story to making the audience feel empowered to do something about it, but she really pulled it off. I hope more people will join me and many others in having casual conversations with restaurant workers about their treatment on the job and how our paid sick days campaign with Restaurant Opportunities Center and Employment Justice Center can help improve the law for them.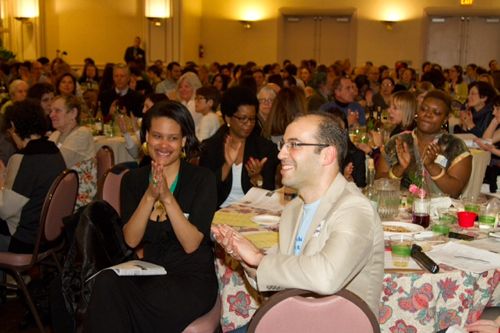 If you want to get involved with our Paid Sick Days Campaign, we have a lot of volunteer opportunities available. Being a grassroots organization, we like to give people as much responsibility as they are willing to take on. From research and communications to hosting a house party or just signing our petition, there are many ways to get involved. Feel free to contact organizer Monica Kamen at monica@jufj.org with questions. And tell the managers at your favorite restaurants that you want them to give their tipped employees paid sick days!
REAL LIFE. REAL NEWS. REAL VOICES.
Help us tell more of the stories that matter from voices that too often remain unheard.