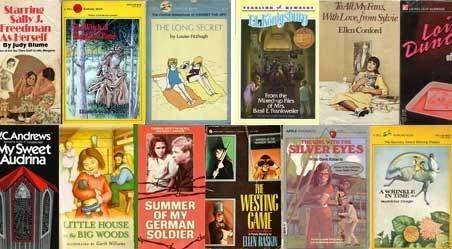 If you are a woman of certain age — that age being the age of growing up with books like Summer of Fear and The Girl With The Silver Eyes and Deenie and Then Again, Maybe I Won't and Are You In The House Alone? and The Cat Ate My Gymsuit and From The Mixed-Up Files of Mrs. Basil E. Frankweiler — then you have probably already been sent a zillion links from your girlfriends leading back to Jezebel's Friday feature, "Fine Lines," wherein columnist Lizzie Skurnick returns to the beloved Young Adult books of our collective youth and analyzes and deconstructs them with wisdom, humor and incredible insight.
I am biased in this assessment, and not at all because Skurnick is a friend,* but because I LOVE THIS COLUMN, and usually drop everything I'm doing to read it when it's posted. I can't help it. I loved these stories and find that I remember every detail of all these books, like Bud feeling up Deenie in the dark and getting a handful of back brace or how Rachel looked terrible in pink but bought the dress anyway or how the girl with the silver eyes made her meanie neighbor's groceries fly up in to the air or how life changed for Tony Miglione or the Murphy bed in Sally J. Freeman's apartment or how Gail's best friend's boyfriend raped her while she was babysitting. So do the Jezebel commenters, who burn up the comments section after with their own recollections of the books and the details that had such an impact on them.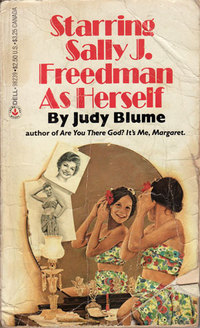 In short, it's a total cult favorite — which is why it is a natural for a book, which is why HarperCollins just signed Skurnick to write a book based on the column. What's interesting about it, though, is that the deal is for Skurnick separate and apart from parent company Gawker Media. According to Jezebel editor Anna Holmes, the book will include "work that has appeared on Jezebel" (Skurnick secured permission from Gawker to use the material) and Holmes, the editor with whom she developed the concept, will also "be helping out with the book in some as yet-to-be determined capacity." Yet, the deal is Skurnick's — which makes it the first non-Gawker Gawker book.
Apart from last fall's "Gawker Guide To Conquering All Media" and two spinoff books by Lifehacker editor Gina Trapani, this is the first book deal to come from a Gawker blog. While it's true that numerous former Gawker editors have books and/or book deals (Elizabeth Spiers, Will Leitch, Doree Shafrir), but none are based on their actual work for the site (jury's out yet on what Emily Gould's book will count as). Gawker briefly had its bitingly hilairous Underminer feature, of course, but that was the inverse insofar as it was based on a book.
It's worth noting that the first such book came from Jezebel. Skurnick is a published poet and author, National Book Critics Circle board member and frequent reviewer for the NYTBR, but Gawker has never had a problem attracting ridiculously talented writers. Jezebel, though, has broken out from the pack of Gawker blogs since its launch in May 2007, barely a year ago. The combination of voice, humor, sometimes taboo subject matter, raw honesty and, dare I say, a certain earnestness has made it a must-read for the online set, and not just women, either. No one is writing critically-acclaimed articles calling Jezebel a bile-filled sewer; they're writing articles about how it's welcoming, smart and nice. Generally, people can't praise it enough.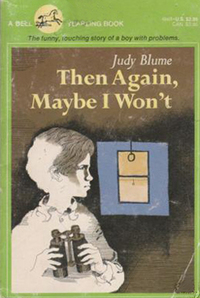 Meanwhile, the Gawker book — which was self-billed as being a guide to being "rich, famous and totally heartless" — did not exactly shoot up the bestseller list. So maybe — just maybe — the appeal of a book is grounded an ethos that's a little less snark and a little more heart. (None of this is to say that there's no hope for a book based on Balk's Cock, just that maybe you shouldn't hold your breath).

In the meantime, the commenters at Jezebel are beside themselves about this news: "Congrats!!! I love this feature!!" and "Congratulations! One of my favorite features by far!" and, a comment that is sure to please the publisher, "Great job, Lizzie! I will most certainly be gifting your book to quite a few friends!" It's not only on the blog; here's what a co-worker emailed me when I told her what I was writing about: "I'm seriously so excited to read, buy, and treasure this book. I love YA lit and I feel like its never been done justice." Another co-worker (one less given to gushing expressions of enthusiasm) wrote simply: "Nice. I love Deenie."
Incidentally, the comment about YA books being denied justice is echoed in the comments section on the post, with one commenter saying, "Maybe this will go a long way towards legitimizing YA fiction the way comics have gotten legitimized as "serious" and "important" literary work." This raises the notion that writing about experiences central to girls/women are sometimes more likely to be dismissed or marginalized or seen as less than literary; anyone who's read Lizzie's work on "Fine Lines" will know that, while it is voicy and chatty and 'bloggy', it is highly perceptive and intelligent. It will be interesting to see how the final product — and its subject matter — will be treated when it is released.
In the meantime, though, I'm still waiting for her to do "Down A Dark Hall." I loved that one.
*Now is a good time to mention that we have the same agent in Kate Lee, who brought us to the same publisher, HarperCollins, but quite honestly, at this point neither of them really need my help. Still, disclosure.
Related
Popular in the Community