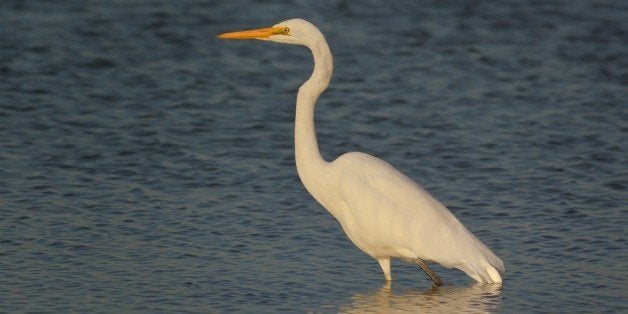 NEW YORK — Wildlife control contractors have shot almost 26,000 birds at John F. Kennedy International Airport over the past five years to stop them interfering with passenger flights — including more than 1,600 protected birds the airport did not have express permission to kill, internal records show.
The Port Authority of New York and New Jersey, which runs the airport, was granted limited permission to shoot "problem" species — mainly seagulls, geese and mourning doves — named on a special kill permit issued each year by the Fish and Wildlife Service.
But the authority's own records show that between 2009 and 2013, they killed 1,628 birds from 18 different species that are protected under the Migratory Bird Treaty Act and are not named on the permits.
That list includes snowy egrets, red-winged blackbirds and American kestrels.
"It appears they will kill anything they see and they don't think twice about it," said Jennifer Barnes, an attorney with animal advocacy group Friends of Animals which recently filed a federal lawsuit to suspend the killing of all migratory birds at Kennedy.
The Port Authority, which contracts the job of managing airport bird hazards to the Animal and Plant Health Inspection Service, is able to shoot these species because its permits make allowance for "emergency situations," according to the permit.
That means any migratory birds can be exterminated if they are deemed to pose a "direct threat to human safety" — with the exceptions of eagles and endangered or threatened species, under the law.
Critics say the emergency clause gives airports too much discretion to slaughter migratory birds, an act that ususally carries fines of up to $15,000 or six months in prison.
"If a bird they kill is not listed on the permit, they never have to explain why they needed to kill that animal, why it was an emergency," Barnes said.
The agency has also gunned down the brown-headed cowbird, boat-tailed grackle, common raven, American crow, fish crow and waterfowl and wading birds that relish the coastal wetlands neighboring Kennedy, such as the wood duck, bufflehead, American wigeon, semipalmated plover, sanderling, least sandpiper, black-crowned night heron, great egret and cattle egret, according to Port Authority records.
Four American kestrels, a small type of falcon, were also killed.
Carol Bannerman, a spokeswoman for the Animal and Plant Health Inspection Service, said the actions it takes to reduce wildlife hazards at airports are "in compliance with federal and state rules" and that it relied more on non-lethal measures.
"More than 90 percent of the wildlife encountered at airports is chased away. Others aren't attracted to the airport due to habitat changes," she said.
A spokesman for the Port Authority did not respond to calls and questions. But the authority has previously defended the practice of killing birds in the name of averting potential mid-air disasters.
For airports, the biggest threat birds pose is that they will get sucked into a passenger jet's engines and disable its ability to fly, as happened to a US Airways plane famously piloted by Captain Chesley Sullenberger that splash-landed into the Hudson River in January 2009.
Last year, planes landing at or ascending from Kennedy struck birds on 174 separate occasions, with only a handful of these strikes causing actual damage to aircraft, according to Federal Aviation Administration data.
The number of bird strikes is down from a peak of 258 in 2011 but still marks an overall rise in the last 20 years, according to the FAA'S wildlife strike database.
In one case last October, several Canada geese were sucked into one of the engines of an incoming LAN Airlines Boeing 767. The plane landed safely and the whole engine had to be removed and sent for repairs.
Popular in the Community