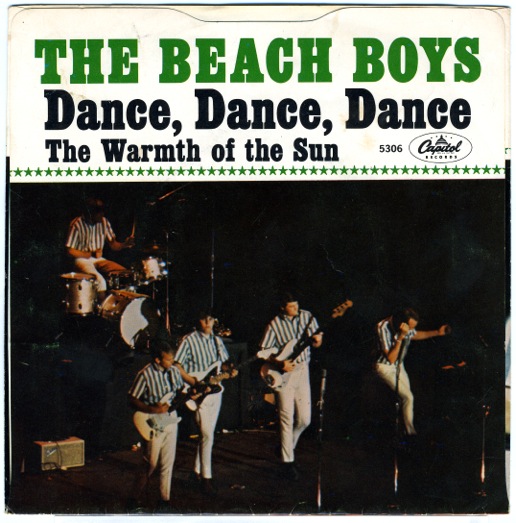 It was November 21, 1963 and my cousin Brian had recently moved into a house he'd rented in Hawthorne California -- not far from the Wilson family home on 119th Street. I was living in an apartment in Manhattan Beach a few miles away. Brian and I decided that we would get together at his place later that night to do some songwriting.
We had done pretty well with "Surfin', Surfin' Safari" and "Surfin' USA," all extolling the sport that was increasingly popular up and down the coast of California. But this night was not about surfing, cars, girls, or school... it was about something different. For our band, the song we were writing offered a window into some of the lyrics and sounds that would come later in the decade. In just a few hours, this song would take on an entirely different meaning.
As Brian began playing a haunting melody on an electric keyboard, I began to add some lyrics to accompany that melody. I was drawn to the melancholy sounds emanating from that keyboard. And Brian continued to play -- and as we worked out the intro, the verse and the chorus -- an incredible feeling of sadness washed over us. Lyrically, I was inspired by this idea of lost love -- where your feelings are suddenly not reciprocated. Maybe it was your first love and she broke your heart. Maybe it was a deep love that faded before you were ready to let go. Maybe it was the love you never felt but always longed for. Regardless, it's the kind of love that lingers... long after she's gone.
Being the eternal optimist, as hard as that kind of loss is, the one good that comes from it is having had the experience of being in love in the first place. That experience became "The Warmth of the Sun":
What good is the dawn that grows into day
The sunset at night, or living this way
For I have the warmth of the sun within me at night
The love of my life, she left me one day
I cried when she said, I don't feel the same way
Still I have the warmth of the sun within me tonight
I dream of her arms and though they're not real
Just like she's still there is the way that I feel
My love's like the warmth of the sun, it won't ever die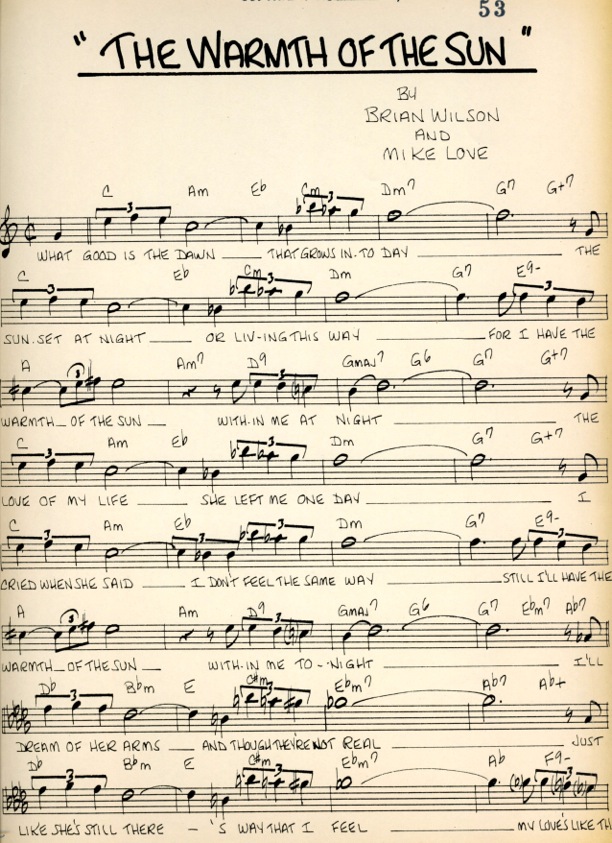 After completing the song, it must have been 2 a.m. in the morning when we finally called it a night. It had been a night of incredible, almost mystical and melancholy feelings which resulted in one of the most beautiful, emotional musical offerings The Beach Boys ever recorded.

A few hours later on the morning of November 22nd, Brian and I were awakened to the news that President Kennedy had been taken to Parkland Memorial Hospital in Dallas. For a bunch of carefree guys in our early twenties, who, until this point, had been mostly living a life of fun, fun, fun -- our innocence was lost. Our nation was in mourning. The whole world was in shock. How could this have happened? What a profound tragedy and deep loss -- the reverberations of which are still being felt to this day.
In the weeks that followed, that song written in the wee hours of November 22nd was recorded in a studio charged with emotion. I'll never be able to hear or perform that song without recalling the loss of President Kennedy fifty years ago. "The Warmth of the Sun" was filled with a depth and a range of feeling rarely experienced in the life of any performer or band. Every time we sing it, the memory of that day is present. It is transcendent.
May "The Warmth of the Sun" soothe the hearts of all us as we remember the loss of a husband, a father, a leader, and an American icon whose light burns on, and whose legacy continues to inspire new generations. In this world of ours, change and loss are inevitable, but thankfully, through it all, there is, and always will be, love... like the warmth of the sun.
Popular in the Community