In March, The Huffington Post began talking to teens and adults throughout the U.S. about their experiences with gun violence. This is one individual's story. You can read others here.
Jhonetta Nagle, 18, is a high school senior from Stockton, Calif. After attending a birthday party with her friends in 2012, Nagle was shot three times in a drive-by shooting. She was wounded twice in the leg and once in the face. Nagle is still struggling to recover from her injuries, but hopes to attend college and work in the medical field:
I still have no teeth, so it's hard for people to understand me and I'm more self-conscious. I don't see my friends as much. I'm home schooled now, so that's different. And I think by now, I would have a car and a job, but I don't.
I was just a regular high school student.
We were just hanging out with my friends at the park one day last summer, and we got invited to a birthday party. We would go to parties, but not a lot.
The party was fun, it was cool, we had a good time.
When we decided to leave with my friends, we got in my friend's green Honda -- I don't what type, it was a Honda. We're driving home and the tire popped. We pulled into a gas station.
I went to see if they had a bathroom. They didn't so I came back. A silver Mustang pulled up with some guys in it. I wasn't talking to them but my friends were -- my friends were asking them for help. There was another car that drove up behind them, a red car, and they just started shooting.
I don't remember hearing gunshots. I just went away, I just blacked out completely. I remember being on the ground and I can see my hand, and I'm looking at all the blood all over it, I can feel the blood on the ground.
There was people around me, I could hear my friends yelling and crying, and just telling me to 'lay there, to lay down!'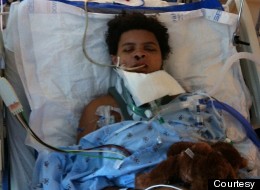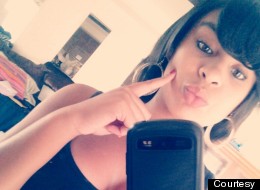 I didn't feel nothing until I got in the ambulance and I couldn't breathe anymore. They were strapping me in, and telling me 'don't move, don't move, don't move.' And I was like, 'I can't breathe, I can't breathe.' And that's all, I didn't wake up 'til 2 weeks later.
I got shot twice in my right leg and once in my face. A bullet went through my nose, like my nostril in a way. It's kind of hard to explain, but it went down there and messed up the whole entire side of my face. It broke all the bones in it, and I still have missing teeth. My eye is kind of messed up -- I was supposed to be blind and deaf and everything. It was horrible.
I just remember when I woke up and I moved my head, I looked over and there was my Mom sitting there. I went to say, 'Mom!' But I couldn't talk. I just busted out crying and she told me what happened. That's when I started feeling all the pain and everything. It just really really hurt. My mouth was wired shut and my leg was huge.
I was there for a month and a day. I cried every day. The only part I liked about it was my friends coming up and seeing me and taking me shopping in the gift shop. But other than that it was pretty miserable.
It's still very sensitive in some parts. The scars are very itchy. I just got to take it easy, the nerves are still connecting and everything.
The face is very, very, very sensitive. I can touch it, but say I tap it, it will definitely hurt. It's like a stinging feeling. My eye, my whole entire cheek, part of my nose -- it's so itchy.
I can only chew on one side. My mouth is barely getting used to flavors again. It's like being a baby again, your mouth has to get used to certain flavors again and everything. Cold stuff, hot stuff, sour stuff -- everything like that.
I can get angry easily, my temper is shorter. I have breakdowns sometimes. Now when I have a bad day, or something goes wrong, the first thing that pops in my head is the shooting.
As told to Preston Maddock.
REAL LIFE. REAL NEWS. REAL VOICES.
Help us tell more of the stories that matter from voices that too often remain unheard.
BEFORE YOU GO
PHOTO GALLERY
Pivotal Moments In The Federal Gun Control Debate