Jiff the Pomeranian can walk the walk. Almost any kind of walk, it seems.
He does it on three legs, two hind legs, two front legs in a paw-stand; he does it backward in a semi-moonwalk. He rides a skateboard, too.
Jiff is also an Internet veteran. He has fetched nearly a half-million "Likes" on Facebook. And there's always room for more.
Just remember that not all dogs are living the show-business life. If you'd like to help end cruelty to animals, click here to visit the ASPCA and make a donation.
Before You Go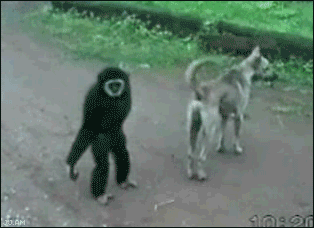 Animals Tricking Each Other
Popular in the Community