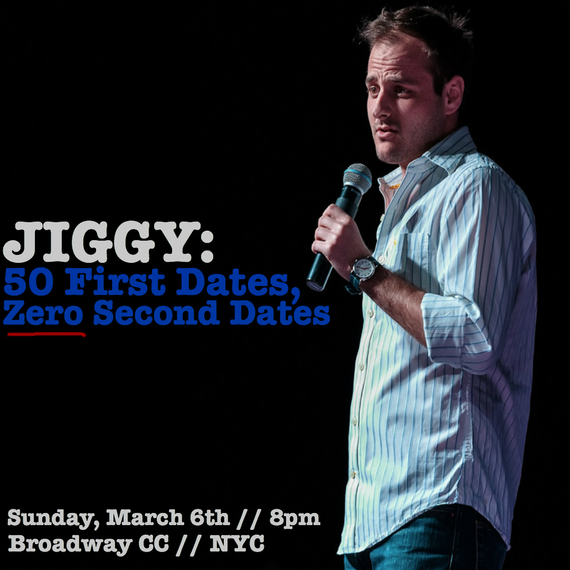 Perhaps one of the East Coast's biggest comical secrets is about to be unleashed in New York City on March 6th at the Broadway Comedy Club. Actually if you happen to be a fan of "The Impractical Jokers", you might already be familiar with "Jiggy" AKA Mark Jigarjian, who opens regularly for TruTV's humorous Messiahs, on tour.
Jiggy will be showcasing a one man performance entitled, "Jiggy: 50 First Dates, Zero Second Dates", outlining his desperately funny, and hysterically pathetic, unsuccessful quest for a girlfriend.
Originally from Boston, and aside from stand-up, Jiggy is also in the midst of producing and starring in a brand new musical video, as well as pitching a captivating and beyond funny television series.
I personally hate comedy...that being said, I implore you to catch his show. It's hard for me to admit, but this guy is truly funny! I was able to corner Jiggy and hold him hostage until he agreed to let me interrogate him about the show and his future projects.
So where are you going to be on March 6th? Mind you I have tickets to it.
You have tickets? It must have taken a lot of convincing.
"I'll be at The Broadway Comedy Club", on March 6th. I'm bring all of my dating stories together for one show. It's called, "50 First Dates, Zero Second Dates". It's probably the most accurate title in the history of comedy.
Jiggy, the show is going to take 5 minutes...And then?

Obviously the tours are starting back up again. Really my focus this year is I've filmed my first television pilot, so I've been working on editing it. It's been amazing! I know I've been seeing you now for a year...big venues, small ones, but the pilot was something that was always on my mind. To actually film it, produce it, create it, was really amazing. I can't wait to get it out there.
Comedy is a real job. Isn't it? ...Well the pilot is about a comedian and a musician who work in a luxury hotel. That takes from a lot of my own personal experiences. I used to work at a luxury hotel. I did everything. I used to work on a golf course, I worked on sand traps, picked up golf balls at the driving range, I was bus boy, a server, I was a banquet server, I was at the front desk, I worked in the kids club as an elf, an Easter Bunny.....I've done everything that you can possibly do. The best was a cabana boy, in Orlando. I used to oil up the ladies, and get them fresh fruits..
Jiggy give me a quick bio about yourself....very quick

I'm a 29 year old comedian, I grew up outside of Boston, and started doing Improv comedy when I was 15. Shortly after, I started doing stand- up in College, which I've been doing now for about 8 years. I tour with "The Impractical Jokers", with their live shows, and I write and produce my own original content, from music videos to television shows. That's the next thing.

You have a music video out, correct?
My music video came out last year, called, "Tinderella", and is about "swiping" stories in New York on "Tinder". I'm actually doing another one right now called, "Stacey", it's about when your best friend as a guy, gets a girlfriend, and doesn't want to hang out with you.

You should be used to that.
It happens all the time. So we're shooting that music video at the end of the month. It should be coming out about the same time as the show, March 6th, here in New York.

Does the TV show pilot have a name?
The name of the show is "Checked Out". So it really is about this comedian and musician that work in this luxury hotel, and they have their goals and their passions, but they're stuck working these menial jobs. They watch their idols come in and out, and they are so close, but so far away. It's about being in that in between phase, "Pre-fame", you're known, but not quite known enough. It's an interesting time for an entertainer, when you're doing what you like to do, but you are also miles away from getting there.

Do you still "Manscape"?
Now that I'm so famously manscaped from your first interview, I have to keep that up!
Follow Jiggy on Instagram / twitter
@jiggycomedy
Get Tickets to See him Live at Broadway Comedy Club Here:
Calling all HuffPost superfans!
Sign up for membership to become a founding member and help shape HuffPost's next chapter