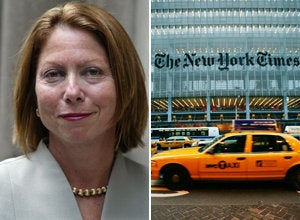 NEW YORK – When publisher Arthur Sulzberger Jr. recently told Jill Abramson that he wanted her to be the next executive editor of The New York Times, the veteran journalist quickly accepted. "I said it would be the honor of my life," she recalled.
On Sept. 6, Abramson, who's been the Times' second-in-command since 2003, will succeed Bill Keller as he transitions to writing for The New York Times Magazine and the forthcoming Sunday Review. Washington bureau chief Dean Baquet will head to New York as the paper's new managing editor for news.
The Times executive editor job remains one of the great perches in American journalism. But the newspaper, like other legacy print outlets, has faced increased financial pressure in recent years following significant drops in advertising revenue. In addition to the journalism that goes into each day's issue and all day on the web, the Times executive editor must increasingly focus on the paper's existence in a digital world.
"I see this job as having to seize the future and help make the right calls on how to get there," Abramson told The Huffington Post, adding that the Times remains "in the middle of a thrilling but challenging transition."
Last year, Abramson stepped aside as managing editor for a few months to focus on the paper's digital operation. A rotating cast of temporary managing editors, including Baquet, took her spot. Abramson said she realized there was still an institutional divide between the print and web operations. "It really needed to be one newsroom," she said. Six months later, the Times announced it would further integrate the two sides.
Sulzberger tapped Keller for the top job following the Jayson Blair plagiarism scandal, one of the most traumatic periods in the paper's history. Keller, a celebrated foreign correspondent who wasn't as flashy as his predecessor Howell Raines, seemed like the ideal pick at a moment when the Times wanted to turn its focus back to journalism.
But as the newspaper industry crumbled, with several large metro dailies shutting down in recent years, Keller's priorities shifted.
"I think the biggest kind of cosmic change was when I started out, it was probably 70/30 things that felt like journalism to things that felt like administrative business," Keller told HuffPost. "The ratio kind of reversed itself, where at least a year or so ago, I was spending maybe 30 percent of my time on stories or who's the next Cairo correspondent and 70 percent of the time focused on the business model, the long-term survival."
During public appearances, Keller also found himself speaking more about the meta-media story than what was on the front page that morning. "We became so self-absorbed because, for legitimate reasons, it was a big story," Keller said. "Like any industry touched by digital technology, we've gone through upheaval."
Keller said there's been some shift back toward focusing more on the paper's journalism since the Times decided on a metered paywall in March following "endless meetings on the business model." While Keller said he's began speaking to his wife about leaving the job since last year, he thought it "would look bad [to do so] before we got the pay model figured out and implemented."
But until now, Keller couldn't be too opinionated about politics, for instance, while still serving as executive editor. Anything he wrote would be viewed as representing an institutional point of view. Going forward, Keller said he "can write in a more opinionated way" and about wider range of topics. He also may now get to travel for pieces.
Keller said the decision to move into a writer role at the Times was his idea. Abramson said Keller told her of his plans before informing Sulzberger in early May. After the two men talked, Sulzberger told Abramson they needed to soon get dinner.
They ended up having lunch about 10 days later. Sulzberger didn't offer Abramson the job right there, but asked her questions about how she'd lead the newsroom. Shortly thereafter, she said, Sulzberger called her with the good news.
Before selecting Abramson for the job, Sulzberger had discussions with long-rumored candidates Baquet and editorial page editor Andy Rosenthal, according to a Times source. However, Abramson was always the front-runner. On Thursday, the newsroom was surprised only by the timing, not the choice. The Times managed to keep the big news under wraps until Thursday morning, when rumors started spreading shortly before staffers received an email signaling a major 11 a.m. announcement in the newsroom. (Another tip-off: staffers noticed a Times photographer snapping Abramson's picture in the paper's lobby).
Baquet only found out about his promotion to managing editor last Friday. Abramson and Baquet were together last week in New Orleans for a journalism boot camp at Dillard University, part of a journalism program for historically black colleges. While enjoying a dinner of soft-shell crabs at Café Degas, Abramson said she "popped the question." Baquet said yes.
Before heading to the Los Angeles Times in 2000, Baquet served as the Times' national editor and was a rising star at the paper. (Abramson said she was "heartbroken" when Baquet left.) In the ensuing years, the L.A. Times dramatically scaled down its newsroom and Baquet was eventually fired in November 2006 for not agreeing to more cuts. He returned to The New York Times two months later.
"I had a blast as Washington bureau chief," Baquet said, adding that it was a job where he could speak regularly with reporters, line edit some stories and generally stay close to the ground on what the capital produces day to day.
Baquet said he views the managing editor job as "almost the main kibitzer in the newsroom," who needs to know what's happening on the various desks at the Times. He said he's excited by the possibility of being involved in non-D.C. specific stories for a change, including those on books and culture. "That's something that was very important to me in L.A. and will be very important to me here," Baquet said.
Still, Baquet said the managing editor role, like the executive editor job, has also changed quite a bit in recent years given the increased focus on financial stability. "I think there was a time when being executive editor and managing editor of a big successful newspaper meant only thinking about the news coverage, and only thinking about the news coverage of a print newspaper," Baquet said. "There's no question it's different."
"In the old days, a lot of newsrooms probably did not pay a lot of attention to their budgets," he added. "That's not true any more."
On Thursday, Sulzberger, Keller, Abramson and Baquet all addressed their newsroom. Some told old jokes, such as Keller recalling how Gay Talese, a celebrated journalist and former Timesman, had been critical of his wardrobe. So Baquet, a long-time friend, gave him a pocket square.
But the team also acknowledged history in the making, with Abramson becoming the first woman to lead the Times. Incoming Times executive editors often speak about standing on the shoulders of their predecessors (who all happen to be male). Abramson noted previous executive editors, but changed things up a bit to reflect the historical moment.
"I stand on different shoulders," Abramson said in an interview shortly after speaking to staff. "I talked about the women at the Times who have fought to be considered for top jobs and those who have them." She spoke of chief executive Janet Robinson, former columnist Anna Quindlen, current columnist (and close friend) Maureen Dowd, as well as journalists Robin Toner and Nan Robertson, who both died in the past few years.
"I just kind of called out their names," she said.
Related
Popular in the Community